!

Warning:

This song contains questionable lyrics and themes; it may be inappropriate for younger audiences.

The Vocaloid Wiki does not have a policy on lyrical content or theme; however, it attempts to follow the Wikia TOU.
For further discussion see Thread:68883. Questionable songs are automatically sorted into this category.

!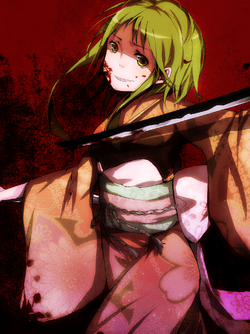 Song title
"幕末浪漫"
Pinyin: Mùmò Làngmàn
Romaji: Bakumatsu Rōman
Official English: Romance Blade
English: Bakumatsu Romance
Uploaded June 26, 2011, with 2,700+ views
Singer(s)
GUMI
Producer(s)
SolPie (music, lyrics)
zuoweisaib (video, illustration)
Links
Niconico Broadcast
bilibili Broadcast (uploaded by author)
A8 Broadcast
Background
Edit
A song about someone who wants to kill and die with the one they love. It was made for THE VOC@LOID M@STER 20.
Succeeding versions
Edit
Miku's Version

Featuring
Hatsune Miku
Author(s)
SolPie
Category
Succeeding version
Chinese (中文歌词)
Pinyin (拼音)
叶子落下的地方在响
yezi luoxia de difang zai xiang
血滴在脸上变了模样
xuedi zai lianshang bianle moyang
颤抖的右手杀了多少
chandou de youshou shale duo shao
鲜血的味道刚刚好
xianxue de weidao ganggang hao


黑暗的天空洒下阴霾
hei'an de tiankong xixia yinmai
结束了战斗已经无力
jieshule zhandou yijing wuli
刀下不留下你一个人
dao xia bu liu xia ni yi ge ren
带你去问侯阎罗爷
dai ni qu wenhou yanluoye


你去死吧 我爱你
ni qu si ba wo ai ni
我陪你到地里去
wo pei ni dao dili qu
你去死吧 我爱你
ni qu si ba wo ai ni
我陪你到地里去
wo pei ni dao dili qu


好啦好啦 一起去好了吗?
hao la hao la yiqi qu hao le ma?
幕末的浪漫 记得一辈子
mumo de langman jide yi beizi
你想怎么死法最浪漫
ni xiang zenme sifa zui langman
la la la la la
la la la la la


好啦好啦 一起死好了吗?
hao la hao la yiqi si hao le ma?
不要伤心了 记得一辈子
bu yao shangxin le jide yi beizi
你洒下的头发最浪漫
ni xixia de toufa zui langman
la la la la la...
la la la la la...




叶子落下的地方在响
yezi luoxia de difang zai xiang
血滴在脸上变了模样
xuedi zai lianshang bianle moyang
颤抖的右手杀了多少
chandou de youshou shale duo shao
鲜血的味道刚刚好
xianxue de weidao ganggang hao


黑暗的天空洒下阴霾
hei'an de tiankong xixia yinmai
结束了战斗已经无力
jieshule zhandou yijing wuli
刀下不留下你一个人
dao xia bu liu xia ni yi ge ren
带你去问侯阎罗爷
dai ni qu wenhou yanluoye


你去死吧 我爱你
ni qu si ba wo ai ni
我陪你到地里去
wo pei ni dao di li qu
你去死吧 我爱你
ni qu si ba wo ai ni
我陪你到地里去
wo pei ni dao di li qu


好啦好啦 一起去好了吗?
hao la hao la yiqi qu hao le ma?
幕末的浪漫 记得一辈子
mumo de langman jide yi beizi
你想怎么死法最浪漫
ni xiang zenme sifa zui langman
la la la la la
la la la la la


好啦好啦 一起死好了吗?
hao la hao la yiqi si hao le ma?
幕末的浪漫 记得一辈子
mumo de langman jide yi beizi
你想怎么死法最浪漫
ni xiang zenme sifa zui langman
la la la la la...
la la la la la...




叶子落下的地方在响
yezi luoxia de difang zai xiang
血滴在脸上变了模样
xuedi zai lianshang bianle moyang
颤抖的右手杀了多少
chandou de youshou shale duo shao
鲜血的味道刚刚好
xianxue de weidao ganggang hao


黑暗的天空洒下阴霾
hei'an de tiankong xixia yinmai
结束了战斗已经无力
jieshule zhandou yijing wuli
刀下不留下你一个人
dao xia bu liu xia ni yi ge ren
带你去问侯阎罗爷
dai ni qu wenhou yanluoye
Derivatives
Edit
Tougentsuki's Cover

| | |
| --- | --- |
| Featuring | Tougentsuki |
| Author(s) | Tougentsuki (cover), SolPie (mix) |
| Category | Human cover |
External links
Edit
| | |
| --- | --- |
| | Official |
| | |
| --- | --- |
| | Articles |