This song article is lacking a proper background. You can help by adding one! The relevant section in the Song Article Guideline is a good starting point, and this blog post may also be helpful. We apologize for the inconvenience this may cause in the meantime.

Song pages lacking proper backgrounds are automatically sorted into this category.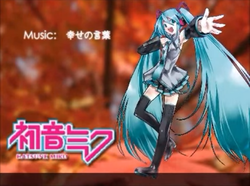 Song title
"幸せの言葉"
Romaji: Shiawase no Kotoba
English: Words of Happiness
Uploaded September 25, 2007, with 38,000+ views
Singer(s)
Hatsune Miku
Producer(s)
Azell
Links
Niconico Broadcast
Background
Edit
"Shiawase no Kotoba" is an original Japanese VOCALOID song featuring Hatsune Miku.
Japanese (日本語歌詞)
Romaji (ローマ字)
さぁ 幸せの言葉を叫ぼう
saa shiawase no kotoba wo sakebou
それは町を見据える山に谺して
sore wa machi wo misueru yama ni kodama shite
みんなの心に火が灯ります
minna no kokoro ni hi ga toborimasu
さぁ 幸せの言葉を叫ぼう
saa shiawase no kotoba wo sakebou


おはようさん
ohayou-san
おはようさん
ohayou-san


さぁ 幸せの言葉を叫ぼう
saa shiawase no kotoba wo sakebō
それは町を潤す池を跳び越して
sore wa machi wo uruosu ike wo tobikoshite
みんなの心が燃えてきます
minna no kokoro ga moete kimasu
さぁ 幸せの言葉を叫ぼう
saa shiawase no kotoba wo sakebou


ありがとう
arigatou
ありがとう
arigatou


さぁ 幸せの言葉を叫ぼう
Sā shiawase no kotoba wo sakebō
それは町を飛び交う蛍も喜んで
sore wa machi wo tobikau hotaru mo yorokonde
みんなの心に火が灯ります
minna no kokoro ni hi ga toborimasu
さぁ 幸せの言葉を叫ぼう
saa shiawase no kotoba wo sakebou


さようなら
sayounara
さようなら
sayounara
External links
Edit
| | |
| --- | --- |
| | Articles |