Ad blocker interference detected!
Wikia is a free-to-use site that makes money from advertising. We have a modified experience for viewers using ad blockers

Wikia is not accessible if you've made further modifications. Remove the custom ad blocker rule(s) and the page will load as expected.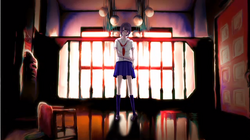 Song title
"幽霊屋敷の首吊り少女"
Romaji: Yuurei Yashiki no Kubitsuri Shoujo
English: Hanged Girl in the Haunted House
Uploaded February 3, 2012, with 814,900+ views
Singer(s)
GUMI
Producer(s)
Tohma
Links
Niconico Broadcast • YouTube Broadcast (reprint)

Background
Edit
This song was uploaded to NicoNico on February 3, 2012. It is one of Tohma's most popular songs with over 800,000 views.
Japanese (日本語歌詞)
Romaji (ローマ字)
或る夏、影を伸ばすような夕暮れ
aru natsu, kage o nobasu you na yuugure
カラスが鳥居の上で聞いた噂
karasu ga torii no ue de kiita uwasa
耳打つ子供の声 夏祭り、揺ラリ。
mimiutsu kodomo no koe natsumatsuri, yurari.


裏山の小道、トンネルの向こうに
urayama no komichi, tonneru no mukou ni
ポツリと古び眠る屋敷があって
potsuri to furubi nemuru yashiki ga atte
首吊った少女の霊が夜な夜な出るそうだ
kubitsutta shoujo no rei ga yoru na yoru na deru sou da


好奇心で立ち入る人達
koukishin de tachiiru hitotachi
「言っただろ、出るはずない」と
"itta daro, deru hazu nai" to
軋む階段 揺れる懐中電灯
kishimu kaidan yureru kaichuu dentou
誰も気付いてはくれないや
dare mo kizuite wa kurenai ya


「私、死んでなんかない。」って
"atashi, shinde nanka nai." tte
暗がりに浸かって
kuragari ni tsukatte
そっと強がって澄ましても
sotto tsuyogatte sumashite mo
過ごした日々と共に
sugoshita hibi to tomo ni
止まった針は埃被って
tomatta hari wa hokori kabutte
また声枯らして今日が終わって
mata koe karashite kyou ga owatte
明日が窓に映り込んでも
asu ga mado ni utsurikonde mo
私は此処にいます。
watashi wa koko ni imasu.


季節を束ねた虫の聲 夕立
kisetsu wo tabaneta mushi no koe yuudachi
流れた灯篭 神様の悪戯のよう
nagareta tourou kami-sama no itazura no you


迷い込んできた灰色猫
mayoikonde kita haiiro neko
「あなたも私が見えないの?」
"anata mo atashi ga mienai no?"
背を撫でようとした右手は虚しく
se o nade you toshita migite wa munashiku
するり抜け、空を掻いた
sururi nuke, kuu o kaita


「私、死んでいたのかな」って
"atashi, shinde ita no kana" tte
膝を抱えて 過去の糸を手繰っても
hiza o kakaete kako no ito o tagutte mo
些細な辛いことや家族の顔も思い出せなくて
sasai na tsurai koto ya kazoku no kao mo omoidasenakute
遠くで灯りだす家並みの明りや
tooku de tomoridasu ienami no akari ya
咲いた打ち上げ花火を
saita uchiage hanabi o
眺め、今を誤魔化す
nagame, ima o gomakasu


夏の終わり 過ぎ去った
natsu no owari sugisatta
子供たちの噂も薄れ
kodomotachi no uwasa mo usure
漂っては薫る線香の煙と一緒に
tadayotte wa kaoru senkou no keburi to isshoni
姿は透け、やがて消えゆく
sugata wa suke, yagate kieyuku


私はただの一夏の噂だった
watashi wa tada no hitonatsu no uwasa datta
六月始めに生まれ
rokugatsu hajime ni umare
八月終わりに遠退いた
hachigatsu owari ni tonooita
意識は影法師になった
ishiki wa kageboushi ni natta


誰も見つけてはくれなかったけれど
dare mo mitsukete wa kurenakatta keredo
記憶の片隅にある、かつての淡い日々の
kioku no katasumi ni aru, katsute no awai hibi no
一部となって残り続ける
ichibu ni natte nokori tsuzukeru
もう切らした向日葵の歌
mou kirashita himawari no uta
蝉しぐれも亡き
semi shigure mo naki
夏の匂いだけ残る屋敷に
natsu no nioi dake nokoru yashiki ni
少女はもういないだろう
shoujo wa mou inai darou
Derivatives
Edit
Pokota's Cover

| | |
| --- | --- |
| Featuring | Pokota |
| Author(s) | |
| Category | Human cover |
Mafumafu's Cover

| | |
| --- | --- |
| Featuring | Mafumafu |
| Author(s) | |
| Category | Human cover |
Soraru's Cover

| | |
| --- | --- |
| Featuring | Soraru |
| Author(s) | |
| Category | Human cover |
Nico Chorus

| | |
| --- | --- |
| Featuring | Various Utaites |
| Author(s) | cherry |
| Category | Nico Chorus |
External links
Edit
| | |
| --- | --- |
| | Articles |
| | |
| --- | --- |
| | Downloads |