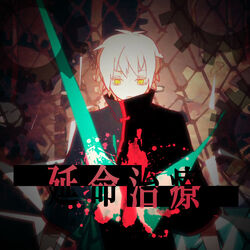 Song title
"延命治療"
Romaji: Enmei Chiryou
English: Life Prolonging Treatment
Uploaded December 28, 2012, with 884,900+ views
Singer(s)
IA
Producer(s)
Neru (music, lyrics)
Sidu (video)
Links
Niconico Broadcast • YouTube Broadcast (reprint, subbed)

Background
Edit
| | | |
| --- | --- | --- |
| " | Do you have preparedness to tell a lie ? | " |
The song first appeared on Farm Records' VOCAROCK collection 4 album. It was later officially posted on Niconico by Neru, with an original PV by Sidu.
The song can be also found on IA Project's compilation album IA/02-COLOR- and on Neru's first album Sekai Seifuku, with vocals by Rin and Len instead. This song is featured in the PS VITA game IA/VT -COLORFUL-.
According to information given by Sidu, the boy who appears in the PV is named "E".
Japanese (日本語歌詞)
Romaji (ローマ字)
体中に麻酔を刺して
karadajuu ni masui wo sashite
これはこれで幸せなんだって
kore wa kore de shiawase nandatte
西を見れば 人形遊び
nishi wo mireba ningyou asobi
東見れば 営業的に病んじゃってさ
higashi mireba eigyouteki ni yanjatte sa


可怪しいんだ 頭ん中がバグっちゃって
okashiinda atamannaka ga bagucchatte
ディレイ仮死ライフも分かんないや
direi kashi raifu mo wakannai ya
二進数ナイフに狂っていて
nishinsuu naifu ni kurutte ite
取れないギプス
torenai gipusu


機械と プライドの間で 暗む病状
kikai to puraido no aida de kuramu byoujou
僕ら 管だらけの手足で 傷を付け合いました
bokura kudarake no teashi de kizu wo tsuke aimashita
治療法は樹海の中で 朦朧
chiryouhou wa jukai no naka de mourou
どうか ここから 連れ出してよ
douka koko kara tsuredashite yo
「ほら、眠くなる。」
"hora, nemuku naru."


不整脈に揺れる木橋は
fuseimyaku ni yureru kihashi wa
鈍い声上げて崩れた
nibui koe agete kuzureta
無愛想に蹴り落とされて
buaisou ni keri otosarete
空に笑われました
sora ni waraware mashita


手術台の上に残した
shujutsudai no ue ni nokoshita
昨日の僕が泣いていたと
kinou no boku ga naiteita to
奇跡に縋る明日に
kiseki ni sugaru ashita ni
何を望めばいいのですか
nani wo nozomeba ii no desu ka


自由も 未来像でさえ喰らい 芽吹く症状
jiyuu mo miraizou de sae kurai mebuku shoujou
僕ら いつの日にか 肩を抱き 出会うはずだったんだ
bokura itsu no hi ni ka kata wo daki deau hazudattanda
理想郷も失う 隔離病棟
risoukyou mo ushinau kakuri byoutou
どうせ 最初から 知ってたよ
douse saisho kara shitteta yo


言ってしまえば 今日も明日もきっと 楽になれるんだろう
itte shimaeba kyou mo ashita mo kitto raku ni narerundarou
全部僕が悪いんだと 全部僕が悪いんだと
zenbu boku ga waruinda to zenbu boku ga waruinda to
いつか夢見たような 大人になんて なれやしないんだよ
itsuka yumemita youna otona ni nante nareya shinainda yo
ならば 何になりゃいいんだい
naraba nani ni naryaiindai


延命 延命を頂戴
enmei enmei wo choudai
証明 証明の問題
shoumei shoumei no mondai
病名 病名は『後悔』
byoumei byoumei wa "koukai"
どうだい
doudai
Other media appearances
Edit
This song was featured in the following concerts:
IA First Live Concert in JAPAN -PARTY A GO-GO-
External links
Edit
| | |
| --- | --- |
| | Articles |