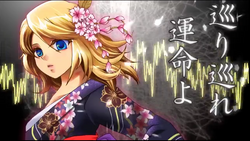 Song title
"彼方に舞うは桜の旋律"
Romaji: Kanata ni Mau wa Sakura no Sennritsu
English: Beyond Dances the Melody of Cherry Blossoms
Uploaded September 3, 2012, with 78,522+ (NND), 42,074+ (YT) views
Singer(s)
Kagamine Rin
Producer(s)
Rohi-P (music, video)
Natsume Kagura (lyrics)
Pokapon (illust)
Links
Niconico Broadcast • YouTube Broadcast

Background
Edit
Rohi-P's  seventh original Vocaloid work. It sounds similar to one of Rohi-P's other songs, Kodoku≒Egoism.
In May 2013, Rohi-P uploaded a short version as an application for -Project DIVA- Arcade.
Succeeding versions
Edit
Project DIVA Arcade Application

| | |
| --- | --- |
| Featuring | Kagamine Rin |
| Author(s) | Rohi-P |
| Category | Game Entry |
Japanese (日本語歌詞)
Romaji (ローマ字)
墨染の空 浮かんだ朧月
sumizome no sora ukanda oborozuki
雲居に隠れ 闇を誘う
kumoi ni kakure yami o izanau
涼風が頬 真逆に掠めても
suzukaze ga hoo masaka ni kasumetemo
躯の奥に 熱が溢れる
karada no oku ni netsu ga afureru


生簀の日々から 逃げ失す為に
ikesu no hibi kara nigeusu tameni
一夜の契り 心委ね
hitoyo no chigiri kokoro yudane


さぁ 開け 桜の花
saa hirake sakura nohana
私の想いは
watashi no omoi wa
夢と現世との狭間で
yume to tsutsushiyo tono hazama de
今宵 惑い 満ちて 堕ちて 朽ちて
koyoi madoi michite ochite kuchite
何処を彷徨うの
doko o samayou no
狂り 狂り
kururi kururi


あぁ 散らせ 薄紅の香
aa chirase usubeni no ka
伸ばした其の腕
nobashita sono ude
君と私の距離 奪って
kimi to watashi no kyori ubatte
刹那 遥か 彼方 新た 許多
setsuna haruka kanata arata amata
歯車を廻す
haguruma o mawasu
絡り 絡り
karari karari


君の温もり 手探り たぐり寄せ
kimi no nukumori tesaguri daguri yose
無い物強請り 愚かな科白
naimono nedari orokana serifu
寂しさを 持て余した指先は
sabishisa o moeamashita yubisaki wa
行き場を求め 虚空を掴む
ikiba o motome kokuu o tsukamu


開カズノ扉に 徐ら手を掛け
akazu no tobira ni yaora te o kake
戻れぬ故と 覚悟決めて
modore nu yue to kakugo kimete


さぁ 零せ 桜の花
saa kobose sakura no hana
落ちゆく花弁は
ochi yuku kaben wa
私の首筋をなぞって
watashi no kubisuji o nazotte
愛に 恋に 行方 標 預け
ai ni koi ni yukue shirube azuke
辿り着くのやら
tadori tsuku no yara
片り 片り
hirari hirari


あぁ 響け 頻伽の声
aa hibike binnga no koe
宵闇の静寂
yoiyami no shijima
微かな 面影を辿って
kasuka na omokage o tadotte
行く手 引く手 未だき 払い 躱わし
yukute hikute madaki harai kawashi
陽炎と化して
kagerou to kashite
昏り 昏り
kurari kurari


大輪の如き花火に
tairin no gotoki hanabi ni
袖に舞える白雪
sode ni maeru shirayuki
四季も恋も 時 刻めば
shiki mo koi mo toki kizameba
淪む 定めと・・・
shizumu sadameto...


咲き誇る 桜も
saki hokoru sakura mo
短き命と
mijikaki inochi to
幕引きを 知っているのに
makuhiki o shitte irunoni
脆き 名残り 重ね 連ね やがて
moroki nagori kasane tsurane yagate
また火が 灯る
mata hi ga tomoru
ゆら ゆら
yura yura


巡り巡れ 運命よ
meguri meruge unmei yo
遠方の初音
ochikata no hatsune
確かに聴こえた旋律
tashika ni kikoeta senritsu
紡ぎ 結び 捩り捩り 交じり
tsumugi musubi sujiri moriji majiri
淡く 解き放て
awaku tokihanate
沙羅り 沙羅り
sharari sharari


さぁ 乱吹け 桜の花
saa fubuke sakura no hana
春の夜の夢
haru no yo no yume
追憶の景色を 浚えて
tsuioku no keshiki o saraete
夜霧 去りし 真際 堕ちた 泪
yogiri sarishi magiwa ochita namida
然様なら 告げるの
sayonara tsugeruno
綻り 綻り
horori horori
Derivatives
Edit
Hinamaro's Cover

| | |
| --- | --- |
| Featuring | Hinamaro |
| Author(s) | NascentCat (mix) |
| Category | Human cover |
External links
Edit
Ad blocker interference detected!
Wikia is a free-to-use site that makes money from advertising. We have a modified experience for viewers using ad blockers

Wikia is not accessible if you've made further modifications. Remove the custom ad blocker rule(s) and the page will load as expected.