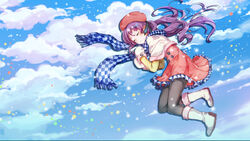 Song title
"御守"
Japanese: お守り
Pinyin: Yùshǒu
Romaji: Omamori
English: Omamori
Uploaded May 10, 2015, with 31,000 (NN) / 102,000+ (YT) / 140,000+ (BB) views
Singer(s)
Xin Hua
Producer(s)
Hoskey (compose, arrange)
YUI and Xue Nan (tuning)
Da Sheng Jun (lyrics)
You Ming (Japanese lyrics)
SIBYL (illustrator)
Xuan Yue (video editor)
Links
Niconico Broadcast • YouTube Broadcast
bilibili Broadcast

Background
Edit
"Yùshǒu" is the third official demo song featuring Xin Hua and was uploaded three months after her release. An omamori is a type of Japanese amulet.
The song lyrics are rather vague and are open to different interpretations, but in this song Xin Hua is pining for something or someone she has lost, never questioning its/their existence till it is/he is gone.
One interpretation of a line in the song, "睡醒來後 會痛", which roughly translates to, "After I wake up, it will hurt," might be a metaphor for how she is living with beautiful lies and that she doesn't want to "wake up" because reality and truth will hurt.
This song is featured in the album, Xīn Huá (心華).
This song has exceeded 100,000 views on bilibili and on YouTube.
Chinese (中文歌詞)
Pinyin (拼音)
原來這是寂寞
Yuanlai zhe shi jimo
環抱天鵝絨的枕頭
Huanbao tian'erong de zhentou
緊擁著卻還是空洞
Jin yongzhe que haishi kongdong
他在每個想念的角落
Ta zai mei ge xiangnian de jiaoluo
我卻從沒想過 為什麼
Wo que cong mei xiangguo weishenme


有一根刺就像插在胸口
Youyi gen ci jiu xiang cha zai xiongkou
暗戀他的勇氣 能夠喘息多~久
Anlian ta de yongqi nenggou chuanxi duo~ jiu
這道御守 是戀愛的寄託 泡沫般的夢
Zhe dao yushou shi lian'ai de jituo paomo ban de meng
醒來以後 會痛
Xing lai yihou hui tong
流星般墜落 那最美的時候 一霎那間就過
Liuxing ban zhuiluo na zuimei de shihou yisha na jian jiuguo
逾時不候 就會 失蹤
Yu shi bu hou jiu hui shizong


原來這是寂寞
Yuanlai zhe shi jimo
環抱天鵝絨的枕頭
Huanbao tian'erong de zhentou
緊擁著卻還是空洞
Jin yongzhe que haishi kongdong
他在每個想念的角落
Ta zai mei ge xiangnian de jiaoluo
我卻從沒想過為什麼
Wo que cong mei xiangguo weishenme


這道御守 是戀愛的寄託 泡沫般的夢
Zhe dao yushou shi lian'ai de jituo paomo ban de meng
醒來以後 會痛
Xing lai yihou hui tong
流星般墜落 那最美的時候 一霎那間就過
Liuxing ban zhuiluo na zuimei de shihou yisha na jian jiuguo
逾時不候 就會
Yu shi bu hou jiu hui


這道御守 是戀愛的寄託 泡沫般的夢
Zhe dao yushou shi lian'ai de jituo paomo ban de meng
睡醒後還 會痛
Shui xing hou hai hui tong
我的不自由 是暗戀症候下的結果
Wo de bu ziyou shi anlian zhenghou xia de jieguo
該對誰 說呢
Gai dui shui shuo ne
Chinese (中文歌詞)
Official Japanese (公式邦訳)
原來這是寂寞
びろうどまくら
環抱天鵝絨的枕頭
をギュッと抱きしめて
緊擁著卻還是空洞
寂しさが変わらない
他在每個想念的角落
会いたくなる思い
我卻從沒想過 為什麼
が日に増すのはどうして


有一根刺就像插在胸口
胸にトゲが刺さったよう
暗戀他的勇氣 能夠喘息多~久
あいたい気持ち が溢れそうよ
這道御守 是戀愛的寄託 泡沫般的夢
お守り 恋の行方 泡のように
醒來以後 會痛
目覚めば うずく
流星般墜落 那最美的時候 一霎那間就過
流れ星が 瞬く間に 消えた瞬間
逾時不候 就會 失蹤
思い出に なるだけ


原來這是寂寞
びろうどまくら
環抱天鵝絨的枕頭
をギュッと抱きしめて
緊擁著卻還是空洞
寂しさが変わらない
他在每個想念的角落
会いたくなる思い
我卻從沒想過為什麼
が日に増すのはどうして


這道御守 是戀愛的寄託 泡沫般的夢
お守り 恋の行方 泡のように
醒來以後 會痛
目覚めば うずく
流星般墜落 那最美的時候 一霎那間就過
流れ星が 瞬く間に 消えた瞬間
逾時不候 就會
思い出 になる


這道御守 是戀愛的寄託 泡沫般的夢
お守り 恋の行方 泡のように
睡醒後還 會痛
痛みが消えない
我的不自由 是暗戀症候下的結果
囚われた のは片思いの結果
該對誰 說呢
言えないのね
Derivatives
Edit
Tianyi's Cover

Featuring
Luo Tianyi
Author(s)
乐天P
Category
VOCALOID Cover

Description

Tianyi's cover of Xin Hua's third demo song, done by 乐天P
Ling's Cover

| | |
| --- | --- |
| Featuring | Yuezheng Ling |
| Author(s) | Hashiqi-P |
| Category | VOCALOID cover |
External links
Edit
| | |
| --- | --- |
| | Articles |