Ad blocker interference detected!
Wikia is a free-to-use site that makes money from advertising. We have a modified experience for viewers using ad blockers

Wikia is not accessible if you've made further modifications. Remove the custom ad blocker rule(s) and the page will load as expected.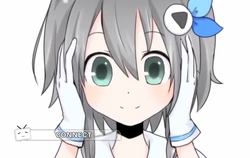 Song title
"心的连接Connect"
Traditional Chinese: 心的連接Connect
Pinyin: Xīn De Liánjiē Connect
English: Connection of the Heart
Uploaded June 26, 2014, with 252,000+ (BB), 46,000+ (YT) views
Singer(s)
Luo Tianyi
Producer(s)
Atunemic (arrange, compose, mastering, video)
Cangshisan (lyrics)
Lililulu (illust)
Links
YouTube Broadcast
bilibili Broadcast
Background
Edit
"Xīn De Liánjiē Connect" is an original Luo Tianyi song. It is the ending theme for the "bilibili Lunar Year Festival 2014".
Tianyi is singing to her producer in encouragement, and says that no matter what, she will always be there with him/her. At one point in the song, she sings, "连接你的心 让世界倾听 你心中 最美的声音" which roughly translates to, "I will connect with your heart to let the whole world hear the most beautiful sound of your heart," which references to Tianyi's canon ability to "detect the song of your heart" and sing it out loud.
It has exceeded 100,000 views on bilibili.
Succeeding versions
Edit
Tianyi V4's Version

Featuring
Luo Tianyi V4
Author(s)
Atunemic (arrange, compose, mastering, video), Cangshisan (lyrics)
Category
VOCALOID cover, Succeeding version

Description

This version was showcased at the Bilibili Macro Link concert in 2016. Atunemic confirmed this version used the V4 version of Tianyi.
Chinese (中文歌词)
Pinyin (拼音)
有我在陪着你 有我在爱着你
you wo zai peizhe ni you wo zai aizhe ni
有我在听着你 想诉说的话语
you wo zai tingzhe ni xiang sushuo de huayu
天地辽阔神奇 你却总是叹息
tiandi liaokuo shenqi ni que zong shi tanxi
梦想与现实的距离
mengxiang yu xianshi de juli


你身边的美丽 你却总不在意
ni shenbian di meili ni que zong bu zaiyi
你永远在找寻 被遗忘的回忆
ni yongyuan zai zhaoxun bei yiwang de huiyi
放下烦恼思绪 跟着我的旋律
fangxia fannao sixu genzhe wo de xuanlü
一起前进不离不弃
yiqi qianjin bu li bu qi


还没有看到胜利
hai meiyou kan dao shengli
何必就让自己出局
hebi jiu rang ziji chuju
就算前路崎岖 布满了荆棘
jiusuan qian lu qiqu bu manle jingji
还有我和你在一起
hai you wo he ni zai yiqi


欢呼着BILIBILI 次元咒语
huanhuzhe BILIBILI ciyuan zhouyu
解开你心中的谜题
jie kai ni xinzhong de mi ti
找寻自己存在的目的
zhaoxun ziji cunzai de mudi
再次相信 你就是唯一
zaici xiangxin ni jiushi weiyi


歌唱着BILIBILI 跟我一起
gechangzhe BILIBILI gen wo yiqi
探寻这美丽的天地
tanxun zhe meili de tiandi
别让自己的心灵紧闭 你抬头望去
bie rang ziji de xinling jin bi ni taitou wang qu
会看见彩虹在 天际
hui kanjian caihong zai tianji


还没有 看到光明
hai meiyou kan dao guangming
何必就将 希望抛弃
hebi jiu jiang xiwang paoqi
连接你的心 让世界倾听
lianjie ni de xin rang shijie qingting
你心中 最美的声音
ni xinzhong zuimei de shengyin


欢呼着BILIBILI 能量咒语
huanhuzhe BILIBILI nengliang zhouyu
别让你的梦想停息
bie rang ni de mengxiang tingxi
勇敢的心 勾绘着梦境
yonggan de xin gou huizhe mengjing
现在追就不要再犹豫
xianzai zhui jiu buyao zai youyu


歌唱着BILIBILI 跟我一起
gechangzhe BILIBILI gen wo yiqi
寻找身边 爱与惊喜
xunzhao shenbian ai yu jingxi
时光将种子埋在这里 来等待花期
shiguang jiang zhongzi mai zai zheli lai dengdai huaqi
绽放你的奇迹
zhanfang ni de qiji


欢呼着BILIBILI 次元咒语
huanhuzhe BILIBILI ciyuan zhouyu
解开你心中的谜题
jie kai ni xinzhong de mi ti
找寻自己存在的目的
zhaoxun ziji cunzai de mudi
再次相信 你就是唯一
zaici xiangxin ni jiushi weiyi


歌唱着BILIBILI 跟我一起
gechangzhe BILIBILI gen wo yiqi
探寻这美丽的天地
tanxun zhe meili de tiandi
别让自己的心灵紧闭 你抬头望去
bie rang ziji de xinling jin bi ni taitou wang qu
会看见彩虹在 天际
hui kanjian caihong zai tianji
Derivatives
Edit
Ling's Cover

| | |
| --- | --- |
| Featuring | Yuezheng Ling |
| Author(s) | Taole Ge Tie desi |
| Category | VOCALOID cover |
Other media appearances
Edit
This song was featured in the following concerts:
External links
Edit
| | |
| --- | --- |
| | Lyrics |