Ad blocker interference detected!
Wikia is a free-to-use site that makes money from advertising. We have a modified experience for viewers using ad blockers

Wikia is not accessible if you've made further modifications. Remove the custom ad blocker rule(s) and the page will load as expected.
This song article is lacking a proper background. You can help by adding one! The relevant section in the Song Article Guideline is a good starting point, and this blog post may also be helpful. We apologize for the inconvenience this may cause in the meantime.

Song pages lacking proper backgrounds are automatically sorted into this category.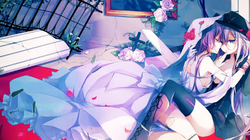 Song title
"心蝕ドグマ"
Romaji: Shinshoku Doguman
English: Heart Eclipse Dogma
Uploaded January 15, 2016, with 13,000+ views
Singer(s)
IA and Yuzuki Yukari
Producer(s)
mint* (music, lyrics)
Osamu (tuning)
Pokage (video)
Hajimu (illust)
Links
Niconico Broadcast • YouTube Broadcast (reprint)

Background
Edit
"Shinshoku Dogma" is an original rock song by mint* featuring IA and Yuzuki Yukari.
Japanese (日本語歌詞)
Romaji (ローマ字)
さぁ乱れ咲いて 淫らな部屋(せかい)で
saa midare saite midarana sekai de
捧げましょう 亡國も肉慾も
sasagemashou boukoku mo nikuyoku mo
貴女が震え哭くたび 心蝕むdogma
kijo ga furue naku tabi kokoro mushibamu dogma


とある小さな国で芽吹いた
toaru chiisana kuni de mebuita
とある小さな飢えが
toaru chiisana ue ga
あゝ最低な感情と争乱に火を灯す
aa saiteina kanjou to souran ni hi o tomosu


No one save us
No one save us
曇る窓の彼方
kumoru mado no kanata
No one save us in the name of justice
No one save us in the name of justice
革命の戦火へ
kakumei no senka e
We lost sight of the sun
We lost sight of the sun
二人背いた
futari somuita
イヴとイヴの快楽主義(ヘドニズム)
ivu to ivu no hedonizumu
売國奴の証明
baikokudo no shoumei


微熱でふさいで 透明なモザイクで
binetsu de fusaide toumeina mozaiku de
悪い夢を 塗り潰してみてよ
warui yume o nuritsubushite mite yo
レンブラントの光射す 再生の刻まで
renburanto no hikari sasu saisei no koku made


さぁ乱れ咲いて 淫らな部屋(せかい)で
saa midare saite midarana sekai de
捧げましょう 亡國も肉慾も
sasagemashou boukoku mo nikuyoku mo
息をひそめ慥(たし)かめる 渇くことのない恋を
iki o hisome tashikameru kawaku koto no nai koi o


「空ニ舞ウ背徳ノ花ハ 雪ノ花」
"sora maiu haitoku no hana wa yuki no hana"


指絡め躯骸達を
yubi karame mukurotachi o
踏み越えて識(し)るのは
fumikoete shiru no wa
"God knows"
"God knows"
あゝ亡命の日かAbaddonの手の上か
aa boumei no hi ka Abaddon no te no ue ka


No one save us
No one save us
重なることのない
kasanaru koto no nai
No one save us in the name of justice
No one save us in the name of justice
色彩を掲げ
shikisai o kakage
We lost sight of the sun
We lost sight of the sun
喰らい尽くして・・・
kurai tsukushite...
ねぇ神様、生きるのは罪でしょうか?
nee kamisama, ikiru no wa tsumi deshou ka?
But still see the sun
But still see the sun


夢が覚めたら 朝が来たなら
yume ga sametara asa ga kita nara
貴女とまた笑いあえるのかな
anata to mata warai aeru no kana
瓦礫の下 太陽を求め
gareki no shita taiyou o motome
虚空に揺れる 白百合の花
kokuu ni yureru shirayuri no hana


微熱でふさいで 透明なモザイクで
binetsu de fusaide toumeina mozaiku de
悪い夢を 塗り潰してみてよ
warui yume o nuritsubushite mite yo
レンブラントの光射す 再生の刻まで
renburanto no hikari sasu saisei no koku made


さぁ乱れ咲いて 淫らな部屋(せかい)で
saa midare saite midarana sekai de
堕ちて逝こう 善悪の深淵へ
ochite ikou zenaku no shinen e
兵器にさえ草花が宿るその日を
heiki ni sae kusabana ga yadoru sono hi o
Dogmaを
Dogma o
External links
Edit
| | |
| --- | --- |
| | Articles |
| | |
| --- | --- |
| | Lyrics |
| | |
| --- | --- |
| | Downloads |