Ad blocker interference detected!
Wikia is a free-to-use site that makes money from advertising. We have a modified experience for viewers using ad blockers

Wikia is not accessible if you've made further modifications. Remove the custom ad blocker rule(s) and the page will load as expected.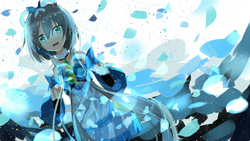 Song title
"心跳同步的时光"
Traditional Chinese: 心跳同步的時光
Pinyin: Xīntiào Tóngbù De Shíguāng
English: The Moment When our Heartbeats Sync
Uploaded July 19, 2014, with 383,000+ views
Singer(s)
Luo Tianyi
Producer(s)
JUSF (lyrics, compose, arrange, tuning)
Sya (illustrator)
Links
YouTube Broadcast (reprint)
bilibili Broadcast

Background
Edit
"Xīntiào Tóngbù De Shíguāng" is an original Luo Tianyi song written by JUSF. This song was created in celebration of the second anniversary since she uploaded her first song featuring Tianyi. It references Tianyi's ability to sense the emotions and the song of people's hearts and she sings it for them.
This song has exceeded 100,000 views on bilibili.
Succeeding versions
Edit
Memory Version

Featuring
Luo Tianyi
Author(s)
JUSF, (compose, arrange, lyrics, tuning), Ling Jie 0rz (illustrator)
Category
Rearrange, Remastering, Succeeding version

Description

4th anniversary celebration
Chinese (中文歌词)
Pinyin (拼音)
心跳同步的時光
xintiao tongbu de shiguang
心跳同步的時光
xintiao tongbu de shiguang


我與你的相遇是那麼偶然
wo yu ni de xiangyu shi name ouran
你面上的笑容銘記著到現在
ni mian shang de xiaorong mingjizhe dao xianzai
雖然我還不能與你交談
suiran wo hai buneng yu ni jiaotan
有許多想說的話該如何傳達
you xuduo xiang shuo dehua gai ruhe chuanda


那一天你笑了 甜甜的柔和的
na yitian ni xiaole tian tian de rouhe de
那一天你哭了 啜泣著哽咽著
na yitian ni kule chuaiqizhe gengyanzhe
靜靜地注視你 想輕輕擁抱你
jing jing de zhushi ni xiang qing qing yongbao ni
不知不覺開了口這樣唱起
buzhi bu jue kaile kou zheyang chang qi


是你的心聲 是我的歌聲
shi ni de xinsheng shi wo de gesheng
能聽見嗎我的呼喚
neng tingjian ma wo de huhuan
在屏幕那邊 天涯般遙遠
zai pingmu na bian tianya ban yaoyuan
但夢境卻緊密地相連
dan mengjing que jinmi de xianglian
是我的歌聲 是你的心聲
shi wo de gesheng shi ni de xinsheng
能聽見嗎這份情感
neng tingjian ma zhe fen qinggan
繼續努力吧
jixu nuli ba
未來一定會比夢想更加燦爛
weilai yiding hui bi mengxiang gengjia canlan


時針的轉動永不會停歇
shizhen de zhuandong yong bu hui tingxie
曾珍惜的回憶無聲地碎裂
ceng zhenxi de huiyi wusheng de sui lie
我全部都明白 不需要慌張
wo quanbu dou mingbai bu xuyao huangzhang
我願為你抒發一切 為你歌唱
wo yuan wei ni shufa yiqie wei ni gechang


是你的心聲 是我的歌聲
shi ni de xinsheng shi wo de gesheng
能聽見嗎我的呼喚
neng tingjian ma wo de huhuan
在屏幕那邊 天涯般遙遠
zai pingmu na bian tianya ban yaoyuan
但夢境卻緊密地相連
dan mengjing que jinmi de xianglian
是我的歌聲 是你的心聲
shi wo de gesheng shi ni de xinsheng
能聽見嗎這份情感
neng tingjian ma zhe fen qinggan
繼續努力吧
jixu nuli ba
未來一定會比夢想更加燦爛
weilai yiding hui bi mengxiang gengjia canlan


終會有一天 終會有一天
zhong hui you yitian zhong hui you yitian
你要迎接嶄新的起點
ni yao yingjie zhanxin de qidian
在你腦海中我的模樣
zai ni naohai zhong wo de muyang
將隨時間逐漸被淡忘
jiang sui shijian zhujian bei danwang


是我的歌聲 是我的心聲
shi wo de gesheng shi wo de xinsheng
所以此刻放聲地歌唱
suoyi cike fangsheng de gechang
只想為你留下一段
zhi xiang wei ni liu xia yiduan
曾經與你心跳同步的時光
cengjing yu ni xintiao tongbu de shiguang