Ad blocker interference detected!
Wikia is a free-to-use site that makes money from advertising. We have a modified experience for viewers using ad blockers

Wikia is not accessible if you've made further modifications. Remove the custom ad blocker rule(s) and the page will load as expected.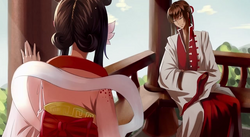 Song title
"忆红莲"
Traditional Chinese: 憶紅蓮
Pinyin: Yì Hónglián
English: Reminiscence of the Red Lotus
Uploaded August 29, 2013, with 340,000+ views
Singer(s)
Luo Tianyi
Producer(s)
Shuiqin (Composition/Tuning)
TOZZ (Arrange)
Gu Huang (Lyrics)
Su Fei/A Ying/Lizi/Ai Ou Li Ya/Yuanxiao/Lolik/Sai­lex (Illustration)
Mars Pénglai Renxing/Sangshi Huamiao (PV)
Links
YouTube Broadcast (reprint, with subtitles)
bilibili Broadcast

Background
Edit
"Yì Hónglián" is an original Luo Tianyi song with the theme of "encounter" and "separation".
It tells the story of a timid girl who is the embodiment of the red lotus.  She had a short life due to sacrifice for incarnation.  She and a man (assumed to be the male version of Yuezheng Ling) fell in love, but they could not stay together for very long.
This song has exceeded 100,000 views on bilibili.
Chinese (中文歌詞)
Pinyin (拼音)
回顧 皎月晦明燈花處
huigu jiao yue huiming denghua chu
擡眉 初紅蓮風袖袅娜爲誰舞
tai mei chu honglian feng xiu niaona wei shei wu
回顧 蓦然步轉青石路
huigu moran bu zhuan qingshi lu
還在水榭畔 畫樓處
hai zai shuixie pan hua lou chu


回顧 筆染朱砂輕蓮步
huigu bi ran zhusha qing lian bu
經年 依稀壹曲然爲君舞
jing nian yixi yi qu ran wei jun wu
回顧 來年再恨相思誤
huigu lai nian zai hen xiangsi wu
還在水榭畔 畫樓處
hai zai shuixie pan hua lou chu


是妳衣白衫如初 我紅裳如故
shi ni yi bai shan ruchu wo hong shang rugu
是我嘗相思味苦 我爲妳起舞
shi wo chang xiangsi wei ku wo wei ni qiwu
是我貪戀卻踟蹰 妳原地癡伫
shi wo tanlian que chichu ni yuan di chi zhu
還在水榭畔 畫樓處
hai zai shuixie pan hua lou chu


如初 倚君共憶當年舞
ruchu yi jun gong yi dangnian wu
紅蓮 清淚兩行欲吐半點卻無
honglian qing lei liang xing yu tu bandian que wu
如初 是妳杳然若绯霧
ruchu shi ni yaoran ruo fei wu
還在水榭畔 畫樓處
hai zai shuixie pan hua lou chu


是誰白衫如初 誰紅裳如故
shi shei bai shan ruchu shei hong shang rugu
誰人撫琴紅蓮賦 又見誰壹舞
shei ren fuqin honglian fu you jian shei yi wu
誰人貪戀卻踟蹰 半池繁榮枯
shei ren tanlian que chichu ban chi fanrong ku
還在水榭畔 畫樓處
hai zai shuixie pan hua lou chu


依然水榭畔 畫樓處
yiran shuixie pan hua lou chu