Ad blocker interference detected!
Wikia is a free-to-use site that makes money from advertising. We have a modified experience for viewers using ad blockers

Wikia is not accessible if you've made further modifications. Remove the custom ad blocker rule(s) and the page will load as expected.
This song article is lacking a proper background. You can help by adding one! The relevant section in the Song Article Guideline is a good starting point, and this blog post may also be helpful. We apologize for the inconvenience this may cause in the meantime.

Song pages lacking proper backgrounds are automatically sorted into this category.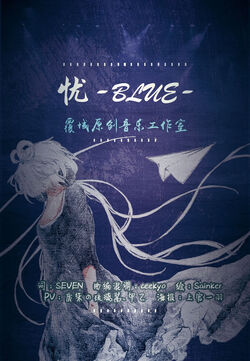 Song title
"忧-blue-"
Traditional: 憂-blue-
Pinyin: Yōu-blue-
Uploaded September 30, 2015, with 21,000+ (BB) & 70+ (YT) views
Singer(s)
Luo Tianyi
Producer(s)
ceekyo (compose, arrange, mixing, tuning)
SEVEN (lyrics)
Sainker (illustrator)
废柴の琉­璃酱, Jiayi (video editors)
Links
YouTube Broadcast
bilibili Broadcast
Background
Edit
"Yōu-blue-" is an original song featuring Luo Tianyi and is featured in the Quadimension 5 album.
Chinese (中文歌词)
Pinyin (拼音)
如果我的心里不是充满你的回忆
ruguo wo de xinli bushi chongman ni de huiyi
蔚蓝天空也从此不会再压抑
weilan tiankong ye congci bu hui zai yayi
如果穿山越岭就能抹去你的身影
ruguo chuan shanyue ling jiu neng mo qu ni de shenying
就不会有人说思念是一种病
jiu bu hui youren shuo sinian shi yi zhong bing


谁会相信 融化冰封 就能逃离
shei hui xiangxin ronghua bing feng jiu neng taoli


终于我迷失自己
zhongyu wo mishi ziji
分不清黄昏黎明
fen bu qing huanghun liming
只知道没有人可以把你代替
zhi zhidao meiyou ren keyi ba ni daiti


最后我放纵​​自己
zuihou wo fangzong​​ziji
在十万尺高空里
zai shi wan chi gaokong li
让空气迎面擦干你的痕迹
rang kongqi yingmian ca gan ni de henji


也许有一天 我能在黑夜看见
yexu you yitian wo neng zai heiye kanjian
三千世界 不再幻灭
sanqian shijie bu zai huanmie


终于我找到自己
zhongyu wo zhaodao ziji
终于我重新呼吸
zhongyu wo chongxin huxi
黑夜后黎明还是会再来临
heiye hou liming haishi hui zai lailin


最后我听见自己
zuihou wo tingjian ziji
听见未来的声音
tingjian weilai de shengyin
它让我不顾一切继续追寻
ta rang wo bugu yiqie jixu zhuixun


终于我找到自己
zhongyu wo zhaodao ziji
终于我重新呼吸
zhongyu wo chongxin huxi
黑夜后黎明还是会再来临
heiye hou liming haishi hui zai lailin


最后我听见自己
zuihou wo tingjian ziji
听见未来的声音
tingjian weilai de shengyin
它让我不顾一切继续追寻
ta rang wo bugu yiqie jixu zhuixun
External links
Edit
| | |
| --- | --- |
| | Articles |