Ad blocker interference detected!
Wikia is a free-to-use site that makes money from advertising. We have a modified experience for viewers using ad blockers

Wikia is not accessible if you've made further modifications. Remove the custom ad blocker rule(s) and the page will load as expected.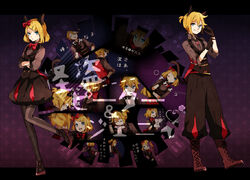 Song title
"怪盗ピーター&ジェニイ"
Romaji: Kaitō Pītā & Jenī
English: Phantom Thieves Peter & Jenny
Uploaded July 2, 2012, with 236,780+ views
Singer(s)
Kagamine Len and Kagamine Rin
Producer(s)
Nem (music, lyrics)
Tama (illustration, video)
Hidenori (guitar)
mao (bass)
Links
Niconico Broadcast
Background
Edit
A peculiar song about a cat burglar (Len) working under the selfish control of a landlord (Rin), who orders him to steal many valuable things for her. It is unknown whether the thief had romantic feelings for her or not, as the landlord has no interest in him whatsoever.
This song is featured in nem's album Boku to Kimi to no Jikan Ryokou and is also featured in the VOCAROCK's compilation album VOCAROCK collection 4 feat. Hatsune Miku.
This song has entered the Hall of Fame.
Japanese (日本語歌詞)
Romaji (ローマ字)
狙われたらもう大人しく諦めてよね?
nerawaretara mou otona shiku akiramete yo ne?
盗めない物なんて この世に一つもないのさ
nusumenai mono nante kono yoni hitotsu mo nai no sa


世界で一番大きなダイヤモンドとか
sekai de ichiban ookina daiyamondo toka
あの女優があのドラマで着てたドレスとか
ano joyuu ga ano dorama de kiteta doresu toka


欲しい物があるのなら 僕を呼んでみなよ
hoshii mono ga aru no nara boku wo yonde mina yo


闇に溶け込んで 光る眼が二つ
yami ni toke konde hikaru me ga futatsu
証拠なんて残さない
shouko nante nokosanai
気付いた時には もう手遅れだって
kizuita toki ni wa mou teokure datte
さあ、次は何が欲しい?
saa, tsugi wa nani ga hoshii?


スカしてる暇があるなら働きなさいよ!
suka shiteru hima ga aru nara hataraki nasai yo!
次は絶滅した あの蝶の標本かな・・・
tsugi wa zetsumetsu shita ano chou no hyouhon ka na …


他の女の依頼なんて 請(う)けたら○すわよ?
hoka no onna no irai nante uketara ○ suwayo ?


好きなものだけ 周りに並べて
suki na mono dake mawari ni narabete
私の王国を創るの
watashi no oukoku wo tsukuru no
あなたは私の 従順な下僕(しもべ)
anata wa watashi no juujun na shimobe
ねぇ 異論はないわね?
nee iron wa nai wa ne?


闇に溶け込んで 光る眼が二つ
yami ni toke konde hikaru me ga futatsu
本当はちょっとしんどいです・・・
hontou wa chotto shindoi desu…
何弱音吐いてんの? 「盗まれたら負け」
nani yowane haiten no? 「nusumare tara make」
それがルールでしょう?
sore ga ruuru deshou?


ねぇその瞳は いつ僕のものに?
nee sono hitomi wa itsu boku no mono ni?
面白い冗談ね
omoshiroi joudan ne


はあ・・・ 次は何がほしい?
haa… tsugi wa nani ga hoshii?
(さあ、次はあれが欲しい!)
(saa, tsugi wa are ga hoshii!)
External links
Edit
| | |
| --- | --- |
| | Articles |