This song article is lacking a proper background. You can help by adding one! The relevant section in the Song Article Guideline is a good starting point, and this blog post may also be helpful. We apologize for the inconvenience this may cause in the meantime.

Song pages lacking proper backgrounds are automatically sorted into this category.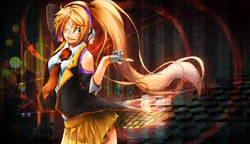 Song title
"恋はフルスロットル!!"
Romaji: Koi wa Furu Surottoru!!
English: Love is Full Throttle!!
Uploaded February 11, 2015, with 3,100+ views
Singer(s)
kanon
Producer(s)
Ayarisu (music, lyrics)
Saikusa Hinoru (illust, movie)
Links
Niconico Broadcast
Background
Edit
"Koi wa Full Throttle" is an original song by Ayarisu featuring kanon.
This song was entered in the AnoKano Creators Contest and was one of the four notable performances.
Japanese (日本語歌詞)
Romaji (ローマ字)
退屈な日々の中で気付けば いつも何かを求めていた
taikutsu na hibi no naka de kizukeba itsumo nanika wo motomete ita
良い子を演じるのはもうやめよう I Want To Change
ii ko wo enjiru no wa mou yameyou I Want To Change
高鳴りだした想い着飾った ドレスでさりげなく隠して
takanari dashi ta omoi kikazatta doresu de sarige naku kakushi te
さあ始まるパーティー 夜はこれから All Night Long
saa hajimaru paatii yoru wa korekara All Night Long


あなたのリズムで恋に落ちた Pure My Heart
anata no rizumu de koi ni ochita Pure My Heart
抑えきれないこのビートで 激しく刻んで
osaekire nai kono biito de hageshiku kizan de


いつだって恋はフルスロットル 全力で追いかけて
itsudatte koi wa furu surottoru zenryoku de oikakete
いつだって胸はときめいてるから 強く抱きしめて
itsudatte mune wa tokimeiteru kara tsuyoku dakishime te


盛り上がるフロア 視線の先は いつもあなたがうつっていた
moriagaru furoa shisen no saki wa itsumo anata ga utsutte ita
慣れない距離感 戸惑い隠せない Next Moment
narenai kyorikan tomadoi kakuse nai Next Moment


胸キュンセリフで撃ち抜かれた Pure My Heart
mune kyun serifu de uchinukareta Pure My Heart
私の恋愛メーターは もうレッドゾーンだよ
watashi no renai meetaa wa mou reddo zoon da yo


いつだって恋はフルスロットル どこまでも追いかけて
itsudatte koi wa furu surottoru dokomade mo oikakete
いつだって夢見る女の子だから 私だけを見て
itsudatte yume miru on'na no ko dakara watashi dake wo mite


前に進みたい でも進めない 臆病な自分自身を変えたい
mae ni susumitai demo susumenai okubyou na jibun jishin wo kaetai
諦めない気持ち誰にも負けない 踊り明かして PartyNight
akirame nai kimochi dare ni mo make nai odori akashi te PartyNight
いつだって恋はフルスロットル 光ってる 未来が待ってる
itsudatte koi wa furu surottoru hikatteru mirai ga matteru
あなたが私を変えてくれた
anata ga watashi wo kaete kureta


いつだって恋はフルスロットル 全力で追いかけて
itsudatte koi wa furu surottoru zenryoku de oikakete
いつだって胸はときめいてるから Lovin' you
itsudatte mune wa tokimeiteru kara Lovin' you


いつだって
itsudatte
いつだって恋はフルスロットル 全力で追いかけて
itsudatte koi wa furu surottoru zenryoku de oikakete
いつだって二人一緒がいいから 強く抱きしめて
itsudatte futari issho ga ii kara tsuyoku dakishimete
External links
Edit
| | |
| --- | --- |
| | Articles |
| | |
| --- | --- |
| | Lyrics |