Ad blocker interference detected!
Wikia is a free-to-use site that makes money from advertising. We have a modified experience for viewers using ad blockers

Wikia is not accessible if you've made further modifications. Remove the custom ad blocker rule(s) and the page will load as expected.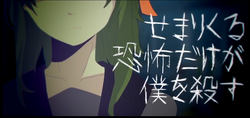 Song title
"恋哀DEATHゲーム"
Romaji: Ren'ai DEATH Game
English: Love-Grief DEATH Game
Official English: Game of death and love
Uploaded March 1, 2013, with 46,000+ (NND) & 29,000 (YT) views
Singer(s)
GUMI V3 POWER
Producer(s)
KASANE (music, lyrics)
UTA (illust, movie)
Links
Niconico Broadcast • YouTube Broadcast

Background
Edit
"Ren'ai DEATH Game" is about two friends who are in kind of a game. GUMI tells how it is inside, saying that everything started fast and it would completely change his life. She demonstrates many times in the song saying that your friend is very precious to her and does not want to lose him, but says he will not lose this game. In the end, she rebels and ends up killing his friend saying that he was a grinning demon hiding in a mask.
This song is featured in the album 13ROCK.
Japanese (日本語歌詞)
Romaji (ローマ字)
GAME START


それは突然始まり 逃げることもできなくて
sore ha totsuzen hajimarinigeru koto mo deki naku te
僕の地味な人生を 変えてしまう
boku no jimi na jinsei o kaete shimau
軟弱な心の僕じゃ 君を守ること出来なくて
nanjaku na kokoro no boku ja kimi o mamoru koto dekinakute
自分に言い聞かせた
jibun ni iikikase ta
「トキメク心はウソ ホントは残酷に哂う悪魔」
"tokimeku kokoro wa uso honto wa zankoku ni warau akuma"


サヨナラ サヨナラ 昨日の弱い僕
sayonara sayonara kinou no yowai boku
このまま大事な 友(あなた)を失っても
kono mama daiji na tomo (anata) o ushinatte mo
このゲーム譲れない
kono geemu yuzurenai
切ないね・・・
setsunai ne...


残酷なおとぎ話 時間はとまらないから
zankokuna otogi banashi jikan wa tomaranai kara
せまりくる恐怖だけが 僕を殺す
semari kuru kyoufu dake ga boku o korosu
人格さえ壊れてしまう 死神がいるこのゲームで
jinkaku sae kowarete shimau shinigami ga iru kono gemu de
彼女(キミ)は何を思うの?
kiwi wa nani o omou no?


ドキドキ 止まらないよ
dokidoki tomaranai yo
諸刃の刃が 僕を突き刺す
moroha no wa ga boku o tsukisasu


この世で1番 大事な彼女(キミ)だから
konoyo de ichiban dajina kimi dakara
守るよ この手が赤く染まろうとしても
mamoru yo kono te ga akaku somarou to shite mo
終わらない惨劇
owara nai sangeki
切ないよ・・・
setsunai yo...


誰もが 心に深い闇宿して
daremo ga kokoro ni fukai yami yado shite
偽って 真実を見過ごしてる
itsuwatte shinjitsu o misugo shiteru
絶望の淵に立ち気づく
zetsubou no fuchi ni tachi kizuku
答えを見失ってた
kotae o miushinatsuteta


サヨナラ サヨナラ 昨日の弱い僕
sayonara sayonara kinou no yowai boku
このまま大事な 友(あなた)を失ったら
kono mama daijina (anata) o ushinatte mo
このゲーム終われないから・・・
kono geemu owarenai kara...


アリガト アリガト 大切な事知った
arigato arigato taisetsuna koto shitta
仮面を被って あざ哂う彼女(キミ)が悪魔
kamen o koumutte aza warau kimi ga
このゲーム終わるよ
kono geemu owaru yo
ゲームオーバー
geemu oobaaa


ゲームオーバー
geemu oobaaa


RESET
External links
Edit
| | |
| --- | --- |
| | Articles |
| | |
| --- | --- |
| | Lyrics |