The following song article is still a work in progress. For information on how to help, see the song article guideline. We apologize for the inconvenience this may cause in the meantime.

Work-in-progress song pages are automatically sorted into this category.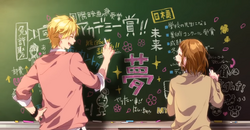 Song title
"恋色に咲け"
Romaji: Koi Iro ni Sake
English: Blooming Into the Color of Love
Uploaded March 25, 2016, with 839,430+ (NND) / 2,852,940+ (YT) views
Singer(s)
GUMI
Producer(s)
CHiCO
HoneyWorks
Oji (guitar)
shito (bass)
cake (piano)
AtsuyuK! (drums)
Hiroaki Tsutsumi (strings)
Daisuke Yowaki (strings arrangement)
Yamako (illustration)
Links
Niconico Broadcast • YouTube Broadcast

Background
Edit
"Koi Iro ni Sake" is an original Japanese song featuring GUMI.
The song has entered the Hall of Fame.
Japanese (日本語歌詞)
Romaji (ローマ字)
あの日の想いも今日の想いも駆け抜けてく
ano hi no omoi mo kyou no omoi mo kake nuketeku
息を切らしてまた明日を作ってく
iki o kirashite mata ashita o tsukutte ku


独りぼっちに慣れちゃって
hitoribocchi ni nare chatte
心はおしゃべりで
kokoro wa oshaberi de
「ダメだな こんな自分好きになれないよ」
"dame dana konna jibun suki ni narenai yo"
誰もがきっと変わりたくて
daremoga kitto kawaritakute
同じじゃダメだって
onaji ja dame datte
突然立ち上がって宣言したんだ
totsuzen tachi agatte sengen shita nda
「大丈夫 守ってみせるよ」根拠もなく
"daijoubu mamotte miseru yo" konkyo mo naku
青春へ連れ出していくんだ
seishun e tsure dashite iku nda
いつかきっと君の愛が僕色になる
itsuka kitto kimi no ai ga boku iro ni naru
昨日の嫌いも今日の優しさもドキって音も
kinou no kirai mo kyou no yasashi sa mo doki tte oto mo
いつも響いてまた明日へ駆け抜ける
itsumo hibiite mata ashita e kake nukeru


好きはきっと触れなくて
suki wa kitto furenakute
カタチ分かんなくて
katachi wakan nakute
気付けばそこにいて胸をえぐるんだ
kizukeba soko ni ite mune o eguru nda
誰かの為に背伸びをして
dareka no tame ni senobi o shite
大人のフリをして
otona no furi o shite
隠すの大変だよ正直なハート
kakusu no taihenda yo shoujiki na haato
後ろに立ってちゃ見えない君の前へ
ushiro ni tattecha mienai kimi no mae e
手を引くよこの先もずっと
te o hiku yo kono saki mo zutto
いつかきっと僕の愛が君を変えてく
itsuka kitto boku no ai ga kimi o kaeteku
未来を描いた今日の約束も"好き"って事も
mirai o egaita kyou no yakusoku mo "suki" tte koto mo
今は青くてまだ明日すら見えない
ima wa aokute mada ashita sura mienai


暗くて狭くて息が止まりそうな世界
kurakute semakute iki ga tomari sou na sekai
「違うよ?」世界は広くて君はどこだって行ける
"chigau yo?" sekai wa hirokute kimi wa doko datte ikeru
さあ目を開けて
saa me o akete
些細なきっかけで染まる
sasai na kikkake de somaru
色付いてく青春は何色もあって
irozuite ku seishun wa nani shokumo mo atte
いつかきっと君と僕は恋色に咲く
itsuka kitto kimi to boku wa koi iro ni saku
あの日の想いも今日の想いも駆け抜けてく
ano hi no omoi mo kyou no omoi mo kake nuketeku
息を切らしてまた明日を作ってく
iki o kirashite mata ashita o tsukutte ku
恋色に咲き誇る
koi iro ni saki hokoru
君の胸が騒ぐ
kimi no mune ga sawagu