Ad blocker interference detected!
Wikia is a free-to-use site that makes money from advertising. We have a modified experience for viewers using ad blockers

Wikia is not accessible if you've made further modifications. Remove the custom ad blocker rule(s) and the page will load as expected.
The following song article is still a work in progress. For information on how to help, see the song article guideline. We apologize for the inconvenience this may cause in the meantime.

What is being worked on?

Background.

Work-in-progress song pages are automatically sorted into this category.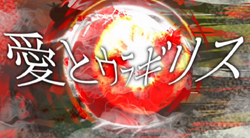 Song title
"愛とウラギリス"
Romaji: Ai to Uragirisu
English: Love and Betrayal
Uploaded June 15, 2015, with 2,000+ (NND) / 6,000+ (YT) views
Singer(s)
Hatsune Miku
Producer(s)
Hayato (Music)
Tukihumi (Lyrics)
kazm (PV)
Asai (Illustration)
Links
Niconico Broadcast • YouTube Broadcast (Reupload)

Background
Edit
"Ai to Uragirisu" is an original Japanese song featuring Hatsune Miku.
Japanese (日本語歌詞)
Romaji (ローマ字)
好き 嫌い 好き 嫌い 好き 嫌い DIE KILL 愛!!
suki, kirai, suki, kirai, suki, kirai, DIE, KILL, ai!!


私の愛を知っていますか?
watashi no ai o shitteimasu ka?
そもそも愛を知っていますか?
somosomo ai o shitteimasu ka?
くれた言葉 全て偽り
kurete kotoba, subete itsuwari


私は ありのままに それを信じ続けていた
watashi wa, ari no mama ni, sore o shinji tsuzuketeita
貴方は 蟻のように それを踏みつけた
anata wa, ari no you ni, sore o fumitsuketa


花を摘むだけ その手に愛はない
hana o tsumu dake, sono te ni ai wa nai
春は啄まれ この手に何もない
haru wa tsuibamare, kono te ni nani mo nai
月日 尽くして 気付けば 傷まみれ
tsukihi, tsukushite, kidzukeba, kizu mamire
貴方 指切り 裏切り 切り切りス
anata, yubikiri, uragiri -giri -girisu
泣き濡れ奈落へ 愛していたのにウラギリス
nakinure naraku e, aishite ita no ni uragirisu


私の愛を知っていますか?
watashi no ai o shitteimasu ka?
肉に 骨に 教えてあげる
niku ni, hone ni, oshiete ageru


私は ありのままに それを信じ続けていた
watashi wa, ari no mama ni, sore o shinji tsudzuketeita
貴方は 蟻のように それを踏みつけた
anata wa, ari no you ni, sore o fumitsuketa
私は 愛のままに 強く嘘を抱きしめていた
watashi wa, ai no mama ni, tsuyoku uso o dakishimeteta
貴方は 飽きるままに それを投げ捨てた
anata wa, akiru mama ni, sore o nagesuteta


ねぇ好きで 好きで 好きで 嫌いです
nee, sukide, sukide, sukide, kirai desu
恨み つらみ ツライ 愛シテタ
urami, tsurami, tsurai, aishite ita
月夜に 黒髪 乱して ヒタヒタと
tsukiyo ni, kurokami, midashite, hitahita to
手繰る 貴方の流した赤い糸
taguru, anata no nagashita akai ito


愛を一つ摘むだけ 供える花は無い
ai o hitotsu tsumu dake, sonaeru hana wa nai
私 貴方だけ 他には何も無い
watashi, anata dake, hoka ni wa nani mo nai
右手に 汗ばむ恨みを握りしめ
migite ni, asebamu urami o nigiri, shime
辿る足音 聞かせて虫の息
tadoru ashioto, kikasete mushi no koe


アイシテイタノニ ウラギリス
aishite ita no ni uragirisu