Ad blocker interference detected!
Wikia is a free-to-use site that makes money from advertising. We have a modified experience for viewers using ad blockers

Wikia is not accessible if you've made further modifications. Remove the custom ad blocker rule(s) and the page will load as expected.
This song article is lacking a proper background. You can help by adding one! The relevant section in the Song Article Guideline is a good starting point, and this blog post may also be helpful. We apologize for the inconvenience this may cause in the meantime.

Song pages lacking proper backgrounds are automatically sorted into this category.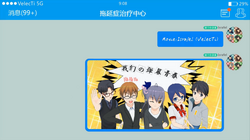 Song title
"我们的弹幕青春"
Traditional Chinese: 我們的彈幕青春
Pinyin: Wǒmen de Dànmù Qīngchūn
English: Our Danmaku Youth
Uploaded September 5, 2015, with 69,000+ (BB) & 90+ (SC) views
Singer(s)
Xin Hua
Producer(s)
VelecTi: Fantasiay (compose, arrange)
Diss (lyrics)
Ban Shao E Nizi (tuning)
Israfel (video editor)
Links
bilibili Broadcast
SoundCloud Broadcast
Background
Edit
"Wǒmen de Dànmù Qīngchūn" is an original song featuring Xin Hua.
This song is featured in the album, Xīn Huá (心華).
Chinese (中文歌詞)
Pinyin (拼音)
窗外的小雨帶著泥土的氣息
Chuangwai de xiaoyu daizhe nitu de qixi
手上的筆已停下了足跡
Shou shang de bi yi ting xiale zuji
獨自一人的房間
Duzi yiren de fangjian
只有熟睡的貓咪
Zhiyou shushui de maomi
清風帶進了一絲絲涼意
Qingfeng dai jinle yisi si liangyi
輕輕地按下電腦開關的電源
Qing qing de an xia diannao kaiguan de dianyuan
手中的咖啡傳來了暖意
Shouzhong de kafei chuan laile nuan yi
等待著和天南地北的小夥伴們一起
Dengdaizhuo he tiannandibei de xiao huobanmen yiqi
一起創造大家的歡聲笑語
Yiqi chuangzao dajia de huansheng xiao yu


五彩斑斕的話語交織成彈幕匯聚在這四方世界裡
Wucai banlan de huayu jiaozhi cheng dan mu huiju zai zhe sifang shijie li
就像在盛夏夜空裡綻放的繁星
Jiu xiang zai shengxia yekong li zhanfang de fanxing
像煙花般的燦爛
Xiang yanhua ban de canlan
卻有著太陽溫暖
Que youzhe taiyang wennuan
一言一語一點一滴組成了大家心意
Yi yan yi yu yi dian yi di zuchengle dajia xinyi


不管是歡笑還是淚水的彈幕匯聚在這四方世界裡
Buguan shi huanxiao haishi leishui de dan mu huiju zai zhe sifang shijie li
都能向大家一起分享這份心情
Dou neng xiang dajia yi qi fenxiang zhe fen xinqing
所有歡快的嬉鬧
Suoyou huankuai de xinao
所有感動閒聊
Suoyou gandong xianliao
一分一秒都是我寶貴的回憶
Yi fen yi miao dou shi wo baogui de huiyi


烈日的熱浪傳來盛夏的氣息
Lieri de relang chuan lai shengxia de qixi
不安地望向眼前的人群
Bu'an di wang xiang yanqian de renqun
向著那個陌生的世界輕輕揮了揮手
Xiangzhe nage mosheng de shijie qing qing huile huishou
迎接我的是那熟悉的熱情
Yingjie wo de shi na shuxi de reqing


縱然我們素未謀面不知姓名偶爾才能相聚在一起
Zongran women su wei moumian buzhi xingming ou'er caineng xiangju zai yiqi
卻可以悠然談笑就像多年知己
Que keyi youran tanxiao jiu xiang duonian zhiji
工作學習的煩惱
Gongzuo xuexi de fannao
一起開心的吐槽
Yiqi kai xin de tucao
一言一語一點一滴都全是熟悉話語
Yi yan yi yu yi dian yi di dou quan shi shuxi huayu


就算只是平平常常歡笑也是我們特有的青春味道
Jiusuan zhishi pingping changchang huanxiao yeshi women teyou de qingchun weidao
那是只屬於二次元的小小自豪
Na shi zhi shuyu er ciyuan de xiao xiao zihao
縱然長大後回憶
Zongran chang da hou huiyi
只剩淺淺微笑
Zhi sheng qian qian weixiao
一分一秒都是我成長的路標
Yi fen yi miao dou shi wo chengzhang de lubiao


當我再次看向前方 路 依舊充滿了荊棘
Dang wo zaici kan xiang qianfang lu yijiu chongmanle jingji
可以微笑著對自己說沒關係
Keyi weixiaozhe dui ziji shuo meiguanxi
因為有大家和我一起
Yinwei you dajia he wo yiqi


不管是歡笑還是淚水話語都匯聚在這無限世界裡
Buguan shi huanxiao haishi leishui huayu dou huiju zai zhe wuxian shijie li
都能向大家一起分享這份心情
Dou neng xiang dajia yi qi fenxiang zhe fen xinqing
不管在哪個世界
Buguan zai nage shijie
只要對面有你
Zhiyao duimian you ni
我都可以做回我真正的自己
Wo du keyi zuo hui wo zhenzheng de ziji
External links
Edit
| | |
| --- | --- |
| | Lyrics |