Ad blocker interference detected!
Wikia is a free-to-use site that makes money from advertising. We have a modified experience for viewers using ad blockers

Wikia is not accessible if you've made further modifications. Remove the custom ad blocker rule(s) and the page will load as expected.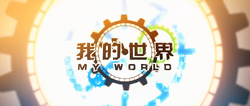 Song title
"我的世界"
Pinyin: Wǒ de Shìjiè
Official English: My World
Uploaded February 1, 2014, with 150,000+ views
Singer(s)
Luo Tianyi, Hatsune Miku
Producer(s)
ToriSama (music, Chinese lyrics)
Mitoru (Japanese lyrics)
Wei Tu (illustration)
E.D.R. (PV)
Links
YouTube Broadcast (reprint, subbed)
bilibili Broadcast

Background
Edit
"My World" is an original Luo Tianyi and Hatsune Miku duet that was originally uploaded on August 9, 2012. It was remastered and rearranged in February 2014.
This song has exceeded 100,000 views on bilibili.
Preceding versions
Edit
Original Version

Featuring
Luo Tianyi, Hatsune Miku
Author(s)
ToriSama, Mitoru
Category
Preceding version, VOCALOID cover

Description

The original version of the song
Singer + Color
Tianyi
Miku
Chinese (中文歌词)/Japanese (日本語歌詞)
Pinyin (拼音)/Romaji (ローマ字)

打开过去的相片我们的从前

dakai guoqu de xiangpian women de congqian

天真无邪的那些笑脸已消失不见

tianzhen wuxie de naxie xiaolian yi xiaoshi bujian

想拥抱新的感觉

xiang yongbao xin de ganjue

是否那是一种错觉

shifou na shi yi zhong cuojue

是在虚妄中蔓延的那一厢情愿

shi zai xuwang zhong manyan de na yixiangqingyuan

想和你再靠近一点

xiang he ni zai kaojin yidian

又怕你会说出再见

you pa ni hui shuochu zaijian

我踟蹰在时间边缘

wo chichu zai shijian bianyuan

想偷瞄你映红的脸

xiang tou miao ni ying hong de lian

却撞上你含泪的眼

que zhuang shang ni han lei de yan

未抽中的签

wei chou zhong de qian




倒退时间再来一遍

daotui shijian zailai yibian

寻找错误分支点

xunzhao cuowu fenzhi dian

穿越界限回到从前

chuanyue jiexian hui dao congqian

背下你每张笑颜

bei xia ni mei zhang xiaoyan

我的世界我的世界

wo de shijie wo de shijie

早已变得支离破碎

zaoyi bian de zhiliposui

只剩对你的眷恋

zhi sheng dui ni de juanlian




なぜ夢見る夢見るわけない景色が

naze yumemiru wake nai keshiki ga

本当に目の前に現れてるよ

hontou ni me no mae ni arawareteru yo

枯れ葉 静か 落ちってくる

kareha shizuka ochittekuru

誰でも知らない恋愛物語を

dare de mo shiranai ren'ai monogatari o

パラレルワールドからのメールよ

parareru waarudo kara no meeru yo

それは君の魔法 時間を超えてる

sore wa kimi no mahou jikan o koeteru

すべて感じてるの さけない視線を

subete kanjiteru no sakenai shisen o

ただ臆病者だけど

tada okubyoumono dakedo




シナリオの通りに あのめぐり会い

shinario no toori ni ano meguri ai

不可改变的情节

buke gaibian de qingjie

心揺れている 暗に堕ちてゆく

kokoro yureteiru yami ni ochiteyuku

找寻唯一的终焉

zhaoxun weiyi de zhong yan

失った光を 手に入れよう

ushinatta hikari o te ni ireyou

不会磨灭的信念

bu hui momie de xinnian

もしももう一度 すれ違っても君の傍へ

moshimo mou ichido surechigatte mo kimi no soba e

就在你身旁

jiu zai ni shen pang




不断跳跃不断重写

buduan tiaoyue buduan chong xie

旅行在孤独边缘

lüxing zai gudu bianyuan

爱的誓言跌落深渊

ai de shiyan dieluo shenyuan

忘记编号的螺旋

wangji bianhao de luoxuan

遗失一天遗失一年

yishi yitian yishi yi nian

最后也只是想和你守候每一个季节

zuihou ye zhishi xiang he ni shouhou mei yige jijie




倒退时间再来一遍

daotui shijian zailai yibian

寻找错误分支点

xunzhao cuowu fenzhi dian

穿越界限回到从前

chuanyue jiexian hui dao congqian

背下你每张笑颜

bei xia ni mei zhang xiaoyan

我的世界我的世界

wo de shijie wo de shijie

早已变得支离破碎

zaoyi bian de zhiliposui

只剩对你的眷恋

zhi sheng dui ni de juanlian




誰かの 思いよ

dareka no omoi yo

心が乱れる

kokoro ga midareru

さよなら 離せば

sayonara hanaseba

タイムラインの終点

taimurain no shuuten

私の 世界は

watashi no sekai wa

光もなく ただ

hikari mo naku tada

君がいるなら

kimi ga iru nara




闭上双眼心化作茧

bi shang shuangyan xin hua zuo jian

准备下次的诀别

zhunbei xia ci de juebie

谁的哽咽如此缠绵

shei de geng yan ruci chanmian

无法逃离的怪圈

wufa taoli de guaiquan

我的世界我的世界

wo de shijie wo de shijie

是否可以再次停滞不前

shifou keyi zaici tingzhi bu qian

有你的终点

you ni de zhongdian