Ad blocker interference detected!
Wikia is a free-to-use site that makes money from advertising. We have a modified experience for viewers using ad blockers

Wikia is not accessible if you've made further modifications. Remove the custom ad blocker rule(s) and the page will load as expected.
The following song article is still a work in progress. For information on how to help, see the song article guideline. We apologize for the inconvenience this may cause in the meantime.

Work-in-progress song pages are automatically sorted into this category.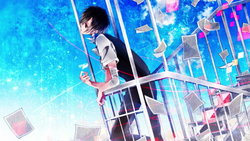 Song title
"或る不適合者の独白"
Romaji: Aru Futekigousha no Dokuhaku
English: Monologue of a Nonconformist
Uploaded October 16, 2012, with 132,000+ views
Singer(s)
VY2
Producer(s)
Asin Kuroda (music, lyrics)
Mikakunin Seibutsu (illust)
Fukuda Masato (guitar)
Arutsun-P (drums)
Links
Niconico Broadcast • YouTube Broadcast (reprint)

Background
Edit
A demonstration song for VY2v3.
Japanese (日本語歌詞)
Romaji (ローマ字)
さわやかな朝が来た
sawayakana asa ga kita
とっくにゲームオーバーの僕の人生にも
tokku ni geemu oubaa no boku no jinsei nimo
くだらなく平等に朝は来る
kudaranaku byoudouni asa wa kuru


画面の向こうで人は死ぬ 苦いコーヒーとともに
gamen no mukou de hito wa shinu nigai koohii to tomoni
キャスターは笑顔で言う 「さぁ、次のニュースです。」
kyasutaa wa egao de iu 'saa, tsugi no nyuusu desu.'


どんなふうに泣いたらいい? 名前すら知らぬ死に
donna fuu ni naitara ii? namae sura shiranu shi ni
僕は良い人間だから 悲しむふりはしておいた
boku wa yoi ningen dakara kanashimu furi wa shite oita


こんなに自分が嫌いなくせに 他人には愛してほしくて
konnani jibun ga kirai na kuse ni tanin niwa aishite hoshikute
でもそれは無理な話だと どこかで気づいていて
demo sore wa muri na hanashi dato dokoka de kizuite ite


他人に好かれる性格(キャラクター) 演じてみても
tanin ni sukareru kyarakutaa enjite mite mo
すぐに疲れて これじゃただの面倒くさい人だ
sugu ni tsukarete kore ja tada no mendoukusai hito da


どんなふうに笑えばいい? 楽しくなんてないとき
donna fuu ni warae ba ii? tanoshiku nante nai toki
愛想笑いは得意だけど 本当は、嫌いだ
aiso warai wa tokui dakedo hontou wa, kirai da


本気でぶつからなくなってから 痛みはそれほど感じない
honki de butsukaranaku natte kara itami wa sorehodo kanjinai
でも思い出せない あのとき
demo omoi dasenai ano toki
僕は傷を負って いったい何が欲しかったんだろう
boku wa kizu o otte ittai nani ga hoshikattan darou


どんなふうに生きたらいい?
donna fuu ni ikitara ii?
ときどき、どうしようもなく悲しくなるんだ
tokidoki, doushiyou mo naku kanashiku narun da
けど 響く問いには 自分で答えなくちゃ。
kedo hibiku toi niwa jibun de kotae nakucha.


(どんなふうに泣いたらいい?)
(donna fuu ni naitara ii?)
(どんなふうに笑えばいい?)
(donna fuu ni waraeba ii?)


やっぱり 明日も
yappari ashita mo
朝が来る
asa ga kuru
External links
Edit