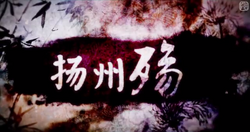 Song title
"扬州殇"
Traditional Chinese: 揚州殤
Pinyin: Yángzhōu Shāng
English: The Desolation of Yangzhou
Uploaded September 12, 2013, with 270,000+ views
Singer(s)
Luo Tianyi
Producer(s)
铅笔 (composer)
杏花包子 (lyrics)
桶爷 (illust)
GhostFinal (mixing)
冰镇甜豆浆 (PV)
Links
YouTube Broadcast (reprint)
bilibili Broadcast

Background
Edit
An original song featuring Luo Tianyi.  
The song is based on the life of a famous poet and musician, 姜夔 (Jiāng Kuí), who lived during the Song dynasty. The song depicts the time when the country was invaded by Mongols, which lead to his resentment of the enemy and the destruction of Yangzhou City.
This song has exceeded 100,000 views on bilibili.
Chinese (中文歌词)
Pinyin (拼音)
绿杨 巷陌秋 风起瑟瑟凄凉
lü yang xiang mo qiufeng qi sese qiliang
追念镜湖上晚花行月小舫
zhui nian jing hushang wan hua xing yue xiao fang
春风 翠叶 青花
chunfeng cui ye qinghua
疏篱 红砖 新瓦
shu li hong zhuan xin wa
当年 杜郎俊赏 遣怀歌尤唱
dangnian du lang jun shang qian huai ge you chang


吟一曲 扬州慢 鬓已老
yin yi qu yangzhou man bin yi lao
桥边 红药 也难抵 这岁月刀
qiao bian hong yao ye nan di zhe suiyue dao
年少轻狂 潇洒墨扬
nianshao qingkuang xiaosa mo yang
空得虚名一场
kong de xuming yi chang
十年匆忙 国破只留残墙
shi nian congmang guo po zhi liu can qiang
念这兴亡 叹这过往
nian zhe xingwang tan zhe guowang
若年华容得我嚣张
ruonian huarong de wo xiaozhang
愿将这竹笛换做血马缨枪
yuan jiang zhe zhu di huan zuo xue ma ying qiang


衰草 寒烟淡 雾勾惘惘思量
shuai cao han yan dan wu gou wang wang siliang
遥想 边域狼 戊楼吹角城长
yaoxiang bian yu lang wu lou chuijiao cheng zhang
肃风 翠凋 红落
su feng cui diao hong luo
腐木 黑云 黄砂
fu mu hei yun huangsha
如今 二十四桥 仍在人惆怅
rujin ershisi qiao reng zai ren chouchang


唱一首 凄凉犯 恨不孝
chang yi shou qiliang fan hen bu xiao
胡马 窥江 身不在 心如焚烧
hu ma kui jiang shen buzai xin ru fenshao
寒雪冻疮 飞石迷瘴
han xue dongchuang fei shi mi zhang
纵惹珠泪盈眶
zong re zhu lei ying kuang
十年茫茫 长恨对月独怆
shi nian mangmang zhang hen dui yue du chuang
念这兴亡 叹这过往
nian zhe xingwang tan zhe guowang
若年华容得我嚣张
ruonian huarong de wo xiaozhang
愿将这笔墨换做铁甲酒囊
yuan jiang zhe bimo huan zuo tiejia jiu nang


昨夜尤惊梦
zuoye you jing meng
今朝尚难醒
jinzhao shang nan xing
竹笛斩敌首
zhu di zhan di shou
笔墨收广陵
bimo shou guangling


棹移慢桨 新月中当
zhao yi man jiang xin yue zhong dang
行舟倒影幢幢
xing zhou daoying chuangchuang
一眼荒凉 再叹亦是神伤
yiyan huangliang zai tan yi shi shenshang
感这兴亡 放这过往
gan zhe xingwang fang zhe guowang
如东去的江水流淌
ru dong qu de jiangshui liutang
纵白发苍苍
zong bai fa cangcang
报国心尚痴狂
baoguo xin shang chikuang