Ad blocker interference detected!
Wikia is a free-to-use site that makes money from advertising. We have a modified experience for viewers using ad blockers

Wikia is not accessible if you've made further modifications. Remove the custom ad blocker rule(s) and the page will load as expected.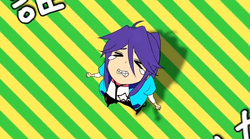 Song title
"拙者も誰かと付き合いたい"
Romaji: Sessha mo Dareka to Tsukiaitai
English: This Humble Samurai Wishes to Date Someone as Well
Uploaded February 20, 2013, with 155,000+ views
Singer(s)
Camui Gackpo
Producer(s)
Takkyuu Shounen (music)
Toshisan (guitar)
Death Ohagi (bass)
Yumeno Haruka (illustration)
Silve (video)
Links
Niconico Broadcast
Background
Edit
The sequel to Dare Demo Ii Kara Tsuki Aitai, about Gackpo also being desperate to date anybody.
This song is featured in the EXIT TUNES compilation album Vocalosensation.
Japanese (日本語歌詞)
Romaji (ローマ字)
誰でもいいから付き合いたい
dare demo ii kara tsukiaitai
誰でもいいから付き合いたい
dare demo ii kara tsukiaitai
誰でもいいから付き合いたい
dare demo ii kara tsukiaitai
もう 誰でもいいから
mou dare demo ii kara


男の前では喋れても
otoko no mae de wa shaberetemo
おなごの前では喋れない
onago no mae de wa shaberenai
トラウマだらけの僕の過去
torauma darake no boku no kako
涙なしでは語れない
namida nashi de wa katarenai


「どうして彼女ができないの?」
"doushite kanojo ga dekinai no?
拙者は素敵だと君は言う
sessha wa suteki da to kimi wa iu
「ならば拙者と付き合ってよ」
"naraba sessha to tsuki atte yo"
その苦笑の意味はなに
sono nigawarai no imi wa nani


誰でもいいから付き合いたい
dare demo ii kara tsukiaitai
誰でもいいから付き合いたい
dare demo ii kara tsukiaitai
誰でもいいから付き合いたい
dare demo ii kara tsukiaitai
もう 誰でもいいから
mou dare demo ii kara


誰でもいいから付き合いたい
dare demo ii kara tsukiaitai
誰でもいいから付き合いたい
dare demo ii kara tsukiaitai
誰でもいいから付き合いたい
dare demo ii kara tsukiaitai
もう 誰でもいいから
mou dare demo ii kara


誰でもいいから付き合いたい
dare demo ii kara tsukiaitai
誰でもいいから付き合いたい
dare demo ii kara tsukiaitai
誰でもいいから付き合いたい
dare demo ii kara tsukiaitai
もう 誰でもいいから
mou dare demo ii kara


もう 誰でもいいから
mou dare demo ii kara
External links
Edit
| | |
| --- | --- |
| | Articles |