Ad blocker interference detected!
Wikia is a free-to-use site that makes money from advertising. We have a modified experience for viewers using ad blockers

Wikia is not accessible if you've made further modifications. Remove the custom ad blocker rule(s) and the page will load as expected.
This song article is lacking a proper background. You can help by adding one! The relevant section in the Song Article Guideline is a good starting point, and this blog post may also be helpful. We apologize for the inconvenience this may cause in the meantime.

Song pages lacking proper backgrounds are automatically sorted into this category.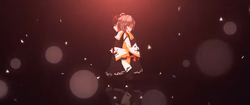 Song title
"捉鬼纪检委员会"
Traditional Chinese: 捉鬼紀檢委員會
Pinyin: Zhuō Guǐ Jìjiǎn Wěiyuánhuì
Uploaded June 27, 2013, with 130,000+ views
Singer(s)
Luo Tianyi
Producer(s)
Sya (compose, arrange, lyrics, tuning, illustrator)
GhostFinal (arrange, mixing)
Bingzhen Tian Doujiang (video editor)
Links
YouTube Broadcast (reprint)
bilibili Broadcast

Background
Edit
"Zhuō Guǐ Jìjiǎn Wěiyuánhuì" is an original song featuring Luo Tianyi.
This song has exceeded 100,000 views on bilibili.
Chinese (中文歌词)
Pinyin (拼音)
传闻中存在神秘纪律检查委员会
chuanwen zhong cunzai shenmi jilu jiancha weiyuanhui
维持着世间和平氛围
weichizhe shijian heping fenwei
白日判断著世间的是与非错与对
bai ri panduanzhe shijian de shi yu fei cuo yu dui
引得无数人追随
yinde wushu ren zhuisui
夜幕降临 月无盈亏
yemu jianglin yue wu yingkui
真正任务乃除去不干净之鬼
zhenzheng renwu nai chuqu bu ganjing zhi gui


摘下黑白玉珮让符咒纷飞
zhai xia heibai yupei rang fuzhou fenfei
无数遍念起咒文 开启八卦阵光辉
wushu bian nian qi zhou wen kaiqi bagua zhen guanghui
灵刀斩断不洁净的累赘
ling dao zhan duan bu jiejing de leizhui
即使遍体鳞伤也不能后退
jishi biantilinshang ye buneng houtui


超自然能力其名为土木金火水
chaoziran nengli qi ming wei tumu jin huo shui
不知不觉就这样学会
buzhi bu jue jiu zheyang xuehui
从何时开始背负使命不能再颓废
cong he shi kaishi beifu shiming buneng zai tuifei
手握桃木身心疲惫
shou wo taomu shenxin pibei
还要净化 多少污秽
hai yao jinghua duoshao wuhui
才能够逃离名为责任的墓碑
cai nenggou taoli ming wei zeren de mubei


今晚引出所有剩下的厉鬼
jin wan yinchu suoyou sheng xia de ligui
拼上性命也要了结这无限的轮回
pin shang xingming ye yao liaojie zhe wuxian de lunhui
惨痛战斗之后 我们还活着
cantong zhan dou zhihou women hai huozhe
卸下沉重包袱流下汗水
xie xia chenzhong baofu liuxia hanshui


记忆碎片取回
jiyi suipian qu hui
未来也已破碎
weilai ye yi posui
不是正义战士
bushi zhengyi zhanshi
与鬼也是同类
yu gui yeshi tonglei
只是因为修行高深不被普通方法摧毁
zhishi yinwei xiu hang gaoshen bu bei putong fangfa cuihui
甚至还把驱鬼方法全部都给学会
shenzhi hai ba qu gui fangfa quanbu dou gei xuehui
被人篡改记忆
bei ren cuangai jiyi
以为自己人类
yiwei ziji renlei
用缩短性命的招式每日每夜劳累
yong suoduan xingming de zhaoshi mei ri mei ye laolei
此时此刻被其他驱鬼人包围
ci shi cike bei qita qu gui ren baowei
已经没时间力气反抗回味伤悲
yijing mei shijian liqi fankang huiwei shang bei


到底什么才是真正的是非
daodi shenme cai shi zhenzheng de shifei
到底哪一方才能绝对肯定错与对
daodi na yifang caineng juedui kending cuo yu dui
把符咒埋在了自己体内
ba fuzhou mai zaile ziji tinei
合掌说告辞 永不能后悔
hezhang shuo gaoci yong buneng houhui
External links
Edit
| | |
| --- | --- |
| | Lyrics |