Ad blocker interference detected!
Wikia is a free-to-use site that makes money from advertising. We have a modified experience for viewers using ad blockers

Wikia is not accessible if you've made further modifications. Remove the custom ad blocker rule(s) and the page will load as expected.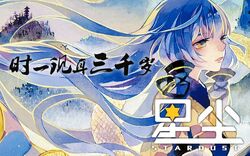 Song title
"时一现耳三千岁"
Traditional Chinese: 時一現耳三千歲
Pinyin: Shí Yī Xiàn Ěr Sānqiān Suì
Uploaded March 31, 2016, with 33,000+ (YT) & 240,000+ (BB) views
Singer(s)
Stardust
Producer(s)
Melo (compose, arrange)
Lü Xie (lyrics)
Ling Jie 0rz (illustrator)
Bingzhen Tian Doujiang (video editor)
Links
YouTube Broadcast
bilibili Broadcast
Background
Edit
"Shí Yī Xiàn Ěr Sānqiān Suì" is the fourth official demo song for Stardust. It is featured in the album, Xīng Yuàn (星愿). The song focuses on Buddhism.
This song has exceeded 100,000 views on bilibili.
Chinese (中文歌词)
Pinyin (拼音)
天光乍现 云海岚山
tianguang zha xian yunhai lan shan
命盘轮转 似真亦幻
ming pan lunzhuan shi zhen yi huan
莲花台案 枯骨腐骸
lianhua tai an kugu fu hai
欲念错综 合十成空
yunian cuo zonghe shi cheng kong


万物事言语道断
wan wushi yanyu daoduan
心行于虚妄之间
xin xing yu xuwang zhi jian
非声色物我两忘
fei shengse wu wo liang wang
俗世与我皆幻象
sushi yu wo jie huanxiang


悲欢离合 来去以火
beihuanlihe lai qu yi huo
火宅炎炎 众苦难安
huozhai yanyan zhong kunan an


万物事言语道断
wan wushi yanyu daoduan
心行于虚妄之间
xin xing yu xuwang zhi jian
非声色物我两忘
fei shengse wu wo liang wang
俗世与我皆幻象
sushi yu wo jie huanxiang


万物事言语道断
wan wushi yanyu daoduan
心行于虚妄之间
xin xing yu xuwang zhi jian
非声色物我两忘
fei shengse wu wo liang wang
俗世与我皆幻象
sushi yu wo jie huanxiang


千山而起是因缘
qian shan er qi shi yinyuan
天地行远如是观
tiandi xing yuan rushi guan
如是我思三千年
rushi wo si sanqiannian