Ad blocker interference detected!
Wikia is a free-to-use site that makes money from advertising. We have a modified experience for viewers using ad blockers

Wikia is not accessible if you've made further modifications. Remove the custom ad blocker rule(s) and the page will load as expected.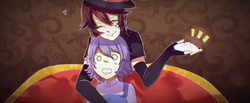 Song title
"时盘上的神偷"
Traditional Chinese: 時盤上的神偷
Pinyin: Shípán Shàng de Shéntōu
Official English: Thief on the dial
Uploaded November 19, 2015, with 120,000+ views
Singer(s)
Yuezheng Ling
Producer(s)
litterzy (compose, arrange, guitar, mixing)
Da Zuiba Lang (lyrics)
Tuzi Jei (bass)
Tang (keyboard)
A Lu (illustrator)
Zhongben Gu (video editor)
Ke Lin (tuning, compression)
Links
YouTube Broadcast (reprint)
bilibili Broadcast
5SING Broadcast

Background
Edit
"Thief on the dial" is an original song featuring Yuezheng Ling. It is about how she a good thief and a playboy who never stays for anyone.
This song has exceeded 100,000 views on bilibili.
Chinese (中文歌词)
Pinyin (拼音)
永恒的奔走
yongheng de benzou
闪现在每座高楼
shanxian zai mei zuo gaolou
融进喧嚣的人群飞掠过你左右
rong jin xuanxiao de renqun fei lueguo ni zuoyou
从不做停留
cong bu zuo tingliu
一切都抛到身后
yiqie dou pao dao shenhou
把你珍惜的所有全部悄悄带走
ba ni zhenxi de suoyou quanbu qiaoqiao dai zou


无所不在就是说我的脚步
wusuobuzai jiushi shuo wo de jiaobu
愉快地偷走最珍贵财富
yukuai di tou zou zui zhengui caifu
随你们羡慕也随你们爱慕
sui nimen xianmu ye sui nimen aimu
别痴心妄想要将我逮捕
bie chixinwangxiang yao jiang wo daibu


全世界都在将我追逐
quan shijie dou zai jiang wo zhuizhu
我前方总是不知 去向 何处
wo qianfang zong shi buzhi quxiang he chu
身后 也 不再 会有 归途
shenhou ye bu zaihui you guitu
多少人一步踏错满盘皆输
duoshao ren yibu ta cuo man pan jie shu


来吧来吧大爷我偷过宝贝无数
lai ba lai ba daye wo touguo baobei wushu
谁能追上我就赏你两件再继续分胜负
shui neng zhui shang wo jiu shang ni liang jian zai jixu fen sheng fu
如果哪个笨蛋胆敢就在此停下脚步
ruguo nage bendan dangan jiu zai ci ting xia jiaobu
在你发呆的时候我会全剧都夺走
zai ni fadai de shihou wo hui quan ju dou duo zou
再让你哭
zai rang ni ku


年少时姑且陪你朝朝暮暮
nianshao shi guqie pei ni zhao zhao mu mu
你若沉醉正好偷光跑路
ni ruo chenzui zhenghao tou guang pao lu
就这样霸气也就这样炫酷
jiu zheyang baqi ye jiu zheyang xuan ku
别痴心妄想要将我留住
bie chixinwangxiang yao jiang wo liu zhu


迷恋我就会犯下错误
milian wo jiu hui fan xia cuowu
忘记了我的冷漠 冷酷 残酷
wangjile wo de lengmo lengku canku
就永远 不再 会有 出路
jiu yongyuan bu zaihui you chulu
多少人青春不再身化枯骨
duoshao ren qingchun bu zai shen hua kugu


看吧看吧本小姐毁掉小清新无数
kan ba kan ba ben xiaojie hui diao xiao qingxin wushu
年少白日梦里醒来之后就变成肥猪
nianshao bai ri meng li xing lai zhihou jiu bian cheng fei zhu
哪个白痴如果敢不把我关注
nage baichi ruguo gan bu ba wo guanzhu
在你白头的时候我会让你空嗟叹
zai ni baitou de shihou wo hui rang ni kong jietan
光阴虚度
guangyin xudu


迷恋我就会犯下错误
milian wo jiu hui fan xia cuowu
忘记了我的冷漠 冷酷 残酷
wangjile wo de lengmo lengku canku
就永远 不再 会有 出路
jiu yongyuan bu zaihui you chulu
多少人青春不再身化枯骨
duoshao ren qingchun bu zai shen hua kugu


看吧看吧本小姐毁掉小清新无数
kan ba kan ba ben xiaojie hui diao xiao qingxin wushu
年少白日梦里醒来之后就变成肥猪
nianshao bai ri meng li xing lai zhihou jiu bian cheng fei zhu
哪个白痴如果敢不把我关注
nage baichi ruguo gan bu ba wo guanzhu
在你白头的时候我会让你空嗟叹
zai ni baitou de shihou wo hui rang ni kong jietan
光阴虚度
guangyin xudu


来吧来吧大爷我偷过宝贝无数
lai ba lai ba daye wo touguo baobei wushu
谁能追上我就赏你两件再继续分胜负
shui neng zhui shang wo jiu shang ni liang jian zai jixu fen sheng fu
如果哪个笨蛋胆敢就在此停下脚步
ruguo nage bendan dangan jiu zai ci ting xia jiaobu
在你发呆的时候我会全剧都夺走
zai ni fadai de shihou wo hui quan ju dou duo zou
再让你哭
zai rang ni ku