Ad blocker interference detected!
Wikia is a free-to-use site that makes money from advertising. We have a modified experience for viewers using ad blockers

Wikia is not accessible if you've made further modifications. Remove the custom ad blocker rule(s) and the page will load as expected.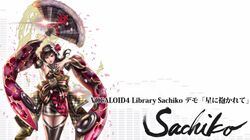 Song title
"星に抱かれて"
Romaji: Hoshi ni Dakarete
English: Held by Stars
Uploaded July 27, 2015, with 286,000+ (NND) / 123,000+ (YT) views
Singer(s)
Sachiko
Producer(s)
Rei Nakanishi (lyrics)
Tsushimi Takashi (composer)
Asin Kuroda (voice manipulation)
Midori Fuu (illust)
Links
Niconico Broadcast • YouTube Broadcast (official)

Background
Edit
The only demo song released for VOCALOID4 Sachiko, "Hoshi ni Dakarete" was originally written by novelist and songwriter Rei Nakanishi, and performed by Sachiko Kobayashi (Sachiko's voice provider). A piece about love lost. Only a small portion of the song was used in the demonstration.
The song has entered the Hall of Fame.
| Japanese (日本語歌詞) | Romaji (ローマ字) |
| --- | --- |
| あなたは私を連れて | anata wa watashi o tsurete |
| 流れ星のように | nagareboshi no youni |
| 空へ 突然飛び立った | sora e totsuzen tobitatta |
| どこへ行こうとかまわない | doko e ikou to kamawanai |
| 花は咲き鳥は舞う | hana wa saki tori wa mau |
| 波は打ち寄せ返す | nami wa uchiyose kaesu |
| 日は涼み 日は上る | hi wa suzumi hi wa noboru |
| 私は生きている | watashi wa ikite iru |
| ああ 星に抱かれて | aa hoshi ni dakarete |
| 永遠に この愛とともに | eien ni kono ai to tomo ni |
| 星に抱かれて | hoshi ni dakarete |
| 大空の 終わりの果てまで。 | oozora no owari no hate made. |
External links
Edit
| | |
| --- | --- |
| | Lyrics |