Ad blocker interference detected!
Wikia is a free-to-use site that makes money from advertising. We have a modified experience for viewers using ad blockers

Wikia is not accessible if you've made further modifications. Remove the custom ad blocker rule(s) and the page will load as expected.
This song article is lacking a proper background. You can help by adding one! The relevant section in the Song Article Guideline is a good starting point, and this blog post may also be helpful. We apologize for the inconvenience this may cause in the meantime.

Song pages lacking proper backgrounds are automatically sorted into this category.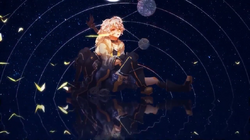 Song title
"星临"
Traditional Chinese: 星臨
Pinyin: Xīng Lín
Official English: Transit of Star
Uploaded May 18, 2016, with 88,000+ views
Singer(s)
Xingchen, Xingsha
Producer(s)
Yeming Wange (compose, arrange)
Jiangzi Ying (lyrics)
Huar Bu ku (tuning)
Miao Jiu, Man Yu (illustrators)
Feng Mu Mian (mixing)
Yu Gong Shang (video editor)
Muse (planning)
Links
YouTube Broadcast (reprint)
bilibili Broadcast
5SING Broadcast

Background
Edit
"
「Love」is the most powerful attraction

Transit of Star Just For U

"
 

— Muse
"Transit of Star" is an original song featuring Xingchen (Stardust) and her fanmade genderbend, Xingsha.
Singer + Color
Xingchen
Both
Xingsha
Chinese (中文歌词)
Pinyin (拼音)

长眠于 这星光的尘埃里

changmian yu zhe xingguang de chen'ai li

睁眼时 光芒聚集 在这瞬息

zheng yan shi guangmang juji zai zhe shunxi

为何 却是 可惧 寂静

weihe que shi ke ju jijing




朦胧中 的旋律 悠扬若身处梦境

menglong zhong de xuanlü youyang ruo shen chu mengjing

虽还是 未明所以 却不禁侧耳聆听

sui haishi weiming suoyi que bujin ce'er lingting

跋涉过 万千星系 长达几亿光年的距离

basheguo wan qian xingxi zhang da ji yi guang nian de juli

却是只为 灵光乍起 懵懂一念的追寻

que shi zhi wei lingguang zha qi mengdong yinian de zhuixun




遵循 你足迹 不需 何原因

zunxun ni zuji bu xu he yuanyin

这是 与生俱来的默契

zhe shi yu sheng ju lai de moqi

就算 伪命题 我却 仍相信

jiusuan wei mingti wo que reng xiangxin

你的 每一句 全部是真理

ni de mei yiju quanbu shi zhenli




置身于 这陌生的境遇里

zhishen yu zhe mosheng de jingyu li

曾想放弃 像是玩笑的命运

ceng xiang fangqi xiang shi wanxiao de mingyun

直到 听清 你的 声音

zhidao ting qing ni de shengyin




星光中 赐予姓名

xingguang zhong ciyu xingming

人世里 唱出婉转心意

renshi li chang chu wanzhuan xinyi

若是愿意 笑脸相迎

ruoshi yuanyi xiaolian xiang ying

定能将温柔传递

ding neng jiang wenrou chuandi




请应允 让我与你 将感情 付诸于歌声里

qing yingyun rang wo yu ni jiang ganqing fu zhu yu gesheng li

有你相依 满目废墟 亦是 不足为惧

you ni xiangyi manmu feixu yi shi buzu wei ju




答应 将感情 付诸 歌声里

daying jiang ganqing fu zhu gesheng li

只因 体会过绝望孤寂

zhi yin tihuiguo juewang guji

即使 非神明 我亦 会尽力

jishi fei shenming wo yi hui jinli

有你相依 不惧漫长光阴

you ni xiangyi bu ju manchang guangyin



穿越过 宇宙无垠 终于驻足在这片土地
chuanyueguo yuzhou wuyin zhongyu zhuzu zai zhe pian tudi
黑夜将尽 陪你期许 即将降临的黎明
heiye jiang jin pei ni qixu jijiang jianglin di liming



存在 即真理 庆幸 能苏醒

cunzai ji zhenli qingxing neng suxing

生命 时光中生生不息

shengming shiguang zhong shengsheng bu xi

沉睡 几世纪 星光 落眼里

chenshui ji shiji xingguang luo yan li

身边有你 不惧漫长光阴

shenbian you ni bu ju manchang guangyin