Ad blocker interference detected!
Wikia is a free-to-use site that makes money from advertising. We have a modified experience for viewers using ad blockers

Wikia is not accessible if you've made further modifications. Remove the custom ad blocker rule(s) and the page will load as expected.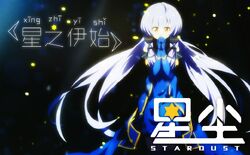 Song title
"星之伊始"
Pinyin: Xīng zhī Yīshǐ
English: The Beginning of a Star
Uploaded March 10, 2016, with 35,000+ (YT) & 226,000+ (BB) views
Singer(s)
Stardust
Producer(s)
Tian Qin (compose, arrange)
Bingzhen Tian Doujiang (lyrics, video editor)
TOMATO (illustrator)
Xiaolong Long (mixing)
Links
YouTube Broadcast
bilibili Broadcast
Background
Edit
"Xīng zhī Yīshǐ" is an original song featuring Stardust and is her third demo song. It is featured in the album, Star Wish. The song is about Stardust starting her new life on earth. Though she was nervous at first, she believes that she would no longer be lonely like she was in space.
This song has exceeded 100,000 views on bilibili.
Chinese (中文歌词)
Pinyin (拼音)
书报亭杂志封面
shu baoting zazhi fengmian
不经意间看到自己的脸
bujingyi jian kan dao ziji de lian
前面水果摊葡萄正甜
qianmian shuiguo tan putao zheng tian
却摆正了墨镜怕事情露馅
que bai zhengle mojing pa shiqing louxian
去学校报道的第一天
qu xuexiao baodao de di yi tian
紧张的表情要放松一点
jinzhang de biaoqing yao fangsong yidian
公交车上有说有笑的 会不会是未来的同班同学
gongjiao che shang you shuo you xiao de hui bu hui shi weilai de tongban tongxue


鸦雀无声的走廊
yaquewusheng de zoulang
讲台的一方 我手很冰凉
jiangtai de yifang wo shou hen bingliang
这时却看到了你对我 眨眼的模样
zhe shi que kan daole ni dui wo zhayan de muyang


不安的我 被你无声的温柔包裹
bu'an di wo bei ni wusheng de wenrou baoguo
不要害怕犯错
buyao haipa fancuo
就算生活再不安失措
jiusuan shenghuo zai bu an shicuo
奇迹会被勇气紧握
qiji hui bei yongqi jin wo
这颗星球 虽然人活得不够自由
zhe ke xingqiu suiran ren huo de bugou ziyou
仰望星空 能够在这个辽阔的宇宙
yangwang xingkong nenggou zai zhege liaokuo de yuzhou
找到个家也还算不错吧
zhaodao ge jia ye hai suan bucuo ba


纸条正飞过教室上方
zhi tiao zheng feiguo jiaoshi shangfang
只听下课铃声突然打响
zhi ting xiake lingsheng turan daxiang
排练过一样抓起书包
pailianguo yiyang zhua qi shubao
才过一秒人影全都不见了
caiguo yi miao renying quandou bujianle


人群簇拥的身旁
renqun cuyong de shen pang
别人的目光 不如不去想
bieren de muguang buru bu qu xiang
这时你小心的守护让我 学会飞翔
zhe shi ni xiaoxin de shouhu rang wo xuehui feixiang


跑起来吧 就算这现实有时可怕
pao qilai ba jiusuan zhe xianshi youshi kepa
拿起也要放下
na qi ye yao fangxia
让悲伤变成一场童话
rang beishang bian cheng yi chang tonghua
有乾坤圈和白龙马
you qiankun quan he bai longma
冬季的风 还不够燃起心中的梦
dongji de feng hai bugou ran qi xinzhong de meng
你的笑容 趁繁星还未洒满这星空
ni de xiaorong chen fanxing hai wei sa man zhe xingkong
照亮世界的黑暗与无穷
zhao liang shijie de hei'an yu wuqiong


曾经空荡荡的童话列表
cengjing kongdangdang de tonghua liebiao
寂寞从来不会提前预告
jimo conglai bu hui tiqian yugao
从前的我不会想到
congqian de wo bu hui xiangdao
如今每天都能享受到温暖的拥抱
rujin meitian du neng xiangshou dao wennuan de yongbao


不安的我 被你无声的温柔包裹
bu'an di wo bei ni wusheng de wenrou baoguo
打破心的枷锁
dapo xin de jiasuo
遥望天边闪烁的星罗
yaowang tianbian shanshuo de xing luo
奇迹一定不会沉默
qiji yiding bu hui chenmo
冬季的风 指引我追寻心中的梦
dongji de feng zhiyin wo zhuixun xinzhong de meng
你的明眸 趁繁星还未洒满这星空
ni de mingmou chen fanxing hai wei sa man zhe xingkong
照亮世界的黑暗与无穷
zhao liang shijie de hei'an yu wuqiong
External links
Edit
| | |
| --- | --- |
| | Articles |