Ad blocker interference detected!
Wikia is a free-to-use site that makes money from advertising. We have a modified experience for viewers using ad blockers

Wikia is not accessible if you've made further modifications. Remove the custom ad blocker rule(s) and the page will load as expected.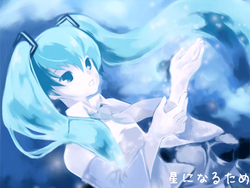 Song title
"星姫"
Romaji: Hoshi Hime
English: Star Princess
Uploaded March 12, 2008, with 5,500+ views
Singer(s)
Hatsune Miku
Producer(s)
Nene-P (music, lyrics, video)
miz, Bingo, kyky, CHISATO, kururugi, Fujishiro Kanae, eiken, MochaMocha, 春壱, chourui, Ameiro, petnoka (illustrations)
Links
Niconico Broadcast
piapro Broadcast
Background
Edit
"
The story of a girl who couldn't become a star.
"
 

— Nene-P
Succeeding versions
Edit
星姫~Music Box~

Author(s)
Nene-P
Category
Arrangement

Description

A music-box style instrumental arrangement.
Japanese (日本語歌詞)
Romaji (ローマ字)
冷たくなった体は氷雪に
tsumetaku natta karada wa hyousetsu ni
さらされたまま動きもせず
sarasareta mama ugoki mo sezu
静謐の中で
seihitsu no naka de
静かに呼吸をして
shizuka ni kokyuu wo shite


星の光を
hoshi no hikari wo
この手ですくい上げ
kono te de sukuiage
手を伸ばしては
te wo nobashite wa
零れ落ちる
kobore ochiru
人間に届かぬ
ningen ni todokanu
神様の領域
kamisama no ryouiki


約束されていた運命
yakusoku sarete ita unmei
手繰り寄せるように
taguri yoseru you ni
抱きしめる
dakishimeru
遥か遠来より瞬く
haruka enrai yori mabataku
星の光
hoshi no hikari
それだけが私の運命
sore dake ga watashi no unmei


星のお嫁さんになって
hoshi no oyomesan ni natte
空の上で暮らすことが
sora no ue de kurasu koto ga
この私に与えられた運命(さだめ)
kono watashi ni atae rareta sadame
なのに何故空に行けない?
nanoni naze sora ni yukenai?


飛べない体
tobenai karada
氷雪にさらして
hyousetsu ni sarashite
星になるため
hoshi ni naru tame
この世界に さよなら さよなら
kono sekai ni sayonara sayonara
もう二度と
mou nido to
帰れない
kaerenai


燃え尽き 疲れ果て
moetsuki tsukarehate
泣いても
naite mo
星の迎えなんて見えなくて
hoshi no mukae nante mienakute
遥か遠来より瞬く
haruka enrai yori matataku
星の光
hoshi no hikari
いつもと変わらずに
itsumo to kawarazu ni
輝く
kagayaku


帰る 帰る場所も捨てて
kaeru kaeru basho mo sutete
どこへ どこへ向かえばいい?
doko e doko e mukaeba ii?
たった一人氷雪に埋もれて
tatta hitori hyousetsu ni umorete
夢に溺れているだけ
yume ni oborete iru dake


夢と現実の狭間で
yume to genjitsu no hazama de
星のお姫様になれずに
hoshi no ohimesama ni narezu ni
いつまでも氷雪を彷徨い
itsu made mo hyousetsu wo samayoi
そして儚く消えてゆく
soshite hakanaku kieteyuku
私の恋 命の灯火も
watashi no koi inochi no tomoshibi mo
そっと そっと消えてゆく
sotto sotto kieteyuku
External links
Edit
| | |
| --- | --- |
| | Articles |