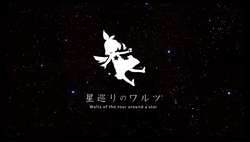 Song title
"星巡りのワルツ"
Romaji: Hoshi Meguri no Waltz
Official English: Waltz of the tour around a star
English: Star-touring Waltz
Uploaded March 21, 2012, with 140,870+ views
Singer(s)
Kagamine Rin
Producer(s)
GYARI (music, illust)
rina (lyrics)
Links
Niconico Broadcast
Background
Edit
"
This is the song of memories.
"
 

— author's comment
"Hoshi Meguri no Waltz" is a original song composed by GYARI and one of most notable songs. According to the author this song is one of the different works.
This song was released as a single and featured on GYARI's album Aurorayer and the compilation the VOCAJAZZ vol.1.
Succeeding versions
Edit
piano ver.

Featuring
rina
Author(s)
GYARI
Category
Human cover; Arrangement

Description

This version is featured on the Hoshi Meguri no Waltz single.
Japanese (日本語歌詞)
Romaji (ローマ字)
君と 歌い 歩いた 夢の坂道
kimi to utai aruita yume no sakamichi
夜空の下で 一人まだ探し続けて
yozora no shita de hitori mada sagashi tsuzukete


回る 回る 私は黒く染まって
mawaru mawaru watashi wa kuroku somatte
大事な光を あの日見失った
daiji na hikari wo ano hi miushinatta


遠い昔の記憶が 流れ星と駆け巡る
tooi mukashi no kioku ga nagareboshi to kakemeguru
素敵な君のあの笑顔 忘れず
suteki na kimi no ano egao wasurezu


今すぐ 飛んで 飛んで 遥か 遠い星まで
imasugu tonde tonde haruka tooi hoshi made
キラキラの君に 会いに行きたいなあ
kira kira no kimi ni ai ni yukitai naa


君がくれた 最後の光の手紙
kimi ga kureta saigo no hikari no tegami
夜空の下で 一人まだ探し続けて
yozora no shita de hitori mada sagashi tsuzukete


揺れる 揺れる 私は力尽き果て
yureru yureru watashi wa chikara tsuki hate
希望の光は もう消えかけていた
kibou no hikari wa mou kiekaketeita


崩れ落ちてゆく世界 全て喰らう黒の渦
kuzure ochite yuku sekai subete kurau kuro no uzu
絶望の闇から君を 見つけた
zetsubou no yami kara kimi wo mitsuketa


飛んで 飛んで 遥か 遠く
tonde tonde haruka tooku
君に 会えた さよなら言えたんだ
kimi ni aeta sayonara ietanda
Other media appearances
Edit
Publications
Edit
A manga adaptation illustrated by GYARI was released on his pixiv account in July 2012. This manga was inclused in a special edition of the single.[1]
References
Edit
External links
Edit
| | |
| --- | --- |
| | Official |
| | |
| --- | --- |
| | Articles |
| | |
| --- | --- |
| | Lyrics |
Ad blocker interference detected!
Wikia is a free-to-use site that makes money from advertising. We have a modified experience for viewers using ad blockers

Wikia is not accessible if you've made further modifications. Remove the custom ad blocker rule(s) and the page will load as expected.