Ad blocker interference detected!
Wikia is a free-to-use site that makes money from advertising. We have a modified experience for viewers using ad blockers

Wikia is not accessible if you've made further modifications. Remove the custom ad blocker rule(s) and the page will load as expected.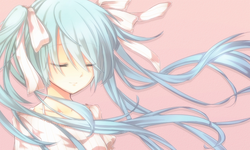 Song title
"春風モーフィング"
Romaji: Harukaze Morphing
English: Morphing into a Spring Breeze
Uploaded May 5, 2013, with 18,300+ views
Singer(s)
Hatsune Miku
Producer(s)
sleepless (music)
Todoroki (lyrics)
MiL2 (illust)
Links
Niconico Broadcast
Background
Edit
sleepless' 11th VOCALOID work, a song of a painful love that has disappeared.
Succeeding versions
Edit
Todoroki's Cover

Featuring
Todoroki
Author(s)
Todoroki
Category
Succeeding version

Description

A cover by the lyricist.
Japanese (日本語歌詞)
Romaji (ローマ字)
君が消え去って ふっと胸に花が咲く
kimi ga kiesatte futto mune ni hana ga saku
走って 走って 夜明け前の空が
hashitte hashitte yoake mae no sora ga
藍に色づく頃には 少しわかる気がする
ai ni irozuku koro ni wa sukoshi wakaru ki ga suru


いつものバス停  追い風通り抜ける
itsumo no basu tei oi kaze toori nukeru
ざわめく桜並木 見上げて
zawameku sakura namiki miagete


離れてゆくもの 怖くて裾を掴む
hanareteyuku mono kowakute suso wo tsukamu
当たり前のことなど 無いんだって
atarimae no koto nado nai ndatte


目線を下げて 笑顔をくれたね
mesen wo sagete egao wo kureta ne
その時に気づけたならって 遅すぎる
sono toki ni kizuketa nara tte ososugiru


君が消え去って ふっと胸に花が咲く
kimi ga kiesatte futto mune ni hana ga saku
走って 走って 虚 しさを背にして
hashitte hashitte munashisa wo se ni shite
花びらの雨に そっと隠していたい
hanabira no ame ni sotto kakushiteitai
揺れる想いを
yureru omoi wo


記憶の片隅 薄らぐ仄かな過去を
kioku no katasumi usuragu honoka na kako wo
失くしたことも  いつか忘れて
nakushita koto mo itsuka wasurete


並んで歩いた ふたりの帰り道も
narande aruita futari no kaerimichi mo
いつの日にか 変わってゆくんだって
itsu no hi ni ka kawatteyuku ndatte


何気ない時間 何気ない言葉
nanigenai toki nanigenai kotoba
大切にしていたならって 口惜しむけど
taisetsu ni shiteita nara tte kuchioshimu kedo


滲む春風に morphing
nijimu harukaze ni morphing
確かな恋しさが fade in
tashika na koishisa ga fade in
差し込む光に 落ちる 一滴
sashikomu hikari ni ochiru hitoshizuku


君が消え去って
kimi ga kiesatte


君が消え去って ふっと胸に花が咲く
kimi ga kiesatte futto mune ni hana ga saku
立ち止まった時 不意に風和ぎ
tachidomatta toki fui ni kaze nagi
優しい日差しが  そっと薄く焦がした
yasashii hizashi ga sotto usuku kogashita
疼く想いを
uzuku omoi wo
Derivatives
Edit
Hinoki's Cover

| | |
| --- | --- |
| Featuring | Hinoki |
| Author(s) | Hinoki |
| Category | Human cover |
External links
Edit
| | |
| --- | --- |
| | Official |
| | |
| --- | --- |
| | Articles |
| | |
| --- | --- |
| | Downloads |