Ad blocker interference detected!
Wikia is a free-to-use site that makes money from advertising. We have a modified experience for viewers using ad blockers

Wikia is not accessible if you've made further modifications. Remove the custom ad blocker rule(s) and the page will load as expected.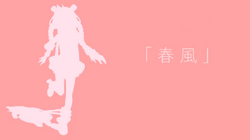 Song title
"春風"
Romaji: Harukaze
English: Spring Breeze
Uploaded April 27, 2015, with 300+ views
Singer(s)
Rana
Producer(s)
wawawonder000
Links
Niconico Broadcast
Background
Edit
"Harukaze" is an original Rana song.
Japanese (日本語歌詞)
Romaji (ローマ字)
足音を聞いてたんだ
ashioto o kiite tanda
刻むリズムにあわせて
kizamu rizumu ni awasete
頭の中ではじけた
atama no naka de hajiketa
「音」を 「音」ならべて
'oto' o 'oto' narabete


待ちゆく人々が 口ずさむ
machiyuku hitobito ga kuchizusamu
言葉紡ぐ メロディ
kotoba tsumugu merodi
誰もがみな この瞬間を
daremoga mina kono shunkan o
待ち望んでる
machi no zonderu


春の 風が吹き抜ける
haru no kaze ga fukinukeru
街で 今日も
machi de kyou mo
笑っていられる
waratte irareru
キミと ふたり
kimi to  futari
ならんで見上げる
narande mi ageru
空に 
sora ni
桜 ふわり 
sakura fuwari
舞い上がる
mai agaru


足音敲く 響いた
ashioto tataku hibiita
「音」を 「音」かさねて
'oto' o 'oto' kasanete


待ちゆく人々が 打ち鳴らす
machi yuku hitobito ga uchi narasu
手と手 つたう リズムに
te to te tsutau rizumu ni
誰もがみな この瞬間の
daremo ga mina kono shunkan no
訪れを知る
otozure o shiru


春の 風が吹き抜ける
haru no kaze ga fukinukeru
街で 今日も
machi de kyou mo
手を振り目送る
te o furi me okuru
キミを ひとり
kimi o hitori
見送ったキミの 背中
miokutta kimi no senaka
桜 ひらり
sakura hirari
舞い落ちる
mai ochiru