Ad blocker interference detected!
Wikia is a free-to-use site that makes money from advertising. We have a modified experience for viewers using ad blockers

Wikia is not accessible if you've made further modifications. Remove the custom ad blocker rule(s) and the page will load as expected.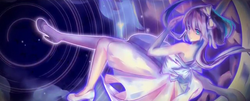 Song title
"月之路"
Pinyin: Yuè Zhī Lù
English: Roads to the Moon
Uploaded March 7, 2014, with 41,000+ views
Singer(s)
Luo Tianyi
Producer(s)
Huazhiji-P (compose, arrange, mixing, PV)
Kreisee (lyrics, illust)
Links
YouTube Broadcast (reprint)
bilibili Broadcast

Background
Edit
"Yuè Zhī Lù" is an original Luo Tianyi jazz song that is featured on the album, First Step. The lyrics are mostly open for interpretation, but is mainly about a girl who dances under the moon.
Chinese (中文歌词)
Pinyin (拼音)
雲迷離影埋於古都
yun mili ying mai yu gudu
沐浴星塵穿越薄霧 月光如故
muyu xing chen chuanyue bo wu yueguang rugu
念孤獨安然獻祝福
nian gudu anran xian zhufu
孑然追逐沉默反覆 月暈將來往守護
jieran zhuizhu chenmo fanfu yue yun jianglai wang shouhu


誰一賭你清澈無垢情愫
shei yi du ni qingche wugou qingsu
跟隨嘀嗒腳步
gensui dida jiaobu
旋轉跳躍邁步 將慵懶情話傾訴
xuanzhuan tiaoyue maibu jiang yong lan qinghua qingsu
誰一睹旋轉的星軌全部
shei yi du xuanzhuan de xing gui quanbu
跟隨嘀嗒舞步
gensui dida wubu
踏入單向月之路
ta ru dan xiang yue zhi lu


踏舞步承諾變虛無
ta wubu chengnuo bian xuwu
等待結束繁複旅途 劇本重複
dengdai jieshu fanfu lütu juben chongfu
轉路途星落燈影哭
zhuan lutu xing luo dengying ku
夜幕墬落空月無辜 你步入無人之路
yemu di luokong yue wugu ni bu ru wuren zhi lu


誰沉睡在古書當中紀錄
shei chenshui zai gushu dangzhong jilu
路途踢踏亙古
lutu ti ta gengu
蔓延沉浮虛無 將靜默星辰疏忽
manyan chenfu xuwu jiang jingmo xingchen shuhu
誰沉睡在漆黑夜幕深處
shei chenshui zai qihei yemu shen chu
路途踢踏遠古 恍惚結束月之路
lutu ti ta yuangu huanghu jieshu yue zhi lu