Ad blocker interference detected!
Wikia is a free-to-use site that makes money from advertising. We have a modified experience for viewers using ad blockers

Wikia is not accessible if you've made further modifications. Remove the custom ad blocker rule(s) and the page will load as expected.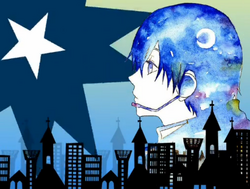 Song title
"月光トータルイクリプス"
Romaji: Gekkou Tootaru Ikuripusu
English: Moonlight Total Eclipse
Uploaded September 6, 2009 (album)
November 13, 2009 (PV), with 104,000+ views
Singer(s)
KAITO
Producer(s)
Machigerita-P (music, lyrics, video)
Miyuki (illust)
Links
Niconico Broadcast • YouTube Broadcast (reprint)

Background
Edit
"
You're slowly taking off to that palce. Please just remain quiet for a while. Because I am coming along to see that unseen scenery
"
 

— Author's comment
This song was first released on Machigerita's Fallen before recieving a PV. It was later featured on a single of the same name and the album Starrysky Prayer.
Other versions
Edit
Machigerita's cover

Featuring
Machigerita
Author(s)
Machigerita
Category
Self-cover

Description

The original version of the song sung by Machigerita released on

Fallen
Japanese (日本語歌詞)
Romaji (ローマ字)
空に浮かぶのは
sora ni ukabu no wa
紛れも無い事実で
magire mo nai jijitsu de
消しゴムで消しても
keshigomu de keshite mo
消えない物で
kienai mono de
喩えるのならば
tatoeru no naraba
「届きそうにない夢」
"todoki sou ni nai yume"
望遠鏡でのぞくのだよ。
bouenkyou de nozoku no da yo.


「これは解けぬ数式だ。」
"kore wa tokenu suushiki da."
と、 数学者は言うのですよ。
to, suugakusha wa iu no desu yo.
だけれど此処を二人で
dakeredo koko o futari de
逃げ出すためには?
nigedasu tame ni wa?


欠ける、欠ける。
kakeru, kakeru.
月で隠れてゆく。
tsuki de kakureteyuku.
空が星空へ。
sora ga hoshizora e.


走る、走る。
hashiru, hashiru.
小指が離れないように。
koyubi ga hanarenai youni.
僕も追いついてゆくから。
boku mo oitsuite yuku kara.


見えた映像の中に
mieta eizou no naka ni
映る二人は
utsuru futari wa
大きくも小さくも
ookiku mo chiisaku mo
距離が離れていて。
kyori ga hanarete ite.
君が言っていた
kimi ga itte ita
「いつかあんな綺麗な景色を君と見たい」と。
"itsuka anna kireina keshiki o kimi to mitai" to.


でも「いつか」はきっと来ない
demo "itsuka" wa kitto konai
いつかだと言っていたね。
itsuka da to itte ita ne.
その口を一度だけでも
sono kuchi o ichido dake demo
噤んでくれないか?
tsugunde kurenai ka?


浮かぶ、浮かぶ。
ukabu, ukabu.
願いが離れないように。
negai ga hanarenai youni.
赤い糸(いと)で繋ぐ距離。
ito de tsunagu kyori.


繋ぐ指よ。
tsunagu yubi yo.
世界の果てであるという。
sekai no hate de aru to iu.
闇に負けないように。
yami ni makenai youni.


総ての物に。
subete no mono ni.
最後があるのならば。
saigo ga aru no naraba.
いっそ僕は、進むよ。
isso boku wa, susumu yo.


翔ける、翔ける。
kakeru, kakeru.
高速で翔け抜けてゆく。
kousoku de kake nukete yuku.
暗い空に跳ぶ。
kurai sora ni tobu.


きっと、いつか。
kitto, itsuka.
手の届く距離の未来へ
te no todoku kyori no mirai e
向かう飛行船があるから。
mukau hikousen ga aru kara.
External links
Edit
| | |
| --- | --- |
| | Articles |