Ad blocker interference detected!
Wikia is a free-to-use site that makes money from advertising. We have a modified experience for viewers using ad blockers

Wikia is not accessible if you've made further modifications. Remove the custom ad blocker rule(s) and the page will load as expected.
This song article is lacking a proper background. You can help by adding one! The relevant section in the Song Article Guideline is a good starting point, and this blog post may also be helpful. We apologize for the inconvenience this may cause in the meantime.

Song pages lacking proper backgrounds are automatically sorted into this category.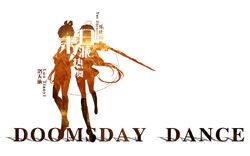 Song title
"末日派热舞"
Traditional Chinese: 末日派熱舞
Pinyin: Mòrì Pài Rèwǔ
Official English: Doomsday Dance
Uploaded December 19, 2015, with 140,000+ views
Singer(s)
Luo Tianyi, Yuezheng Ling
Producer(s)
Tang Tang (compose, arrange)
Ming Huang (lyrics)
Qianyimohua-P (tuning)
Pora, A She Zhang (illustrators)
Bingzhen Tian Doujiang (video editor)
Ba Chong Mo Ze (uploader)
Links
YouTube Broadcast (reprint)
bilibili Broadcast
5SING Broadcast

Background
Edit
"Doomsday Dance" is an original song featuring Luo Tianyi and Yuezheng Ling. It is the first song of the Song of Time series.
The song takes place in the fictional country, Tarpaz, and follows the story of Vyrut Chrono (An Jiang/Luo Tianyi) and Seckor Lupe (Mario/Yuezheng Ling).
This song has exceeded 100,000 views on bilibili.
Preceding versions
Edit
Mario and An Jiang's Version

| | |
| --- | --- |
| Featuring | Mario, An Jiang |
| Author(s) | Tang Tang (compose, arrange), Ming Huang (lyrics), Xiang Nan and Maizang YJ (mixing), REI and A She Zhang (illustrators), Bingzhen Tian Doujiang (video editor), Ba Chong Mo Ze (uploader) |
| Category | Preceding version, human cover |
Singer + Color
Tianyi
Narration
Ling
Both
Chinese (中文歌詞)
Pinyin (拼音)

如果你我时间能停下

ruguo ni wo shijian neng ting xia

为何大地还任性摇摆(all right)

weihe dadi hai renxing yaobai (all right)

即兴舞步太精彩

jixing wubu tai jingcai

就别浪费时间 做多余的感慨

jiu bie langfei shijian zuo duoyu de gankai

(教门外)少女错唱赞美诗

(jiaomen wai) shaonu cuo chang zanmeishi

(眼前)眼前何人描绘的末日

(yanqian) yanqian heren miaohui de mori

甩下惊恐声

shuai xia jingkong sheng

晃过许愿池

huangguo xuyuan chi

谁生谁死我一概不知
shui sheng shui si wo yigai buzhi



宣誓的恋人们着实可爱

xuanshi de lianrenmen zhuoshi ke'ai

亲友们送上祝福喝彩(my god)

qinyoumen song shang zhufu hecai (my god)

滔天海水够澎湃

taotian haishui gou pengpai

难道想得到 波塞冬的青睐

nandao xiangdedao bo sai dong de qinglai

(对人群)电子屏打出手势

(dui renqun) dianzi ping dachushou shi

(手势)主持人秀出新婚戒指

(shoushi) zhuchi ren xiu chu xinhun jiezhi

总统阁下好像找不到帽子
zongtong gexia haoxiang zhao bu dao maozi
简短讲话在例行公事
jianduan jianghua zai lixinggongshi


看这末日派热舞 命运不由自主
kan zhe mori pai rewu mingyun buyouzizhu
看这末日派热舞 肉体被岩浆爱慕
kan zhe mori pai rewu routi bei yanjiang aimu
看这末日派热舞 你我呼喊庆祝
kan zhe mori pai rewu ni wo huhan qingzhu
看末日派热舞 狂欢到人类结束
kan mori pai rewu kuanghuan dao renlei jieshu
你我不过亡命之徒
ni wo buguo wangming zhi tu



宣誓的恋人们着实可爱

xuanshi de lianrenmen zhuoshi ke'ai

亲友们送上祝福喝彩(my god)

qinyoumen song shang zhufu hecai (my god)

滔天海水够澎湃

taotian haishui gou pengpai

难道想得到 波塞冬的青睐

nandao xiangdedao bo sai dong de qinglai

(对人群)电子屏打出手势

(dui renqun) dianzi ping dachushou shi

(手势)主持人秀出新婚戒指

(shoushi) zhuchi ren xiu chu xinhun jiezhi

总统阁下好像找不到帽子
zongtong gexia haoxiang zhao bu dao maozi
简短讲话在例行公事
jianduan jianghua zai lixinggongshi



"今天上午七点三十分"

"jīntiān shàngwǔ qī diǎn sānshí fēn"

"距离首都两百公里的北郡境内"

"jùlí shǒudū liǎng bǎi gōnglǐ de běijùn jìngnèi"

"发生了原因不明的剧烈地震"

"fāshēngle yuányīn bùmíng de jùliè dìzhèn"

"内政部已要求国民卫队"

"nèizhèng bù yǐ yāoqiú guómín wèiduì"

"通知所有船只和沿海居住人员"

"tōngzhī suǒyǒu chuánzhī hé yánhǎi jūzhù rényuán"

"做好海啸防备……"

"zuò hǎo hǎixiào fángbèi……"




看这末日派热舞 命运不由自主

kan zhe mori pai rewu mingyun buyouzizhu

看这末日派热舞 肉体被岩浆爱慕

kan zhe mori pai rewu routi bei yanjiang aimu

看这末日派热舞 你我呼喊庆祝

kan zhe mori pai rewu ni wo huhan qingzhu

看末日派热舞 狂欢到人类结束

kan mori pai rewu kuanghuan dao renlei jieshu



看这末日派热舞 命运不由自主
kan zhe mori pai rewu mingyun buyouzizhu
看这末日派热舞 肉体被岩浆爱慕
kan zhe mori pai rewu routi bei yanjiang aimu
看这末日派热舞 你我呼喊庆祝
kan zhe mori pai rewu ni wo huhan qingzhu
看末日派热舞 狂欢直到结束
kan mori pai rewu kuanghuan zhidao jieshu
看这末日派热舞 命运不由自主
kan zhe mori pai rewu mingyun buyouzizhu
看这末日派热舞 肉体被岩浆爱慕
kan zhe mori pai rewu routi bei yanjiang aimu
看这末日派热舞 你我呼喊庆祝
kan zhe mori pai rewu ni wo huhan qingzhu
看末日派热舞 狂欢到人类结束
kan mori pai rewu kuanghuan dao renlei jieshu
你我不过亡命之徒
ni wo buguo wangming zhi tu
External links
Edit
| | |
| --- | --- |
| | Lyrics |