Ad blocker interference detected!
Wikia is a free-to-use site that makes money from advertising. We have a modified experience for viewers using ad blockers

Wikia is not accessible if you've made further modifications. Remove the custom ad blocker rule(s) and the page will load as expected.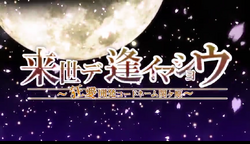 Song title
"来世デ逢イマショウ ~狂愛開発コードネーム関ヶ原~"
Romaji: Raise de Aimashou ~Kyou Ai Kaihatsu Koodoneemu Sekigahara
English: Let's Meet in the Next World ~Mad Love Development Codename Sekigahara~
Uploaded September 15, 2012, with 146,000+ views
Singer(s)
Hatsune Miku, IA
Producer(s)
wakaG, SOE (music, etc)
Mienohito (video)
Tsurudome (illust)
Links
Niconico Broadcast • YouTube Broadcast

Background
Edit
Uploaded on the "anniversary" of the Battle of Sekigahara, this song is of two people who are on the opposite armies but love each other. As the title implies, they can't be together, and at the end of the PV it is suggested that they do meet, for IA and Miku are shown with their weapons stabbed in each other. Miku is of the Eastern Army, and IA is of the Western Army.
This song is featured on the compilation album Yoen Waso Emaki (妖艶和奏絵巻).
This song has entered the Hall of Fame.
Japanese (日本語歌詞)
Romaji (ローマ字)
浮世の華よ 乱れて咲いて
ukiyo no hana yo midarete saite
あなたあなた好きでありんす
anata anata suki de arinsu
絡み合う指 月夜の契り
karami au yubi tsukiyo no chigiri
またライララ来世デ逢イマショウ
mata rai rara raise de aimashou


狂愛開発コードネーム関ヶ原
kyou ai kaihatsu koodo neemu sekigahara
東軍・西軍 戦は人の性
tougun seigun ikusa wa hito no saga
ハラリハラリ散る命
harari harari chiru inochi
届け届け儚き声
todoke todoke hakanaki koe


二人交わらぬ運命ならば
futari majiwara nu michi naraba
いっそあなたの刃で貫いて
isso anata no yaiba de tsuranuite


浮世の華よ 乱れて咲いて
ukiyo no hana yo midarete saite
あなたあなた好きでありんす
anata anata suki de arinsu
絡み合う指 月夜の契り
karami au yubi tsukiyo no chigiri
またライララ来世デ逢イマショウ
mata rai rara raise de aimashou


合縁奇縁 運命の悪戯
aien kien unmei no itazura
切り合い刺し合い はたまた愛し合い
kiri ai sashi ai hatamata aishi ai
ポロリポロリ散る涙
porori porori chiru namida
響け響けアナタの胸
hibike hibike anata no mune


いつかこんな日が来る事
itsuka konna hi ga kuru koto
分かっていたとしても・・・きっと愛していた
wakatte ita to shitemo ... kitto aishite ita


浮世の華よ 乱れて咲いて
ukiyo no hana yo midarete saite
あなたあなた好きでありんす
anata anata suki de arinsu
恋は泡沫 夢幻の如く
koi wa utakata mugen no gotoku
またライララ来世デ逢イマショウ
mata rai rara raise de aimashou


浮世の華よ 乱れて咲いて
ukiyo no hana yo midarete saite
あなたあなた好きでありんす
anata anata suki de arinsu
絡み合う指 月夜の契り
karami au yubi tsukiyo no chigiri
またライララ来世デ逢イマショウ
mata rai rara raise de aimashou


浮世の華よ 乱れて咲いて
ukiyo no hana yo midarete saite
あなたあなた好きでありんす
anata anata suki de arinsu
恋は泡沫 夢幻の如く
koi wa utakata mugen no gotoku
またライララ来世デ逢イマショウ
mata rai rara raise de aimashou
またライララ来世デ逢イマショウ
mata rai rara raise de aimashou
またライララ来世デ逢イマショウ
mata rai rara raise de aimashou
External links
Edit