This song article is lacking a proper background. You can help by adding one! The relevant section in the Song Article Guideline is a good starting point, and this blog post may also be helpful. We apologize for the inconvenience this may cause in the meantime.

Song pages lacking proper backgrounds are automatically sorted into this category.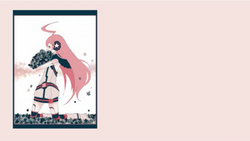 Song title
"東の魔女"
Romaji: Higashi no Majo
English: Witch of the East
Uploaded April 23, 2010 (NND) and February 16, 2015 (YT), with 13,000+ (NND) and 700+ (YT) views
Singer(s)
SF-A2 miki
Producer(s)
Mikito-P (music, lyrics)
cocococco (iilust)
Links
Niconico Broadcast • YouTube Broadcast (official)

Background
Edit
"Higashi no Majo" is an original song by Mikito-P featuring SF-A2 miki.
This song is featured in the album Mikipeggio (みきぺぢお).
Japanese (日本語歌詞)
Romaji (ローマ字)
春先の街 お祖母ちゃんのお見舞いで
harusaki no machi obaachan no omimai de
立川の先、国立の小さな病院。
tachikawa no saki, kokuritsu no chiisa na byouin.
明治うまれで 眼が見えなくなるまで
meiji umare de me ga mienaku naru made
小さな体テキパキと よく働いてた
chiisa na karada tekipaki to yoku hataraiteta
しばらく会わない間に私、
shibaraku awanai ma ni watashi,
「こんなに大人ね、なったよ!」
"konna ni otona ne, natta yo!"
って言いたくて
tte iitakute
いつでも いつまでも
itsudemo itsumade mo
そばにいるなんて、 できない
soba ni iru nante, dekinai
それでも 大好きだよ。 だから
soredemo daisuki da yo. Dakara
お願い、、おばあちゃん
onegai,, obaachan


「これで最後」なんて
"kore de saigo" nante
言わないで。
iwanaide.


新しい季節 大学への進学
atarashii kisetsu daigaku e no shingaku
一人暮らしよ。
hitori gurashi yo.
杉並の小さなマンション
suginami no chiisa na manshon
平成うまれ。それはむしろ武器なの
heisei umare. Sore wa mushiro buki na no
若さの下で出来ること、山ほどあるの。
wakasa no shita de dekiru koto, yama hodo aru no.
不安もあるけど なんとかやるよ
fuan mo aru kedo nantoka yaru yo
心配いらないよ
shinpai iranai yo


ねえおばあちゃん 聞こえる?
nee obaachan kikoeru?
いつでも いつの日も
itsudemo itsu no hi mo
人に優しくして
hito ni yasashiku shite
家族や友達 大事にしてたよね
kazoku ya tomodachi daiji ni shiteta yo ne


すごいね おばあちゃん
sugoi ne obaachan
まるで魔法みたい。
marude mahou mitai.


つつまれるの。
tsutsumareru no.


「ねえ お母さんがが幼い頃って
"nee okaasan ga ga osanai koro tte
いったいどんな娘だったの?」
ittai don'na musume datta no?"
「戦争中って酷かった?
"sensouchuu tte hidokatta?
ぼうくうごうとか、怖かったでしょ?」
boukuugou toka, kowakatta desho?"
おばあちゃんの人生って??
obaachan no jinsei tte??
恋とか、、夢ってどんなもの??
koi toka,, yume tte don'na mono??
まだまだ聞きたい事もあったのに、、
mada mada kikitai koto mo atta no ni,,
どうして どうして
doushite doushite
お別れしちゃうの?
owakare shichau no?


あなたがいたから 私がいるのよ?
anata ga ita kara watashi ga iru no yo?
お願い、、おばあちゃん。
onegai,, obaachan.
思い出なんかに、、
omoide nanka ni,,
しないでよね!
shinaide yo ne!


いつでも いつまでも
itsudemo itsumade mo
忘れちゃダメだよ
wasurecha dame da yo
私はおばあちゃんの
watashi wa obaachan no
ずうっとずっと孫だよ
zuutto zutto mago da yo


桜が咲いたら またお花見いこうね
sakura ga saitara mata ohanami ikou ne
昔みたいに。。 手をつないで
mukashi mitai ni.. Te o tsunaide


お弁当もって
obentou motte
External links
Edit
| | |
| --- | --- |
| | Articles |
| | |
| --- | --- |
| | Lyrics |