Ad blocker interference detected!
Wikia is a free-to-use site that makes money from advertising. We have a modified experience for viewers using ad blockers

Wikia is not accessible if you've made further modifications. Remove the custom ad blocker rule(s) and the page will load as expected.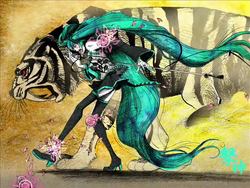 Song title
"桜前線異常ナシ"
Romaji: Sakura Zensen Ijou Nashi
English: Everything's Fine at the Cherry Blossom Front
Uploaded April 23, 2010, with 1,000,000+ views
Singer(s)
Hatsune Miku
Producer(s)
Wataru-P (music, lyrics, video)
Fukurou (illustration)
Links
Niconico Broadcast
piapro Broadcast
Background
Edit
A Japanese-style song by Wataru-P. It is included on the EXIT TUNES compilation album Vocaloanthems.
Japanese (日本語歌詞)
Romaji (ローマ字)
巡り巡るこの季節 暖かくなってくる頃に
meguri meguru kono kisetsu atatakakunatte kuru koro ni
花を咲かせては色彩 虹を夢見ては来来
hana wo sakasete wa shikisai niji wo yumemite wa rairai
南から北にかけて 廻る廻る世界を覆う
minami kara kita ni kakete mawaru mawaru sekai wo oou
この小さな花弁に託された その大きな夢物語
kono chiisana kaben ni takusareta sono ooki na yume monogatari


春の匂いに惹かれ ふらふらと外に歩み出す
haru no nioi ni hikare furafura to soto ayumidasu
人ゴミを掻き分けては ただひたすら空見上げて
hito gomi wo kakiwakete wa tada hitasura sora miagete


いつか いつか 咲かせることは出来るのか
itsuka itsuka sakaseru koto wa dekiru no ka
ボクにはまだ水が足りないらしいようで
boku ni wa mada mizu ga tarinairashii you de


桜前線ハ異常ナシ この枯れた体は花のように 舞い上がれ
sakurazensen wa ijou nashi kono karete karada wa hana no you ni maiagare
遠く遠くに見える 雲を眺めては目を閉じる
tooku tooku ni mieru kumo wo nagamete wa me wo tojiru


やがて時が過ぎ去り 足跡だけが増えてゆく
yagate toki ga sugisari ashiato dake ga fuete yuku
壊れた世界に詰め込んだ 見て呉れだけは凛凛
kowareta sekai ni tsumekonda mitekure dake wa rinrin
染み出す花の色 無くさないように飲み込んで
shimidasu hana no iro nakusanai you ni nomikonde
手探り前へ進む 何が正しいか分かりゃしない
tesaguri mae e susumu nani ga tadashii ka wakarya shinai


この大きな星で 小さな芽つけるには
kono ooki na hoshi de chiisana me tsukeru ni wa
ボクにはまだ時間が足りないようでして
boku ni wa made jikan ga tarinai you de shite


桜前線ニ異常ナシ この飢えた体に日を浴びせ 立ち上がれ
sakurazensen ni ijou nashi kono ueta karada ni hi wo abise tachiagare
広い広い空に 雲ひとつも無い走り出せ さぁ
hiroi hiroi sora ni kumo hitotsu mo nai hashiridase saa


彩り出す桜並木 その一つ一つが綺麗で
irodori dasu sakura namiki sono hitotsu hitotsu ga kirei de
桜前線異常ナシ 咲いた咲いた あーらららららん
sakurazensen ijou nashi saita saita aa rararararan


まだ花は少ないけど 少しずつでいい
mada hana wa sukunai kedo sukoshizutsu de ii
枝を伸ばして 蕾を増やし 大地に根を食い込ませ
eda wo nobashite tsubomi wo fuyashi daichi ni ne wo kuikomase
高く高く 咲き誇れ
takaku takaku sakihokore
Derivatives
Edit
KAITO's Cover

| | |
| --- | --- |
| Featuring | KAITO |
| Author(s) | Mizuki |
| Category | VOCALOID cover |
Iroha's Cover

| | |
| --- | --- |
| Featuring | Nekomura Iroha |
| Author(s) | Paraparamiku-P (cover), Seto, Ippo (illust) |
| Category | |
Shamuon and Mi-chan's Cover

| | |
| --- | --- |
| Featuring | Shamuon, Mi-chan |
| Author(s) | Shamuon, Mi-chan (cover), Mutou (guitar), Ohagi (illust), madamxx (mix) |
| Category | Human cover |
Kyounosuke and 530's Cover

| | |
| --- | --- |
| Featuring | Kyounosuke, 530 |
| Author(s) | Kyounosuke (vocals), 530 (shamisen), Calculators-shi (mix), matsu_f (illust, encode), Haruyuki (illust) |
| Category | Human cover; Instrument cover |
External links
Edit
| | |
| --- | --- |
| | Articles |
| | |
| --- | --- |
| | Lyrics |
| | |
| --- | --- |
| | Downloads |