Ad blocker interference detected!
Wikia is a free-to-use site that makes money from advertising. We have a modified experience for viewers using ad blockers

Wikia is not accessible if you've made further modifications. Remove the custom ad blocker rule(s) and the page will load as expected.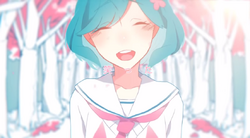 Song title
"桜色タイムカプセル"
Romaji: Sakurairo Taimu Kapuseru
English: Sakura-Colored Time Capsule
Uploaded March 18, 2014, with 162,000+ views
Singer(s)
GUMI
Producer(s)
Suzumu (music, lyrics)
Saine (video)
Komine (scenery)
Gibson (guitar)
Kei Nakamura (bass)
yasu (mastering)
Links
Niconico Broadcast • YouTube Broadcast (reprint)

Background
Edit
This song serves as a sequel to Suzumu's other song Shoddy Utopia Policy. The song follows the same character as she muses over confessing to the boy she likes before they graduate.
This song has reached the Hall of Fame.
Japanese (日本語歌詞)
Romaji (ローマ字)
"拝啓 私へ
"haikei watashi he
25歳の君に、今日がどう見えるかな?"
nijuugosai no kimi ni, kyou ga dou mieru ka na?"


「あのね・・・」
"ano ne..."


降り注ぐ桜雨の中
furisosogu sakura-ame no naka
指折った数は 卒業への日々
yubi otta kazu wa sotsugyou he no hibi
三年歩いたこの道が
sannen aruita kono michi ga
少しずつだけど 短くなるようで 焦がれた
sukoshi-zutsu dakedo mijikakunaru you de kogareta


意味なんて求めず過ごした毎日
imi nante motomezu sugoshita mainichi
心残りも胸に抱いて
kokoro nokori mo mune ni daite


何百回も目を瞑った ボクの大切な想い
nanbyakkai mo me wo tsumutta boku no taisetsu na omoi
ありえないって らしくないって
arienai tte rashikunai tte
何度も言い聞かせた
nandomo ii kikaseta
もどかしさに理由を付けて 縋るだけの臆病者
modokashisa ni riyuu wo tsukete sugaru dake no okubyoumono
拙い見栄を張って また嘘をついた
tsutanai mie wo hatte mata uso wo tsuita


どこかの誰かが言いだした
dokoka no dareka ga iidashita
ありふれた 『タイムカプセル作戦』
arifureta "taimu kapuseru sakusen"
あの人は何を残すかな 気がつくと
ano hito wa nani wo nokosu ka na ki ga tsuku to
いつも 胸の奥の奥 まだ奥
itsumo mune no oku no oku mada oku


すれ違うだけで嬉しくて儚い
surechigau dake de ureshikute hakanai
心残りも言えなくて
kokoro nokori mo ienakute


何千回も否定してた ボクの隠してる気持ち
nanzenkai mo hitei shiteta boku no kakushiteru kimochi
気のせいだって 疲れてるって
ki no sei datte tsukareteru tte
恋に恋していた
koi ni koishite ita
やるせなさに理由を重ね 縋るだけじゃ進めない
yarusenasa ni riyuu o kasane sugaru dake ja susumenai
最後を飾る華は アナタへの想いで
saigo o kazaru hana wa anata he no omoide


気づいて気がついた 本当の
kizuite ki ga tsuita hontou no
告げずに後悔をするくらいなら言おう
tsugezu ni koukai wo suru kurai nara iou


君へ
kimi e


作戦当日 便りを二つ握り
sakusen toujitsu tayori wo futatsu nigiri
最後のあの道で
saigo no ano michi de
記憶のストロボ瞬き 心付く
kioku no sutorobo matataki kokoro tsuku
大それた告白なんかじゃなくて
daisoreta kokuhaku nanka ja nakute


何十回も書き直したボクの大切な想い
nanjukkai mo kakinaoshita boku no taisetsu na omoi
もうやめようって でも書こうって
mou yameyou tte demo kakou tte
何度も言い聞かせた
nandomo ii kikaseta


桜色の便箋二つ 本気(みらい)のボクに託して
sakura-iro no binsen futatsu mirai no boku ni takushite
本日 桜(はな)のち雨 また嘘をつき笑った
honjitsu hana nochi ame mata uso wo tsuki waratta


「10年後のキミにはそう言えますように・・・」
"juunen-go no kimi ni wa sou iemasu you ni...
Derivatives
Edit
Piko's Cover

| | |
| --- | --- |
| Featuring | Piko |
| Author(s) | Piko |
| Category | Human cover |
nami's Cover

| | |
| --- | --- |
| Featuring | nami |
| Author(s) | nami |
| Category | Human cover |
Espei's Cover

| | |
| --- | --- |
| Featuring | Espei |
| Author(s) | Espei |
| Category | Human cover |
External links
Edit
| | |
| --- | --- |
| | Official |
| | |
| --- | --- |
| | Articles |
| | |
| --- | --- |
| | Lyrics |
| | |
| --- | --- |
| | Downloads |