Ad blocker interference detected!
Wikia is a free-to-use site that makes money from advertising. We have a modified experience for viewers using ad blockers

Wikia is not accessible if you've made further modifications. Remove the custom ad blocker rule(s) and the page will load as expected.
The following song article is still a work in progress. For information on how to help, see the song article guideline. We apologize for the inconvenience this may cause in the meantime.

What is being worked on?

Needs a proper background and English title.

Work-in-progress song pages are automatically sorted into this category.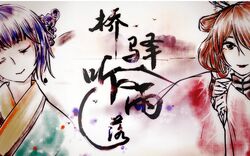 Song title
"桥驿听雨落"
Traditional Chinese: 橋驛聽雨落
Pinyin: Qiáo Yì Tīng Yǔ Luò
Uploaded June 19, 2015, with 170,000+ views
Singer(s)
Luo Tianyi
Producer(s)
Kangshifu no Haixian Mian (music)
Ai Pi Xiong (tuing)
Guozhi Liangcai (Cai Ke), Xie Jiao Jiaozhu (Dianzhu) (lyrics)
NekoLoco (cover)
Links
YouTube Broadcast (reprint)
bilibili Broadcast

Background
Edit
This song is an original Chinese VOCALOID song featuring Luo Tianyi.
This song has exceeded 100,000 views.
Succeeding versions
Edit
Huge米米 and 苏记年's Version

| | |
| --- | --- |
| Featuring | Huge Mi Mi, Su Ji Nian |
| Author(s) | Kangshifu no Haixian Mian (music), Ai Pi Xiong (tuing), Guozhi Liangcai (Cai Ke), Xie Jiao Jiaozhu (Dianzhu) (lyrics), Xiao Wu Taitai (mix), NekoLoco (cover) |
| Category | Succeeding Version |
Chinese (中文歌词)
Pinyin (拼音)
待到连绵雨初霁
dai dao lianmian yu chu ji
不巧 今又逢哭丧脸龙王爷
bu qiao jin you feng kusang lian long wangye
新裳偏易惹尘泥
xin shang pian yi re chen ni
不快 寻巷尾遇茶肆得暂歇
bukuai xun xiang wei yu cha si de zan xie


乌蓬推浆渡桥外
wu peng tui jiang du qiao wai
正是 细雨薄织以待素伞开
zheng shi xi yu bao zhi yi dai su san kai
门响瞥得有青衫摆
men xiang pie de you qing shan bai
正好 故事到口就逢听客来
zhenghao gushi dao kou jiu feng ting ke lai


勿嫌武夷秋叶味清寒
wu xian wuyi qiu ye wei qinghan
温水入碗
wenshui ru wan
绕口香不散
rao kou xiang bu san


白罐撒不知名青茶焙
bai guan sa buzhi ming qing cha bei
想儿时 翠畦田间扑捉白蝶
xiang er shi cui qitian jian pu zhuo bai die
我亦曾羡鸟雀四下飞
wo yi ceng xian niao que si xia fei
而如今 难能安稳又问谁借
er rujin nan neng anwen you wen shui jie


沉香缓步杯沿静欲睡
chenxiang huan bu bei yan jing yu shui
苦辛味 盘过喉舌甘香才觉
ku xinwei panguo houshe ganxiangcai jue
再窥天雨一帘何来嫌
zai kui tian yu yi lian he lai xian
烟柳色 如捧玉碎十里街
yan liuse ru peng yusui shili jie




逢雨更觉远山改
feng yu geng jue yuan shan gai
未见 何处春景长留从不败
wei jian he chu chunjing zhang liu cong bu bai
也曾顶无檐居四海
ye ceng ding wu yan ju sihai
未妨 听我把见闻稍作显摆
wei fang ting wo ba jianwen shao zuo xianbai


颠沛终求得清净一爿
dianpei zhong qiu de qingjing yi pan
抱惑满怀
bao huo manhuai
侧耳请道来
ce'er qing dao lai


岳阳采莲歌中闻式微
yueyang cai lian ge zhong wen shiwei
秦淮岸 楼头月碎瓦上清辉
qinhuai an lou tou yue sui wa shang qing hui
斗城意气少年嗾鹰飞
dou cheng yiqi shaonian sou ying fei
渡融江 柳州初霜雁又南归
du rong jiang liuzhou chu shuang yan you nan gui


两鬓原是渐生秦淮雪
liang bin yuan shi jian sheng qinhuai xue
偶思回 万里之外忽闻歌吹
ou si hui wanli zhi wai hu wen ge chui
离雁总爱将人暇光衔
li yan zong ai jiang ren xia guang xian
才忆起 恍然半生又一岁
cai yi qi huangran bansheng you yi sui




今日感君言或难再逢
jinri gan jun yan huo nan zai feng
掸衣惜别 只天时当归
dan yi xibie zhi tianshi danggui


晚秋瓮取夜露酿新醅
wanqiu weng qu yelu niang xin pei
西风送 旧栈灯烛犹落红泪
xifeng song jiu zhan deng zhu you luo hong lei
几人孤舟蓑笠坐船尾
ji ren gu zhou suoli zuo chuanwei
几人醉 几人仍将那彩云追
ji ren zui ji ren reng jiang na caiyun zhui


店前二月柳色十月颓
dian qian er yue liuse shi yue tui
世间事 一言难尽也道不对
shijian shi yiyannanjin ye dao budui
闲听雨落恰得与君会
xian ting yu luo qia de yu jun hui
今日我 淡茶代酒两三杯
jinri wo dan cha dai jiu liang san bei
External links
Edit
| | |
| --- | --- |
| | Articles |
| | |
| --- | --- |
| | Downloads |