Ad blocker interference detected!
Wikia is a free-to-use site that makes money from advertising. We have a modified experience for viewers using ad blockers

Wikia is not accessible if you've made further modifications. Remove the custom ad blocker rule(s) and the page will load as expected.
This song article is lacking a proper background. You can help by adding one! The relevant section in the Song Article Guideline is a good starting point, and this blog post may also be helpful. We apologize for the inconvenience this may cause in the meantime.

Song pages lacking proper backgrounds are automatically sorted into this category.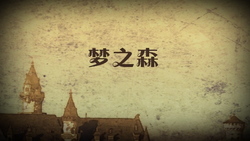 Song title
"梦之森"
Traditional Chinese: 夢之森
Pinyin: Mèng zhī Sēn
English: Forest of Dreams
Uploaded February 29, 2014, with 130,000+ views
Singer(s)
Luo Tianyi and YANHE
Producer(s)
JUSF (compose, arrange, lyrics, tuning)
Rukiaku (video editor)
Links
YouTube Broadcast (reprint)
bilibili Broadcast

Background
Edit
"Mèng zhī Sēn" is an original duet song featuring Luo Tianyi and YANHE.
This song tells about a child who had lost her mother, and also eventually lost her father to drinking problems, leaving her to beg on the streets. She fantasizes about a dreamy forest where she can be happy and experience love's warmth. In that fantasy is also another girl named Calamus, along with two other girls.
She asks Calamus if she knew what happiness is, and later says that the way to happiness is to simply leave this world. As Calamus closes her eyes, it is revealed that the orphaned child had commited suicide, and Calamus along with the two other girls beside her are left lying, dead, in their blood in the real world.
This song has exceeded 100,000 views on bilibili.
Singer + Color
Tianyi
Both
YANHE
Chinese (中文歌词)
Pinyin (拼音)

降生于这座晦涩城市

jiangsheng yu zhe zuo huise chengshi

夺去了母亲的体温

duo qule muqin de tiwen

酗酒的父亲总昏昏沉沉

xujiu de fuqin zong hun hun chenchen

鸣笛后便只剩我一个人

ming di hou bian zhi sheng wo yige ren

你定思

(我定思)

ni ding si

(wo ding si)

这一世纷纷

(纷纷)

zhe yishi fenfen

(fenfen)

何处能予你

(予我)

he chu neng yu ni

(yu wo)

一时藏身

yishi cangshen

只凝视

(你凝视)

zhi ningshi

(ni ningshi)

熙攘的路人

(路人)

xirang de luren

(luren)

默然擦肩的冰冷

(擦肩的冰冷)

moran ca jian de bingleng

(ca jian de bingleng)

梦之森 始终窥探着卑微的灵魂

meng zhi sen shizhong kuitanzhe beiwei de linghun

梦之森 那深处必然得到幸福滋润

meng zhi sen na shen chu biran dedao xingfu zirun

梦之森 于斑驳树影中幻灭的星尘

meng zhi sen yu banbo shu ying zhong huanmie de xing chen

我愿开 那扇门

wo yuan kai na shan men




荆棘划过手臂的疼痛

jingji huaguo shoubi de tengtong

止不住此刻 欣喜暗涌

zhi bu zhu cike xinxi an yong

蔷薇花温和弥散的清芬

qiangwei hua wenhe misan de qing fen

召唤着古城的钟声

zhaohuanzhe gucheng de zhong sheng

欢迎你

(我就在)

huanying ni

(wo jiu zai)

历经了艰险

(终于)

lijingle jianxian

(zhongyu)

来到这处

(来到)

lai dao zhe chu

(lai dao)

幸福的彼岸

xingfu de bi'an

我立此

(你立誓)

wo li ci

(ni lishi)

我为其主人

(照亮)

wo wei qi zhuren

(zhao liang)

定将给予爱的温暖

(给予我的温暖)

ding jiang jiyu ai de wennuan

(jiyu wo de wennuan)




梦之森 陶醉馥郁花香萦绕的梦境

meng zhi sen taozui fuyu huaxiang yingrao de mengjing

梦之森 那少年恬淡的蜜糖般气息

meng zhi sen na shaonian tiandan de mi tang ban qixi

梦之森 被拥入怀中后氤氲的眼睛

meng zhi sen bei yong ru huai zhong hou yinyun de yanjing

我是否 愿沉溺

wo shifou yuan chenni




数千年 唯我一人独守着梦之森

shu qian nian wei wo yiren du shouzhe meng zhi sen

被告知 肩负着恩赐他人幸福的责任

bei gaozhi jianfuzhe enci taren xingfu de zeren

沉思着 该如何淋漓尽致坚守永恒

chensizhe gai ruhe linlijinzhi jianshou yongheng

唯付出 这一生

wei fuchu zhe yisheng

心欲沉 沉浸在斑驳树影中的我们

xin yu chen chenjin zai banbo shu ying zhong de women

永无需 无需再呼吸周身的冰冷

yong wuxu wuxu zai huxi zhoushen de bingleng

我将去 去往那最为幸福的梦之森

wo jiang qu qu wang na zuiwei xingfu de meng zhi sen

请为我 掌灯

qing wei wo zhangdeng
External links
Edit
| | |
| --- | --- |
| | Articles |