This song article is lacking a proper background. You can help by adding one! The relevant section in the Song Article Guideline is a good starting point, and this blog post may also be helpful. We apologize for the inconvenience this may cause in the meantime.

Song pages lacking proper backgrounds are automatically sorted into this category.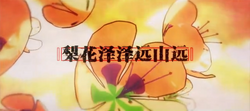 Song title
"梨花泽泽远山远"
Traditional Chinese: 梨花澤澤遠山遠
Pinyin: Líhuā Zé Zé Yuǎn Shān Yuǎn
Uploaded October 23, 2015, with 250,000+ views
Singer(s)
Luo Tianyi
Producer(s)
Melo (compose, arrange)
Lü Xie (lyrics)
おにねこ (illustrator)
Bingzhen Tian Doujiang (video editor)
Links
bilibili Broadcast
Background
Edit
"Líhuā Zé Zé Yuǎn Shān Yuǎn" is an original Luo Tianyi song and is featured in the album, Quadimension 3. It is followed by 时一现耳三千岁 (Shí Yī Xiàn Ěr Sānqiān Suì).
This song has exceeded 100,000 views on bilibili.
Chinese (中文歌詞)
Pinyin (拼音)
夏露秋霜匆匆十載
xia lu qiushuang congcong shi zai
記憶裡的人都裁開
jiyi li de ren dou chai kai
燕子再回時雪融春來
yanzi zai hui shi xue rong chun lai
你戴著梨花入我夢來
ni daizhe lihua ru wo meng lai
跟著雲走再踏過河流
genzhe yun zou zai taguo heliu
山川如詩詩如酒
shanchuan ru shi shi ru jiu
我哼著歌尋訪白晝
wo hengzhe ge xunfang baizhou
歲月的木舟載著鄉愁
suiyue de muzhou zaizhe xiangchou


梨花開 遠山層巒疊白
lihua kai yuanshan cengluan die bai
家鄉就是山間雲彩
jiaxiang jiushi shanjian yuncai
梨花開 花香穿越人海
lihua kaihua xiang chuanyue ren hai
呼喚著我歸來
huhuanzhe wo guilai


跟著雲走再踏過河流
genzhe yun zou zai taguo heliu
山川如詩詩如酒
shanchuan ru shi shi ru jiu
我哼著歌尋訪白晝
wo hengzhe ge xunfang baizhou
歲月的木舟載著鄉愁
suiyue de muzhou zaizhe xiangchou


梨花開 遠山層巒疊白
lihua kai yuanshan cengluan die bai
家鄉就是山間雲彩
jiaxiang jiushi shanjian yuncai
梨花開 花香穿越人海
lihua kaihua xiang chuanyue ren hai
呼喚著我歸來
huhuanzhe wo guilai


燕子從南迴雪融春水
yanzi cong nan hui xue rong chunshui
梨花澤澤躚洄
lihua ze ze xian hui
External links
Edit
| | |
| --- | --- |
| | Lyrics |