Ad blocker interference detected!
Wikia is a free-to-use site that makes money from advertising. We have a modified experience for viewers using ad blockers

Wikia is not accessible if you've made further modifications. Remove the custom ad blocker rule(s) and the page will load as expected.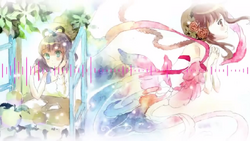 Song title
"欠一个拥抱"
Traditional Chinese: 欠一個擁抱
Pinyin: Qiàn Yī gè Yōngbào
English: You Owe Me a Hug
Uploaded August 24, 2012, with 150,000+ views
Singer(s)
Luo Tianyi
Producer(s)
Qianyimohua-P (music)
Chenny0_0 (illust)
BOBE(EMO.C) (PV)
Links
YouTube Broadcast (reprint)
bilibili Broadcast

Background
Edit
An original Luo Tianyi song about her owing a hug to someone.
According to the producer, Yuezheng Ling's character passes away and Tianyi was cleaning up her items and came across an incomplete song. As such, the first half of the lyrics are written by Ling, while the second half is by Tianyi.
This song has exceeded 100,000 views on bilibili.
Succeeding versions
Edit
欠我一炮

Romaji/English
You Owe Me a Bang (Qiàn Wǒ Yī Páo)
Featuring
Luo Tianyi
Author(s)
Qianyimohua-P (music), Xinghua Baozi (lyrics), 爱辣三晒 (video)
Category
Original song; Spin-off

Description

An "immoral" version with lyrics of a less innocent theme.
Chinese (中文歌词)
Pinyin (拼音)
我知道 你想要的只是个依靠
wo zhidao ni xiang yao de zhishi ge yikao
我明了 你缺少一个深情拥抱
wo mingliao ni queshao yi ge shenqing yongbao
好烦恼 如果我在你身边多好
hao fannao ruguo wo zai ni shenbian duo hao
不重要 需要的话我随传随到
bu zhongyao xuyao de hua wo suichuansuidao


baby你在那边的天气好不好
baby ni zai na bian de tianqi hao bu hao
偶尔也会想起你很容易感冒
ou'er ye hui xiangqi ni hen rongyi ganmao
你的身边是否有人虚寒问好
ni de shenbian shifou youren xuhan wenhao
这样鲁莽的我有点无理取闹
zheyang lumang de wo you dian wuliqunao


你要什么时候才会发现得到
ni yao shenme shihou cai hui faxian dedao
我也只有对你才那么好
wo ye zhiyou dui ni cai name hao
其实我们维持现状可能更好
qishi women weichi xianzhuang keneng geng hao
可能更好?一点都不好
keneng geng hao? yidian dou bu hao


藏了那么多 那么多年想说的话
cangle name duo name duonian xiang shuo de hua
就在此刻 就在此刻全部迸发
jiu zai cike jiu zai cike quanbu bengfa
拉不上关闭的闸
la bu shang guanbi de zha
你 你不要 你完全没必要害怕
ni ni buyao ni wanquan mei biyao haipa
你 你可以 你可以选择不回答
ni ni keyi ni keyi xuanze bu huida
就当欠我个拥抱
jiu dang qian wo ge yongbao


我知道 你想要的只是个依靠
wo zhidao ni xiang yao de zhishi ge yikao
我明了 你缺少一个深情拥抱
wo mingliao ni queshao yi ge shenqing yongbao
为什么 约定好了你却不见了
weishenme yueding haole ni que bujianle
好不好 只要你说一声我就到
hao bu hao zhiyao ni shuo yisheng wo jiu dao


baby你在那边的天气好不好
baby ni zai na bian de tianqi hao bu hao
偶尔也会想起你很容易感冒
ou'er ye hui xiangqi ni hen rongyi ganmao
你的身边是否有人虚寒问好
ni de shenbian shifou youren xuhan wenhao
这样鲁莽的我有点无理取闹
zheyang lumang de wo you dian wuliqunao


你要什么时候才会发现得到
ni yao shenme shihou cai hui faxian dedao
我也只有对你才那么好
wo ye zhiyou dui ni cai name hao
其实我们维持现状可能更好
qishi women weichi xianzhuang keneng geng hao
可能更好?一点都不好
keneng geng hao? yidian dou bu hao


藏了那么多 那么多年想说的话
cangle name duo name duonian xiang shuo de hua
就在此刻 就在此刻全部迸发
jiu zai cike jiu zai cike quanbu bengfa
拉不上关闭的闸
la bu shang guanbi de zha
你 你不要 你完全没必要害怕
ni ni buyao ni wanquan mei biyao haipa
你 你可以 你可以选择不回答
ni ni keyi ni keyi xuanze bu huida
就当欠我个拥抱
jiu dang qian wo ge yongbao
Derivatives
Edit