The following song article is still a work in progress. For information on how to help, see the song article guideline. We apologize for the inconvenience this may cause in the meantime.

Work-in-progress song pages are automatically sorted into this category.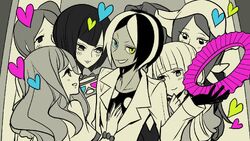 Song title
"次元跳躍シャンプーハット"
Romaji: Jigen Chouyaku Shanpuu Hatto
English: The Dimension-Leaping Shampoo Hat
Uploaded August 05, 2013, with 160,000+ (NND) & 201,000+ (YT) views
Singer(s)
VY2, Kenji Ootsuki
Producer(s)
uramanbou (music, lyrics)
Manbou no Ane (illustrations)
llcheesell, CatsAX (video)
Links
Niconico Broadcast • YouTube Broadcast (official)

Background
Edit
A song of a popular manga character that had grew bored of his dimension. He decided to make a dimension-leaping shampoo hat and travel to the 3rd dimension.
It is featured as a track in the album: Kowareta Sekai de Hana wo Daku (壊れた世界で花を抱く).
Japanese (日本語歌詞)
Romaji (ローマ字)
三次元に行こう。
sanjigen ni ikou.


長い研究の末完成した
nagai kenkyuu no sue kansei shita
次元跳躍シャンプーハット
jigen chouyaku shanpuu hatto
これを使えば 次元の壁は超え放題
kore o tsukaeba jigen no kabe wa koe houdai


二次元世界の退屈さは
nijigen sekai no taikutsusa wa
突然たくさんの女の子に好かれたり
totsuzen takusan no onnanoko ni sukaretari
飛び抜けた才能を生まれ持ったり
tobinuketa sainou o umare mottari
普通すぎる日々で
futsuu sugiru hibi de


三次元に行こう。
sanjigen ni ikou.


パンツまでつぶさに再現された
pantsu made tsubusa ni saigen sareta
俺のフィギュアが売ってる
ore no figyua ga utteru
不特定多数が愛でてるの?
futokutei tasuu ga medeteru no?
三次元人 気持ち悪
sanjigenjin kimochi waru


そんなものに頼らずに現実で
sonna mono ni tayorazu ni genjitsu de
ハーレム作れば良いのに
haaremu tsukureba ii no ni
気持ち悪さにプライドを
kimochi warusa ni puraido o
感じているフシさえあるから
kanjiteiru fushi sae aru kara
手遅れだ 三次元
te okure da sanjigen


長居はしたくない場所だ
nagai wa shitakunai basho da
あくまで他の漫画やアニメに
akumade hoka no manga ya anime ni
混ざるための通路にしよう
mazaru tame no tsuuro ni shiyou
イタズラしてやる
itazura shite yaru


スポーツものでビームを撃ったり
supootsu mono de biimu o uttari
時代劇でエアロビしたり
jidaigeki de aerobi shitari
世界観クラッシャーだぜ
sekaikan kurasshaa da ze


三次元に行こう。
sanjigen ni ikou.


路上で洗髪してるくらいで
rojou de senpatsu shiteru kurai de
職務質問しますか?
shokumu shitsumon shimasu ka?
「清潔かよ!」ってツッコんで
"seiketsu ka yo!" tte tsukkonde
次のシーンでは 忘れてよ
tsugi no shiin dewa wasurete yo


コメディーの住人にそんな対応
komedii no juunin ni sonna taiou
世界観クラッシャーだ
sekaikan kurassha da
命はギャグで戻せるが
inochi wa gyagu de modoseru ga
落としたテンポは取り戻せない
otoshita tenpo wa torimodosenai
愚かなり 三次元
orokanari sanjigen


路地に隠れて街を見る
roji ni kakurete machi o miru
待ち受け画面やストラップにも
machiuke gamen ya sutorappu ni mo
至る所に二次元グッズ
itarutokoro ni nijigen guzzu
よほど憧れているらしい
yohodo agogareteiru rashii


皆どこか退屈そうで
minna dokoka taikutsusou de
ここじゃない世界探して
koko janai sekai sagashite
もっと自分の場所を愛せばいいのに
motto jibun no basho o aiseba ii no ni


俺も二次元を愛してみよう
ore mo nijigen o aishite miyou
考えてみりゃ最高だろ?
kangaete mirya saikou daro?
だいたいいつも奇跡起こるし
daitai itsumo kiseki okoru shi
努力はカットでダイジェスト
doryoku wa katto de daijesuto


帰って美女だらけのエレベーターに
kaette bijo darake no erebeetaa ni
偶然にも閉じ込められて
guuzen nimo tojikomerarete
全員とフラグ立てるか
zenin to furagu tateru ka
画面の向こうでヨダレ垂らして
gamen no mukou de yodare tarashite
見ていろよ 三次元
miteiro yo sanjigen
External links
Edit
| | |
| --- | --- |
| | Articles |
| | |
| --- | --- |
| | Lyrics |
Ad blocker interference detected!
Wikia is a free-to-use site that makes money from advertising. We have a modified experience for viewers using ad blockers

Wikia is not accessible if you've made further modifications. Remove the custom ad blocker rule(s) and the page will load as expected.