Ad blocker interference detected!
Wikia is a free-to-use site that makes money from advertising. We have a modified experience for viewers using ad blockers

Wikia is not accessible if you've made further modifications. Remove the custom ad blocker rule(s) and the page will load as expected.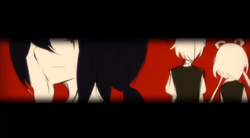 Song title
"正向欺骗"
Traditional Chinese: 正向欺騙
Pinyin: Zhèng Xiàng Qīpiàn
English: In Front of Deception
Uploaded March 28, 2014, with 260,000+ views
Singer(s)
YANHE
Producer(s)
JUSF (compose, arrange, tuning)
Sya (Illust)
Eating Dog Food (PV)
Links
YouTube Broadcast (reprint)
bilibili Broadcast

Background
Edit
"Zhèng Xiàng Qīpiàn" is the seventh song in the Bidirectional Series, a collaboration between Sya and JUSF. It is the character song of Yuezheng Ling.
The song tells the story of Ling's past, where she grew up in a happy family and had many friends. Everything changed when her parents divorced after her father was caught cheating. While all of this was happening, Ling also loses her friends. Because of this, she didn't believe in love anymore until she met and fell in love with YANHE.
When she found out that he was actually in love with Luo Tianyi and was only dating her to attract attention from the other girl, she loses her faith and decided to use Tianyi against him, tricking him into believing that Tianyi actually hates him. This takes place in 单向宣战 (Dānxiàng Xuānzhàn) and leads to the storyline of declaring war between the three characters.
After Ling received her own voicebank in 2015, her vocals were used to sing the song in the album, Shuāngxiàng·Lúnhuí yǔ Xìngfú (双向·轮回与幸福).
This song has exceed 100,000 views on bilibili.
Succeeding versions
Edit
Ling's Version

Featuring
Yuezheng Ling
Author(s)
JUSF and Sya
Category
VOCALOID cover; Remastered; Succeeding version

Description

Available in the Shuāngxiàng·Lúnhuí yǔ Xìngfú (双向·轮回与幸福) album.
Chinese (中文歌词)
Pinyin (拼音)
欺骗 正向欺骗 欺骗 正向欺骗
Qipian zheng xiang qipian qipian zheng xiang qipian
正向欺骗 欺骗 正向欺骗
Zheng xiang qipian qipian zheng xiang qipian


我本应生活在幸福家庭
Wo ben ying shenghuo zai xingfu jiating
有一对爱我的父亲母亲
Youyi dui ai wo de fuqin muqin
我本应有一群真诚朋友
Wo ben ying you yiqun zhencheng pengyou
一起看泪水中的彩虹
Yiqi kan leishui zhong de caihong
一直到那些人摘下面具
Yizhi dao naxie ren zhai xia mianju
露出那骇人的陌生表情
Luchu na hai ren de mosheng biaoqing
因背叛撕裂的脆弱家庭
Yin beipan si lie de cuiruo jiating
因自私割裂了的友情
Yin zisi geliele de youqing


反正反正都不喜欢
Fanzheng fanzheng dou bu xihuan
都不喜欢看见我
Dou bu xihuan kanjian wo
反正反正从来没有
Fanzheng fanzheng conglai meiyou
真心的称赞我
Zhenxin de chengzan wo
你们眼中只留憎恨
Nimen yanzhong zhi liu zenghen
现在我将憎恨点燃
Xianzai wo jiang zenghen dianran
加重这份真实情感
Jiazhong zhe fen zhenshi qinggan
证明我曾存在过
Zhengming wo ceng cunzaiguo
反正反正都不喜欢
Fanzheng fanzheng dou bu xihuan
都不喜欢听我说
Dou bu xihuan ting wo shuo
反正反正从来没有
Fanzheng fanzheng conglai meiyou
真正地理解我
Zhenzheng di lijie wo
你们眼中只留嘲讽
Nimen yanzhong zhi liu chaofeng
现在我将嘲讽点燃
Xianzai wo jiang chaofeng dianra
加重这份真实情感
Jiazhong zhe fen zhenshi qinggan
证明我曾存在过
Zhengming wo ceng cunzaiguo


反正反正...
Fanzheng fanzheng...


我在最无助时遇见了他
Wo zai zui wu zhu shi yujianle ta
那微笑几乎要将我融化
Na weixiao jihu yao jiang wo ronghua
我终于等到了真实的他
Wo zhongyu deng daole zhenshi de ta
爱我的 不欺骗我的他
Ai wo de bu qipian wo de ta


(反正反正......)现在我哭红了眼眶
(Fanzheng fanzheng......) Xianzai wo ku hongle yankuang
(反正反正......)(正向欺骗)他温柔的目光
(Fanzheng fanzheng......)(Zheng xiang qipian) ta wenrou de muguang
(反正反正......)(正向)爱浸湿的纸张
(Fanzheng fanzheng......)(Zheng xiang) ai jin shi de zhizhang
(反正反正......)(正向欺骗)幸福的妄想
(Fanzheng fanzheng......)(Zheng xiang qipian) xingfu de wangxiang


反正反正都是欺骗
Fanzheng fanzheng dou shi qipian
欺骗我说喜欢我
Qipian wo shuo xihuan wo
反正反正从来没有
Fanzheng fanzheng conglai meiyou
那么一刻在意我
Name yike zaiyi wo
一切一切都是利用
Yiqie yiqie dou shi liyong
利用我来得到幸福
Liyong wo lai dedao xingfu
这最低劣卑微理由
Zhe zui dilie beiwei liyou
不配让我弄脏手
Bupei rang wo nong zang shou
反正反正都是欺骗
Fanzheng fanzheng dou shi qipian
挂在每个人的脸
Gua zai mei geren de lian
反正反正从来没有
Fanzheng fanzheng conglai meiyou
坦诚地微笑过
Tancheng de weixiaoguo
一切一切都是利用
Yiqie yiqie dou shi liyong
利用人是人的自由
Liyong ren shi ren de ziyou
这最低劣卑微理由
Zhe zui dilie beiwei liyou
不配让我弄脏手
Bupei rang wo nong zang shou


反正反正都是欺骗
Fanzheng fanzheng dou shi qipian
(反正反正......)
(Fanzheng fanzheng......)
反正反正都是欺骗
Fanzheng fanzheng dou shi qipian
(反正反正......)
(Fanzheng fanzheng......)
一切一切都是利用
Yiqie yiqie dou shi liyong
(反正反正......)
(Fanzheng fanzheng......)
反正反正都是欺骗
Fanzheng fanzheng dou shi qipian
(反正反正......)
(Fanzheng fanzheng......)


反正反正都是欺骗(正向欺骗)
Fanzheng fanzheng dou shi qipian (zheng xiang qipian)
反正反正都是欺骗
Fanzheng fanzheng dou shi qipian
一切一切都是利用(正向欺骗)
Yiqie yiqie dou shi liyong (zheng xiang qipian)
反正反正都是欺骗
Fanzheng fanzheng dou shi qipian