Ad blocker interference detected!
Wikia is a free-to-use site that makes money from advertising. We have a modified experience for viewers using ad blockers

Wikia is not accessible if you've made further modifications. Remove the custom ad blocker rule(s) and the page will load as expected.
This song article is lacking a proper background. You can help by adding one! The relevant section in the Song Article Guideline is a good starting point, and this blog post may also be helpful. We apologize for the inconvenience this may cause in the meantime.

Song pages lacking proper backgrounds are automatically sorted into this category.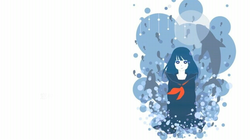 Song title
"残る夏に花束を"
Romaji: Nokoru Natsu ni Hanataba o
English: Flowers For The Remaining Summer
Uploaded June 16, 2012, with 40,620+ views
Singer(s)
IA
Producer(s)
Nodoka (music, lyrics)
Links
Niconico Broadcast
Background
Edit
"Nokoru Natsu ni Hanataba o" is an orogijnal sokng by Nokoda featuring IA.
This song is featured in Nokoda's album, Heart motion and is featured in the IA Project compilation album, IA/02-COLOR-.
Japanese
Romaji
窓枠の影に起こされて
madowaku no kage ni okosarete
目を覚ます八月の朝
me o samasu hachigatsu no asa
太陽の匂いに誘われた雲が
taiyou no nioi ni sasowareta kumo ga
東の空に流れていく
higashi no sora ni nagarete iku


心に差す日差しに目を細め
kokoro ni sasu hizashi ni me o hosome
君の真似をして
kimi no mane o shite
残る夏の足跡を 辿る
nokoru natsu no ashiato o tadoru


僕が歌って 君が笑って
boku ga utatte kimi ga waratte
目を閉じた横顔
me o tojita yokogao
僕は ずっと ずっと
boku wa zutto zutto
忘れてないよ
wasuretenai yo


いつか観た この景色
itsuka mita kono keshiki
色褪せないように 唄うよ
iroasenai youni utau yo


子供達の声に 耳を澄ます
kodomotachi no koe ni mimi o sumasu
八月の昼下がりさ
hachigatsu no hiru sagarisa
潮風に揺れる 風鈴の音が
shiokaze ni yureru fuurin no ne ga
南の空に響いていく
minami no sora ni hibiite iku


僕を残して 暮れる世界に
boku o nokoshite kureru sekai ni
体を沈めて 去り行く君の
karada o shizumete sariyuku kimi no
姿を視る
sugata o miru


君は笑って 僕に言った
kimi wa waratte boku ni itta
「大切な話が あるの」
"taisetsuna hanashi ga aru no"
「ずっとずっと 忘れないでよ」
"zutto zutto wasurenai de yo"
君の居ない この夏が
kimi no inai kono natsu ga
翳らないように 花束を
kageranai youni hanataba o


嗚呼、此処に
aa, koko ni
生きてる時間に君は
ikiteru jikan ni kimi wa
もう居ないの
mou inai no


僕が唄って 君が笑った
boku ga utatte kimi ga waratta
ささやかなあの日を
sasayakana ano hi o
僕は ずっと ずっと
boku wa zutto zutto
忘れてないよ
wasuretenai yo


君の居ない この夏が
kimi no inai kono natsu ga
翳らないように
kageranai youni
花束を 贈るよ
hanataba o okuru yo
Other media appearances
Edit
External links
Edit
| | |
| --- | --- |
| | Articles |