Ad blocker interference detected!
Wikia is a free-to-use site that makes money from advertising. We have a modified experience for viewers using ad blockers

Wikia is not accessible if you've made further modifications. Remove the custom ad blocker rule(s) and the page will load as expected.
This song article is lacking a proper background. You can help by adding one! The relevant section in the Song Article Guideline is a good starting point, and this blog post may also be helpful. We apologize for the inconvenience this may cause in the meantime.

Song pages lacking proper backgrounds are automatically sorted into this category.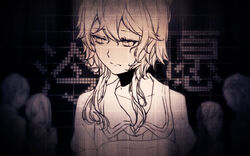 Song title
"泠重乞愿"
Traditional Chinese: 冷重乞願
Pinyin: Líng Zhòng Qǐ Yuàn
Uploaded May 20, 2016, with 322,000+ views
Singer(s)
Luo Tianyi
Producer(s)
DELA (compose, arrange)
Yu Li (lyrics)
Digger (tuning)
POiSON (mixing)
Dia, Alu (illustrators)
Fan Yi Dian (video editor)
Links
YouTube Broadcast (reprint)
bilibili Broadcast

Background
Edit
"Líng Zhòng Qǐ Yuàn" is an original song featuring Luo Tianyi and is part of the Paranoia Series.
This song exceeded 100,000 views on bilibili.
Chinese (中文歌词)
Pinyin (拼音)
你在名为弱小的深渊
ni zai ming wei ruoxiao de shenyuan
究竟看见过什么
jiujing kanjianguo shen me
向着他们口出恶言 想死得壮烈一些
xiangzhe tamen kou chu e yan xiang si de zhuanglie yixie
仅剩下尊严
jin sheng xia zunyan
有没有人曾对你说过 不要期待这世界
you meiyou ren ceng dui ni shuoguo buyao qidai zhe shijie
你的歌声越是明媚
ni de gesheng yue shi mingmei
就越容易被现实掐断
jiu yue rongyi bei xianshi qia duan
无情地被碾碎
wuqing de bei nian sui


当我初次听见她天籁之音
dang wo chuci tingjian ta tianlai zhi yin
便兀自开始疯狂的追求
bian wuzi kaishi fengkuang de zhuiqiu
心中人格距离未在思考的范畴
xinzhong renge juli wei zai sikao de fanchou
眼中只看到诸多如出一辙的相同
yanzhong zhi kan dao zhuduo ruchuyizhe de xiangtong


具体为何已经不记得 细节化为残存感受
juti weihe yijing bu jide xijie hua wei cancun ganshou
沉浸在这份幸福之中 想就此沉没
chenjin zai zhe fen xingfu zhi zhong xiang jiuci chenmo
有时候我不经意回头 发现自己未走远过
you shihou wo bujingyi huitou faxian ziji wei zou yuanguo
毕竟原本冷清的路口
bijing yuanben lengqing de lukou
终于有一个人会等我
zhongyu youyi geren hui deng wo


我愿意褪下骄傲和伪装
wo yuanyi tui xia jiao'ao he weizhuang
臣服她身旁再也不彷徨
chenfu ta shen pang zai ye bu fanghuang
我们的羁绊与永恒的信仰
women de jiban yu yongheng de xinyang
定会被启明星加冕为最闪耀的光芒
ding hui bei qi mingxing jiamian wei zui shanyao de guangmang
伤疤依然保持着原样 随时等待被揭下
shangba yiran baochizhe yuanyang suishi dengdai bei jie xia
还有什么不会被改变
hai you shen me bu hui bei gaibian
不会随着时间被变迁 不会被残缺
bu hui suizhe shijian bei bianqian bu hui bei canque
我不想听所谓的理由 都是厌弃我的借口
wo buxiang ting suowei de liyou dou shi yanqi wo de jiekou
但我绝不会再次辩驳 别让我再做无谓的梦
dan wo jue bu hui zaici bianbo bie rang wo zai zuo wuwei de meng
再失去所有
zai shiqu suoyou


我开始问自己这是为什么
wo kaishi wen ziji zhe shi weishenme
为什么只有我无法放手
weishenme zhiyou wo wufa fangshou
或者是我自己太过渺小和懦弱
huozhe shi wo ziji taiguo miaoxiao he nuoruo
或是她身上有着饮鸩止渴的诅咒
huo shi ta shenshang youzhe yinzhenzhike de zuzhou


是谁曾在那空虚之中 给予我灵动的情感
shi shei ceng zai na kongxu zhi zhong jiyu wo lingdong de qinggan
最终转身没有说再见 推我向深渊
zuizhong zhuanshen meiyou shuo zaijian tui wo xiang shenyuan
温柔于她原不过施舍 施舍我如残羹剩饭
wenrou yu ta yuan buguo shishe shishe wo ru cangengshengfan
她的世界是如此广大 我甚至都不是配角
ta de shijie shi ruci guangda wo shenzhi dou bushi peijiao


幸福为何已经不记得 感受化为巨大伤痛
xingfu weihe yijing bu jide ganshou hua wei juda shang tong
沉浸在这份怒火之中 完全被吞没
chenjin zai zhe fen nuhuo zhi zhong wanquan bei tunmo
有时候我不经意回头 发现自己未走远过
you shihou wo bujingyi huitou faxian ziji wei zou yuanguo
毕竟原本冷清的路口 现仍只有我一个
bijing yuanben lengqing de lukou xian reng zhiyou wo yige


是谁曾在那黑暗之中 给予我深厚的情感
shi shei ceng zai na hei'an zhi zhong jiyu wo shenhou de qinggan
突然了断没有说再见 推我向深渊
turan liaoduan meiyou shuo zaijian tui wo xiang shenyuan
温柔于她原不过施舍 施舍我如残羹剩饭
wenrou yu ta yuan buguo shishe shishe wo ru cangengshengfan
她的世界是如此广大 我甚至都不是配角
ta de shijie shi ruci guangda wo shenzhi dou bushi peijiao


怒火为何已经不记得 伤痛化为巨大绝望
nuhuo weihe yijing bu jide shang tong hua wei juda juewang
沉浸在这份孤独之中 完全被吞没
chenjin zai zhe fen gudu zhi zhong wanquan bei tunmo
有时候我不经意回头 发现自己未走远过
you shihou wo bujingyi huitou faxian ziji wei zou yuanguo
现实多么幽默 沉寂了白日梦
xianshi duome youmo chenjile bai ri meng


对我发出一声声冰冷的嘲笑
dui wo fachu yisheng sheng bingleng de chaoxiao
External links
Edit
| | |
| --- | --- |
| | Articles |