Ad blocker interference detected!
Wikia is a free-to-use site that makes money from advertising. We have a modified experience for viewers using ad blockers

Wikia is not accessible if you've made further modifications. Remove the custom ad blocker rule(s) and the page will load as expected.
This song article is lacking a proper background. You can help by adding one! The relevant section in the Song Article Guideline is a good starting point, and this blog post may also be helpful. We apologize for the inconvenience this may cause in the meantime.

Song pages lacking proper backgrounds are automatically sorted into this category.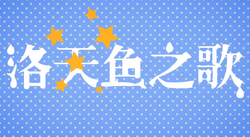 Song title
"洛天鱼之歌"
Traditional Chinese: 洛天魚之歌
Pinyin: Luò Tiānyú zhī Gē
English: Song of Luo TianFish
Uploaded October 3, 2014, with 60,000+ views
Singer(s)
Luo Tianyi
Producer(s)
Sugita Akira (compose, tuning, mixing, video editor)
Xing Hua Baozi (lyrics)
Qing Qiexian (illustrator)
Links
YouTube Broadcast (reprint)
bilibili Broadcast

Background
Edit
"Luò Tiānyú zhī Gē" is an original Luo Tianyi song that was featured in the album, First Step.
Chinese (中文歌词)
Pinyin (拼音
呼吸有些紊亂的節奏 難道是水中的氧氣不太夠
huxi youxie wenluan de jiezou nandao shi shuizhong de yangqi bu tai gou
胸口無法承受的疼痛 會不會是中了黑魔法的詛咒
xiongkou wufa chengshou de tengtong hui bu hui shi zhongle hei mofa de zuzhou
傳說海那邊有條笨龍 可能是吞了一整袋的巴豆
chuanshuo hai na bian you tiao ben long keneng shi tunle yi zheng dai de badou
OH NO 如果不去阻止它的話
OH NO ruguo bu qu zuzhi ta dehua
肚子會爆炸
duzi hui baozha


聽好我被叫做人魚公主 高貴典雅神經有點粗
ting hao wo bei jiaozuo renyu gongzhu gaogui dianya shenjing youdian cu
為了保衛這海底的生態環境要嚴肅
weile baowei zhe haidi de shengtai huanjing yao yansu
出門戴口罩不是怕認出 其實原因不說都清楚
chumen dai kouzhao bushi pa ren chu qishi yuanyin bu shuo dou qingchu
媽媽告訴我走之後要關燈和窗戶
mama gaosu wo zou zhihou yao guan deng he chuanghu


尾鰭隨著旋律在擺動 不可能明明在水中臉卻紅
weiqi suizhe xuanlü zai baidong bu keneng mingming zai shuizhong lian que hong
心臟止不住跳動撲通 難道是邱比特的弓箭沒擺正
xinzang zhi bu zhu tiaodong putong nandao shi qiu bite de gongjian mei bai zheng
聽說陸上人都是怪獸 但或許也有搞錯了的時候
ting shuo lushang ren dou shi guaishou dan huoxu yeyou gao cuole de shihou
OH NO 現在不能去和他搭話
OH NO xianzai buneng qu he ta da hua
有點羞答答
youdian xiudada


幹嘛我可是那人魚公主 天然傲嬌但不傻呼呼
gan ma wo keshi na renyu gongzhu tianran ao jiao dan bu sha hu hu
為了下一代的幸福勇氣一定要鼓足
weile xia yidai de xingfu yongqi yiding yao gu zu
或許在陸地上空氣充足 那裡沒有笨龍放的毒
huoxu zai ludi shang kongqi chongzu nali meiyou ben long fang de du
爸爸告訴我選男人要仔細看清楚
baba gaosu wo xuan nanren yao zixi kan qingchu


等等那是什麼 笨龍已經被抓住了
deng deng na shi shenme ben long yijing bei zhua zhule
人類竟然拿它來生火
renlei jingran na ta lai shenghuo
原來它並沒錯 罪惡源頭在河上流
yuanlai ta bing meicuo zui'e yuantou zai he shangliu
廢物廢水一股腦的投
feiwu feishui yigunao de tou


幸好我只是個人魚公主 任性貪玩但不心狠毒
xinghao wo zhishi geren yu gongzhu renxing tan wan dan bu xin hendu
相信大自然的法則有天一定會懲處
xiangxin da ziran de faze you tian yiding hui chengchu
也許會有一天人類醒悟 再也沒有黑色的煙霧
yexu hui you yitian renlei xingwu zai ye meiyou heise de yanwu
爸媽那時候我可以好好與人相處
ba ma na shihou wo keyi haohao yu ren xiangchu