Ad blocker interference detected!
Wikia is a free-to-use site that makes money from advertising. We have a modified experience for viewers using ad blockers

Wikia is not accessible if you've made further modifications. Remove the custom ad blocker rule(s) and the page will load as expected.
This song article is lacking a proper background. You can help by adding one! The relevant section in the Song Article Guideline is a good starting point, and this blog post may also be helpful. We apologize for the inconvenience this may cause in the meantime.

Song pages lacking proper backgrounds are automatically sorted into this category.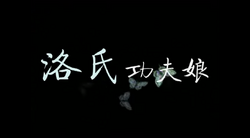 Song title
"洛氏功夫娘"
Pinyin: Luò Shì Gōngfū Niáng
English: Luo the Kung Fu Maiden
Uploaded January 1, 2013, with 130,000+ views
Singer(s)
Luo Tianyi
Producer(s)
JUSF (compose, arrange, lyrics)
Weishanzi Yao Mai Shanzi (illustrator)
RUKIAKU (video editor)
Links
YouTube Broadcast (reprint)
bilibili Broadcast

Background
Edit
"Luò Shì Gōngfū Niáng" is an original Luo Tianyi song that was produced by JUSF.
This song has exceeded 100,000 views on bilibili.
Chinese (中文歌词)
Pinyin (拼音)
相传江湖沧桑之中有这么一个奇女子
xiangchuan jianghu cangsang zhi zhong you zheme yige qi nüzi
驭数丈红线武功盖世穿梭人海之间
yu shu zhang hongxian wugong gaishi chuansuo ren hai zhi jian
名和利 金和银 于她冷漠双眸中 仅是缕缕过眼云烟
minghe li jin he yin yu ta lengmo shuangmou zhong jin shi lülü guoyanyunyan
弱与贫 苦与难 在她热切相助中 重又拾回往日笑颜
ruo yu pinku yu nan zai ta reqie xiangzhu zhong zhong you shi hui wangri xiaoyan
其名洛氏功夫娘 冷眼对世态炎凉 为人谦逊不入尘世纷争 笑看皆是梦一场
qi ming luo shi gongfu niang lengyan dui shitaiyanliang weiren qianxun bu ru chenshi fenzheng xiao kan jie shi meng yi chang
其名洛氏功夫娘 其人胸怀世无双 心系天下百姓芸芸众生 千万里美名远扬
qi ming luo shi gongfu niang qi ren xionghuai shi wushuang xin xi tianxia baixing yunyunzhongsheng qian wan limei ming yuanyang


红线破开山贼牢笼瞬间女孩看见了那个人
hongxian po kaishan zei laolong shunjian nühai kanjianle nage ren
眉目若月色日夜兼程赶回家乡的旅人
meimu ruo yue se riye jiancheng gan hui jiaxiang de lüren
为了守护这位身体羸弱的少年女孩决定与之同行
weile shouhu zhe wei shenti leiruo de shaonian nühai jueding yu zhi tongxing
虽然不常言语 她的目光始终不曾离开他的身影
suiran bu chang yanyu ta de muguang shizhong buceng likai ta de shenying


其名洛氏功夫娘 一袭淡雅青衣裳 红线指尖缠绕千回百转 从未撩动她心房
qi ming luo shi gongfu niang yi xi danya qing yishang hongxian zhi jian chanrao qian hui bai zhuan cong wei liaodong ta xinfang
其名洛氏功夫娘 风细来兮花泛香 不知名为何物心中涌流 弥散于萧萧月光
qi ming luo shi gongfu niang feng xi lai xi hua fan xiang buzhi ming weihe wu xinzhong yongliu misan yu xiaoxiao yueguang


古道两侧郁郁葱葱的竹林 拨开后 眼前豁然开朗
gudao liang ce yuyucongcong de zhulin bo kai hou yanqian huoran kailang
漫山遍野盛开着湛蓝的花 这是少年的家乡
manshanbianye shengkaizhe zhanlan de hua zhe shi shaonian de jiaxiang
寻访了村中人后少女得知 雪山上有一株千年药草
xunfangle cun zhong ren hou shaonü de zhi xueshan shang youyi zhu qiannian yaocao
只消采撷来与晨露熬成汤药 无论何病皆复好
zhixiao caixie lai yu chen lu ao cheng tangyao wulun he bing jie fu hao


其实病为绝症 其实药为毒草 见你为我奔波不惧难艰 吾之身何畏长眠
qishi bing wei juezheng qishi yao wei ducao jian ni wei wo benbo bu ju nan jian wu zhi shen he wei changmian
如果还有来世 如果还可相见 只愿跨过繁芜红尘三千 再与你邂逅一眼
ruguo hai you laishi ruguo hai ke xiang jian zhi yuan kuaguo fan wu hongchen sanqian zai yu ni xiehou yiyan


其名洛氏功夫娘 冷眼对世态炎凉 为人谦逊不入尘世纷争 笑看谁大梦一场
qi ming luo shi gongfu niang lengyan dui shitaiyanliang weiren qianxun bu ru chenshi fenzheng xiao kan shui da meng yi chang
其名洛氏功夫娘 一十五岁好年方 人们只会慨叹侠骨铮铮 谁人知柔情的伤
qi ming luo shi gongfu niang yishiwu sui hao nian fang renmen zhi hui kaitan xiagu zhengzheng shei renzhi rouqing de shang
External links
Edit
| | |
| --- | --- |
| | Lyrics |
| | |
| --- | --- |
| | Articles |