Ad blocker interference detected!
Wikia is a free-to-use site that makes money from advertising. We have a modified experience for viewers using ad blockers

Wikia is not accessible if you've made further modifications. Remove the custom ad blocker rule(s) and the page will load as expected.
This song article is lacking a proper background. You can help by adding one! The relevant section in the Song Article Guideline is a good starting point, and this blog post may also be helpful. We apologize for the inconvenience this may cause in the meantime.

Song pages lacking proper backgrounds are automatically sorted into this category.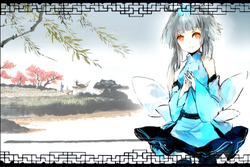 Song title
"流光逝梦"
Traditional Chinese: 流光逝夢
Pinyin: Liú Guāng Shì Mèng
English: Streamer's Death Dream
Uploaded August 17, 2012, with 83,000+ views
Singer(s)
Luo Tianyi
Producer(s)
Yu Lin Xian (compose, arrange)
Ze Xing (lyrics)
Juexing (illustrator)
Qicai Bohe Tang (video editor)
Links
YouTube Broadcast (reprint)
bilibili Broadcast
5SING Broadcast

Background
Edit
Liú Guāng Shì Mèng is a self-cover featuring Luo Tianyi and was originally sung by Feng Ying'er.
Preceding versions
Edit
Feng Ying'er's Version

| | |
| --- | --- |
| Featuring | Feng Ying'er |
| Author(s) | Feng Ying'er (vocals), Yu Lin Xian (compose, arrange), Ze Xing (lyrics) |
| Category | Human cover, Preceding version |
Chinese (中文歌詞)
Pinyin (拼音)
我曾在画卷之中见过你,
wo ceng zai hua juan zhi zhong jian guo ni
拭去尘埃,眉目仍栩栩。
shi qu chen ai mei mu reng xu xu
又若非点翠那一笔,
you ruo fei dian cui na yi bi
何处是水墨间嫣然的笑意。
he chu shi shui mo jian yan ran de xiao yi


我曾在诗笺之中读过你,
wo ceng zai shi jian zhi zhong du guo ni
还默念着温存的字句。
hai mo nian zhe wen cun de zi ju
为谁题满纸尽淋漓,
wei shei ti man zhi jin lin li
不过是旧书卷积一叠叹息。
bu guo shi jiu shu juan ji yi die tan xi


我知晓多少年以后,
wo zhi xiao duo shao nian yi hou
将抹掉轮回前的锈,
jiang mo diao lun hui qian de xiu
看见你容颜还依旧,
kan jian ni rong yan hai yi jiu
停留在未醒时的风流。
ting liu zai wei xing shi de feng liu


你的印迹无端浓了又淡,
ni de yin ji wu duan nong le you dan
似一触就飘散。
si yi chu jiu piao san
纵流光如水逝尽千年的河川,
zong liu guang ru shui shi jin qian nian de he chuan
一梦又脉脉涨满。
yi meng you mo mo zhang man


你的光影不断明明暗暗,
ni de guang ying bu duan ming ming an an
似无常的聚散。
si wu chang de ju san
凭几载流光逝去遗落的清欢,
ping ji zai liu guang shi qu de qing huan
一梦又到了忘川。
yi meng you dao le wang chuan


我曾在弦歌之中听过你,
wo ceng zai xian ge zhi zhing ting guo ni
檀板声碎,半出折子戏。
tan ba sheng sui ba chu zhe zi xi
舞榭歌台被风吹去,
wu xie ge tai bei feng chui qu
岁月深处尚有余音一。
sui yue shen chu shang you yu yin yi lü


我曾在青山之中遇过你,
wo ceng zai qing shan zhi zhong yu guo ni
新竹做杖,鬓插紫茱萸。
xin zhu zuo zhang bin cha zi zhu yu
跣足踏过无边丝雨,
xian zu ta guo wu bian si yu
又拾起燕川雪片片落如席。
you shi qi yan chuan xue pian pian kuo ru xi


我知晓多少年以后,
wo zhi xiao duo shao nian yi hou
将抹掉轮回前的锈,
jiang mo diao lun hui qian de xiu
看见你容颜还依旧,
kan jian ni rong yan hai yi jiu
停留在未醒时的风流。
ting liu zai wei xing shi de feng liu


你的印迹无端浓了又淡,
ni de yin ji wu duan nong le you dan
似一触就飘散。
si yi chu jiu piao san
纵流光如水逝尽千年的河川,
zong liu guang ru shui shi jin qian nian de he chuan
一梦又脉脉涨满。
yi meng you mo mo zhang man


你的光影不断明明暗暗,
ni de guang ying bu duan ming ming an an
似无常的聚散。
si wu chang de ju san
凭几载流光逝去遗落的清欢,
ping ji zai liu guang shi qu yi luo de qing huan
一梦又到了忘川。
yi meng you dao le wang chuan


是你抛下零落的花瓣,
shi ni pao xia ling luo de hua ban
成为最芬芳的羁绊,
cheng wei zui fen fang de ji ban
我穿过千丈红尘的烂漫,
wo chuan guo qian zhang hong chen de lang man
守着风轻云淡。
shou zhe feng qing yun dan
你悠然与我对看,
ni you ran yu wo dui kan
像是古老的片段。
xiang shi gu lao de pian duan
那时候一曲流光唱不完,
na shi hou yi qu liu guang chang bu wan
我梦见你风致宛然。
wo meng jian ni feng zhi wan ran
External links
Edit
| | |
| --- | --- |
| | Articles |