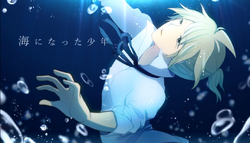 Song title
"海になった少年"
Romaji: Umi ni Natta Shounen
Uploaded November 3, 2011 (original) / December 26, 2015 (remake), with 900+ (NND1) / 700+ (NND2 / 800+ {YT) views
Singer(s)
Kagamine Len
Producer(s)
endoryo (music)
nokuhashi (illustration)
takoyaki pan (mixing)
Links
Niconico Broadcast (original) • YouTube Broadcast
Niconico Broadcast (remake)

Background
Edit
"Umi ni Natta Shounen" is an original Japanese VOCALOID song featuring Kagamine Len.
Derivatives
Edit
Kagamine Len V4X Cover

Featuring
Kagamine Len
Author(s)
endoryo
Category
Self cover

Description

A remake of the original Umi ni Natta Shounen as an updated version, featuring the Kagamine Len VOCALOID4 update.
Japanese (日本語歌詞)
Romaji (ローマ字)
歌おう 歌おう
uta ou uta ou
何もかも忘れるまで
nanimo kamo wasureru made
歌おう 声を上げて
uta ou koe o agete
思い出したら 泣いてもいいから
omoi deshitara naite mo ii kara


さざめく人の群れ
sazameku hito no mure
懐かしそうに眺めてた
natsukashi sou ni nagame teta
「大丈夫」「平気だよ」
"daijoobu" "heikidayo"
言い聞かせて耳をふさいだ
ii kikasete mimi o fusaida


青色だけの冷たい世界
ao iro dake no tsumetai sekai
逃げ込んで静かに膜を閉じる
nigekonde shizuka ni maku o tojiru
さよならを言える
sayonara o ieru
誰かはもういない
dareka wa mou inai


大丈夫 大丈夫 淋しくないよ
daijoobu daijoobu samishikunai yo
遠く トオク 特を
tooku tooku tooku o
誰もいない水底へ
daremo inai mina soko e
沈めてよこの僕を 惨めは僕を
shizumete yoko no boku o mijime wa boku o


歌え歌え荒波よ
uta e uta e aranami yo
僕が千切れ砕け散るまで
boku ga chigire kudake chiru made
誰も彼も要らないのだと
daremo karemo iranai no dato
騙してよ あやしてよ
damashite yo ayashite yo
External links
Edit
| | |
| --- | --- |
| | Articles |
Ad blocker interference detected!
Wikia is a free-to-use site that makes money from advertising. We have a modified experience for viewers using ad blockers

Wikia is not accessible if you've made further modifications. Remove the custom ad blocker rule(s) and the page will load as expected.